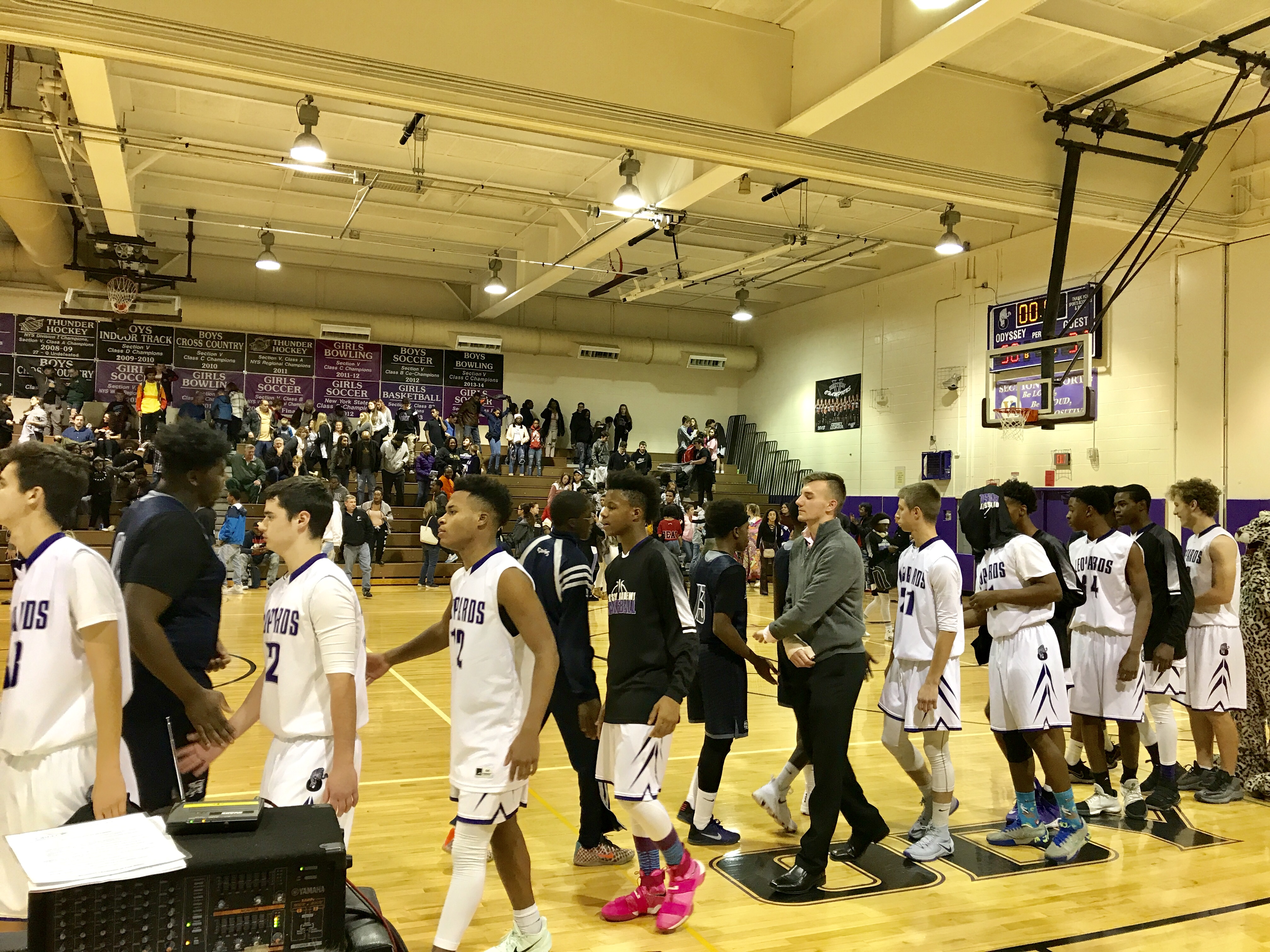 By PAUL GOTHAM
ROCHESTER, N.Y. — Aric Williams netted seven of his team-high 12 points in the fourth quarter as the Greece Odyssey Leopards held off a late rally to defeat the World of Inquiry (WOI) Griffins, 58-39 in non-league action Friday night.
After WOI trimmed a 15-point halftime deficit to 11, Williams had a hand in six straight Odyssey points.
"Nobody plays harder than Aric," Odyssey coach Jim Guzielek said. "Nobody works harder than Aric in practice. In a game, he wants to fly all over the place."
The 6-foot-2 junior forward converted a pair from the free throw line. Two possessions later, he delivered a high-low feed to teammate Darren Davidson for a bucket underneath and followed with a basket of his own underneath at the back end of the Odyssey press break.
"He had key rebounds," Guzielek added. "He rips that ball down, goes to the foul line and makes his foul shots and really kinda sealed it for us."
Jaden Hartsfield added 11 points including a pair of 3-pointers late in the third quarter.
Aric Williams takes it with authority for 2 of his team-high 12. @ODYbball @ODYLeopards pic.twitter.com/2Z4odjAdP1

— Paul Gotham (@PickinSplinters) December 2, 2017
"He really hit a couple of key shots," Guzielek said of Hartsfield a transfer from Vertus. "That got the momentum back to our favor."
Romell Griffin had 10 points for the Leopards who were without DJ Billings, a two-time All-County selection who averaged 9.3 points per game last season.
"Looking at last year's  scorebook we returned zero points from this game," Guzielek said referring to Odyssey's matchup with WOI in the 2016-17 campaign. "It was a whole new crew. It's always good to get the first win out of the way.
"Our length, our press really sets things up for us offensively. That got us some easy shots, some easy tips, easy deflections. That's when we're at our best when we're out and running."
WOI's Tremier Dollar scored all six of his points in the opening moments of the fourth quarter. Dollar converted two free throws and finished a layup after the Griffins' press caused a turnover. CeyQuan Salmon connected twice from the free throw line to make it a 41-30 game.
The Griffins had a chance to cut the deficit to single digits but missed a shot just outside the paint. Dollar scored on an acrobatic layup to make it 43-32. It was as close as WOI would get for the last five minutes of the game.
"They're always going to be tough," Guzielek said of WOI. "CeyQuan Salmon is a really good player.  They're going to be tough in the city league this year."
Salmon, who topped 1,000 career points last year, finished with a game-high 13. Charles Maurice Brown chipped in with 11.