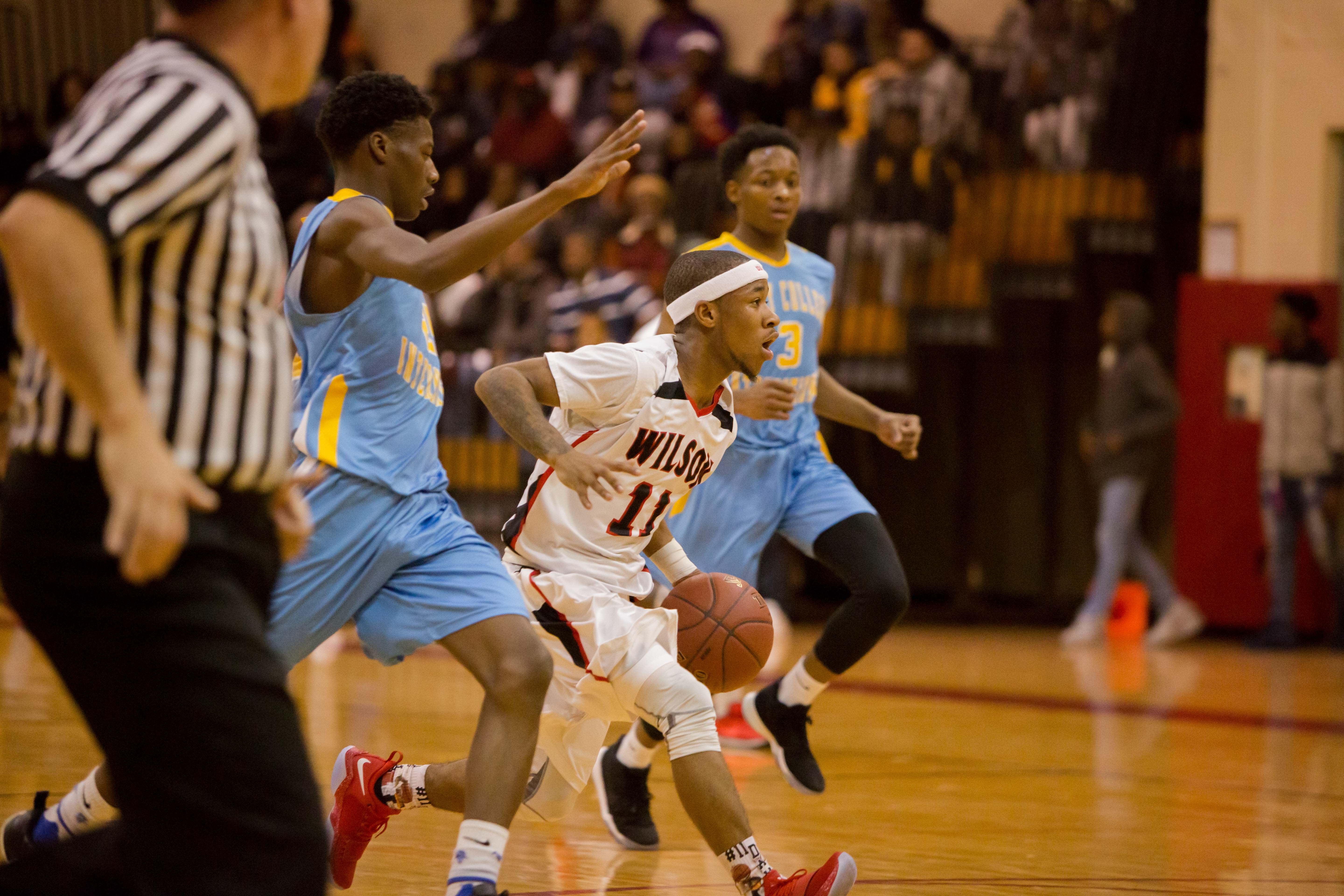 By PAUL GOTHAM
ROCHESTER, N.Y. — For the first 16 minutes of Friday night's RCAC opener, the Wilson Magnet boys' basketball team barely resembled the program that reached the sectional finals for the second straight time last March. The Wildcats stumbled to a halftime deficit collecting nearly as many turnovers (eight) as field goals made (12).
That all changed after halftime.
Robert Davis and Desi Floyd combined for 17 points in the third quarter as Wilson outscored Early College by 18 en route to a 71-59 victory.
Davis drilled a 3-pointer from the top of the arc on the first possession of the second half, and the Wildcats never looked back.
"It was the speed," Davis said of the difference coming out of the locker room. "We know nobody can guard us in the open court. We just try to enforce that and push the defense back."
Floyd gave Wilson its first double-digit lead at 46-36 when he converted one of two free throws. Two possessions later he channeled his gridiron mojo. The junior forward, who garnered MVP honors in the sectional title game when he rushed for 239 yards on 18 carries to lead Wilson to its first sectional title in football program history, grabbed a defensive rebound and bull-rushed the length of the floor for a layup and a 48-37 Wildcats advantage.
"That's the type of player he is," Wilson head coach Brendan O'Toole said. "You get him in transition. He's a great finisher."
Desi Floyd grabs the board and goes the length of the floor for 2. @wildcats_wilson pic.twitter.com/WH1WaUg9mV

— Paul Gotham (@PickinSplinters) December 2, 2017
The duo combined on a play with Davis scoring to give Wilson its largest lead at 57-37.
"This is a great win," Davis stated. "It's a great confidence booster. We're looking to lock up more."
After allowing 34 points in the first half, Wilson's defense held Early College without a field goal for the first seven minutes of the third quarter.
"We just talked about playing with more intensity, more energy," O'Toole said of the discussion at halftime.  "We thought we were really flat. We thought we played with some more intensity in a couple of our scrimmages than we did out here in the first half."
"We felt like our defense wasn't good enough," Floyd said of the first-half performance.  "We made it better, and that's how we knew we would get the win."
Davis connected twice behind the arc and finished with a game-high 25.
Malikk Johnson with the rebound and outlet to Robert Davis for the layup. @wildcats_wilson pic.twitter.com/zA8yIZGiTy

— Paul Gotham (@PickinSplinters) December 2, 2017
Floyd picked up his second foul early in the game and sat for most of the first half. He scored 18 of his 20 after the break.
"That's what we expect out of him," O'Toole noted. "We need those types of games from him. He did it last year. If you go back to last year, he only averaged 12 for the season, but games 10 through 20, he averaged like 18 a game. He just started out slow. It was his first year on varsity. He's definitely capable of doing that."
Prophet Hampton and Shedrick Smith connected on three 3-pointers apiece and both accounted for 12 points in the first 16 minutes to give Early College the lead at half.
"We came out slow," O'Toole said. "Early College made a ton of shots. They shot the ball well from three. That hurt us. I don't think we had the intensity we needed defensively to start the game, the whole first half."
Smith's second trey in a row gave Early College its first lead at 7-4. Shamar Hampton converted a rebound and putback to give Early College a six-point advantage at 17-11. The Cobras still led by six at 28-22 when Jahkier Moore drove the lane.
But Early College couldn't maintain its momentum.
"We just had to get the jitters out," Davis said. "We knew it was going to take a minute to warm up. Coach said we needed energy because we had energy in the past. We just got to learn how to get it earlier."
Richard Rollin added 11 for Wilson.
Prophet Hampton led Early College with 14. Smith added 13, and Marquis Crawford and Shamar Hampton both had 11.
Wilson hosts NE Douglass on Wednesday, December 6th. Early College travels to World of Inquiry on the same night.