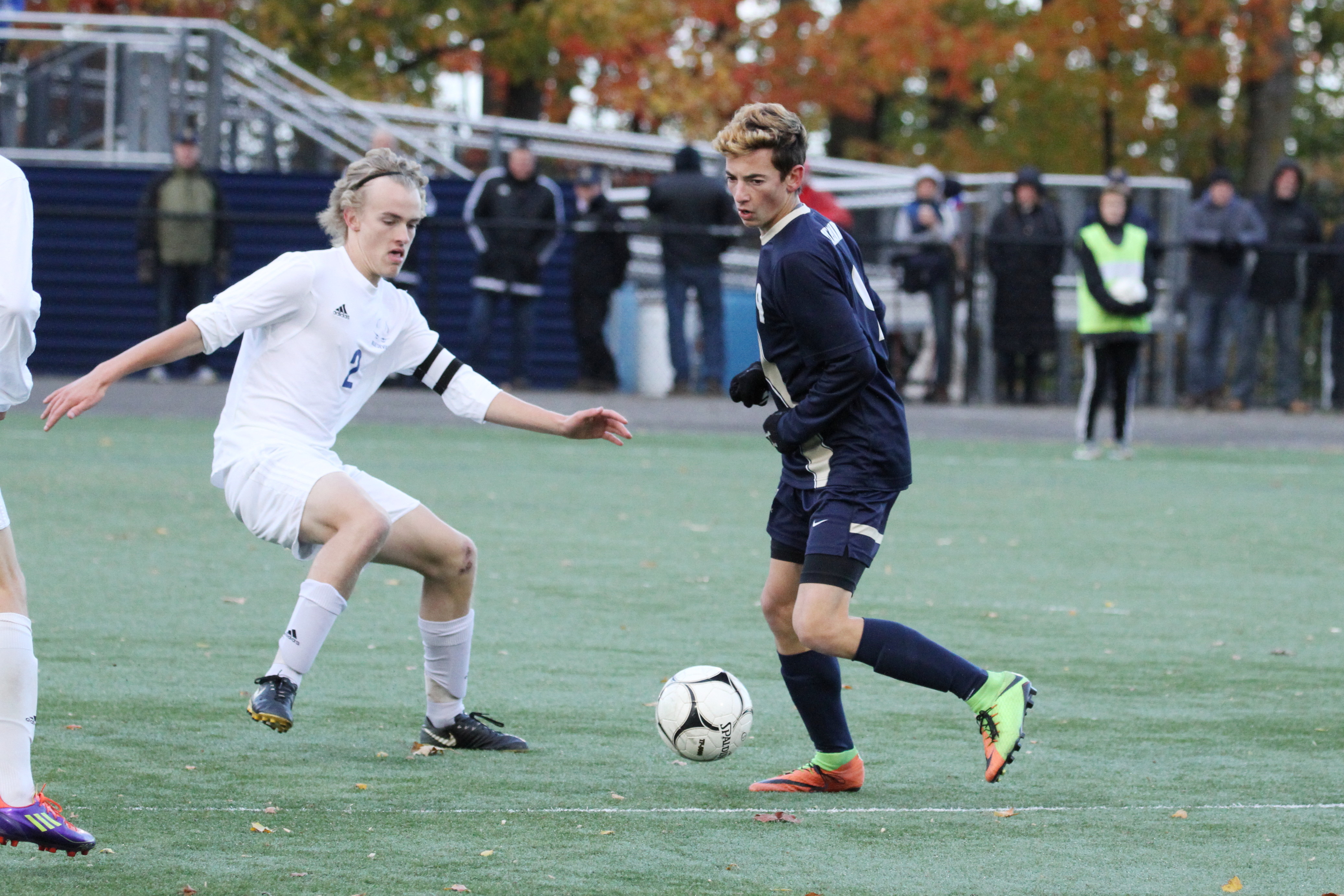 By PAUL GOTHAM
SPENCERPORT, N.Y. –For Pittsford Sutherland senior John Mozrall, Tuesday night was as much about dealing with the past as it was taking care of matters at hand.
Making his fourth trip to the soccer field at Spencerport Central Schools for a post-season contest, Mozrall and the Knights did something they hadn't in the three previous visits.
The senior midfielder netted a goal in regulation, and Sutherland eventually defeated the Brockport Blue Devils on penalty kicks to advance to the New York State Far West Regionals.
"My eighth-grade year, my freshman year and my sophomore year we lost here in the finals of sectionals in overtime every time," Mozrall said referring to Sutherland's setbacks from 2013-15 at Spencerport. "There's sort of a curse on this field for us. So winning here in overtime? Just an amazing feeling."
In doing so, Sutherland had to upend a Monroe County Division III rival which had beaten them twice earlier in the season.
"What a great team," Sutherland coach Sean Hopkins said of the Section V Class A1 champion Blue Devils. "Both games were one-to-zero, close battles. Tonight was another great battle. We just got lucky on the PKs and came out on the right side."
VIEW MORE JODI ZUROWSKI PHOTOS HERE. 
Mozrall slipped behind the Brockport defense and gave Sutherland a 1-nil advantage early in the second half with his team-leading 16th marker of the season.
"Dylan played a great ball down the line," said of his teammate Dylan Kladstrup. "They just weren't marking me at the time. I had to keep a calm head and put it in."
VIEW HIGHLIGHTS FROM VARSITY MEDIA HERE. 
Brockport's Colby Wharram leveled the match in the 61st minute with a spectacular goal. Running near post, the senior midfielder flicked a Vander Hart cross from the left wing just under the crossbar for the equalizer.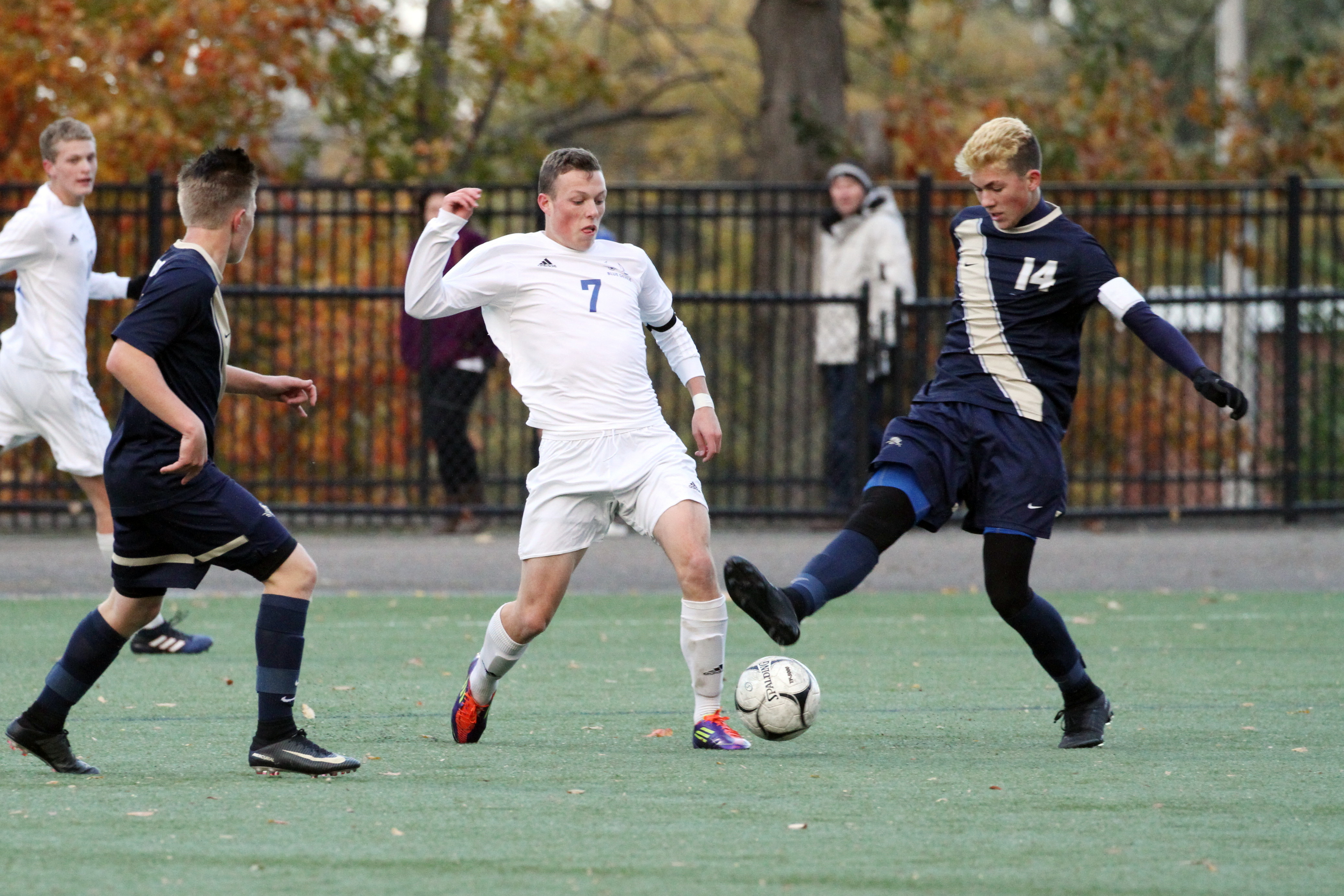 The teams traded chances from there with Sutherland sending a pair of shots over the crossbar. Knights' goalkeeper, Alex Oleyourryk turned away pair of Brockport chances, and the match went into overtime.
"We've lost on this field almost every time we've been to the sectional finals," Hopkins said. "It's always been in overtime. So here we get back to overtime again, and you're like no, not again!"
Kladstrup converted the winning PK on Sutherland's eighth shot.
Oleyourryk stopped the last two Brockport attempts and four overall.
"Unbelievable," Hopkins said.  "So proud of the guys."
Sutherland (11-7-2), which opened the season 2-4-1 and started sectionals a game above .500, has now toppled back-to-back state-ranked squads with Brockport entering play at No. 6 and Honeoye Falls-Lima, which the Knights beat in the A2 final, coming in at No. 12 a week ago.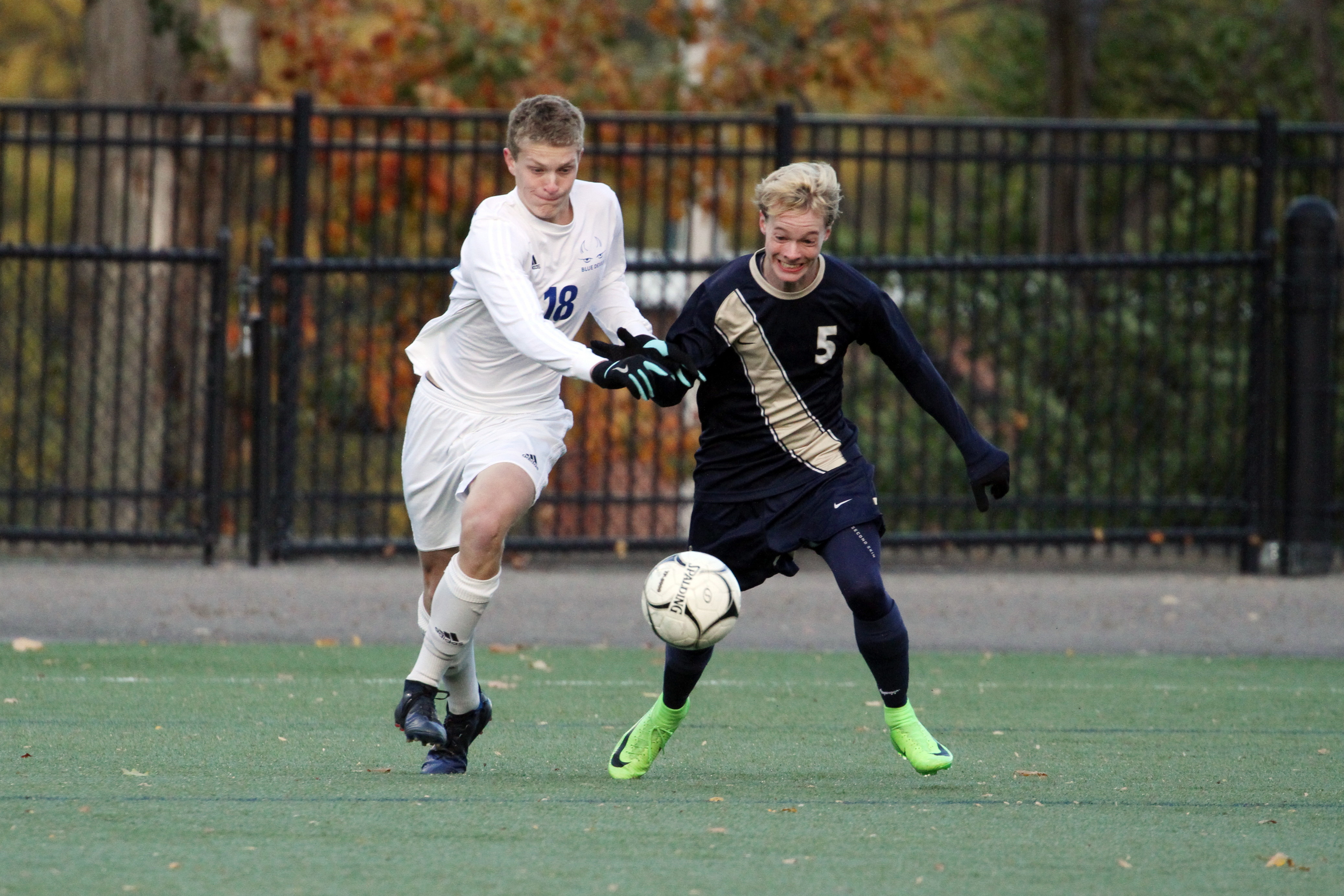 "It's all on them," Hopkins said of his players. "They're peaking at the right time.
"I always felt like we would be able to compete with anybody, and if we got hot at the right time and the defense put it together, which they clearly have, we would be really tough to beat."
Sutherland allowed 11 goals in those first seven games of the season. Wharram's second-half tally was the first to beat Oleyourryk in the post-season snapping 300-plus minute scoreless streak. Most notable was the shutout of three-time defending champion HF-L, a squad which had scored 50 times on the season and had not been shut out in their previous 18 matches.
"There's been no adjustment," Hopkins stated. "I think just mentally they were like 'that's it. We're done giving up goals, and we're going to do whatever we can to get the ball out of here.' They're doing it."
Sutherland will meet the winner of Grand Island (13-3-3/No. 14 NYS Class A) vs. East Aurora (19-0-0/No. 2 NYS Class A) in the Friday's Far West Regional. The Section VI Class A final is scheduled for 7:30 start time Wednesday night at Sweet Home High School. Grand Island lost in last year's state final.
"We have reversed all the curses," Hopkins proclaimed. "Now we got to get ourselves to the state final four and get us a chance at a title."
A 7:30 p.m. kickoff is scheduled Friday.