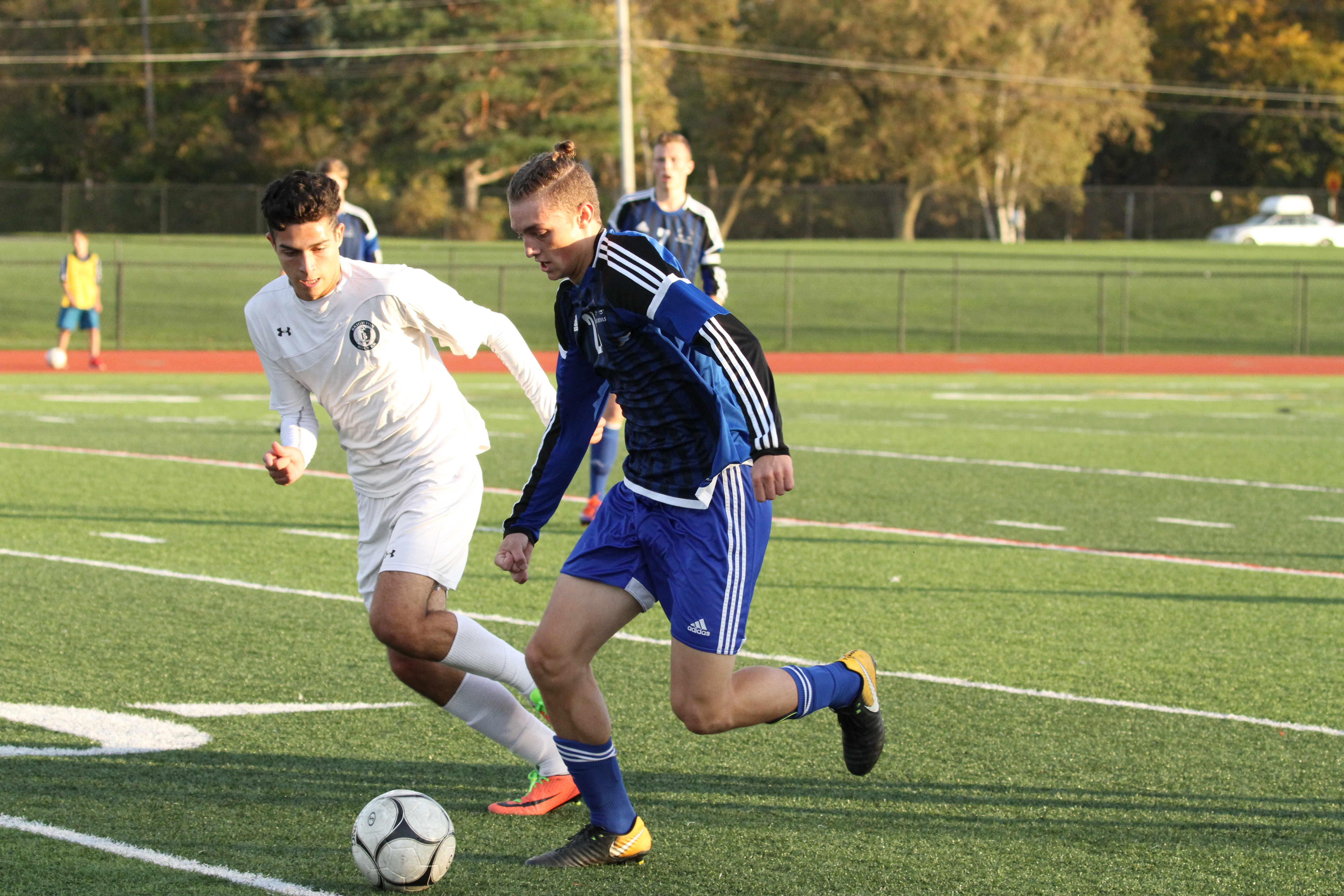 By PAUL GOTHAM
Twin brothers Colby and Zach Wharram netted a goal apiece, and the Brockport Blue Devils outlasted the Brighton Barons, 2-1 to claim the Section V Class A1 title.
The duo combined to kick start the Brockport offense midway through the first half when Zach Wharram served as a conduit on a corner kick to set up his brother for the opening score.
"Vander crossed it in," Zach Wharram said of teammate Vander Hart's corner kick from the right flag.  "I felt like the goalie was behind me, so I flicked it. I saw my brother on the back post and he just rattled it home."
The tally in the 18th minute was a carbon copy of Colby Wharram's goal in Brockport's semi-final match with Greece Arcadia earlier in the week.
Colby Wharram gets @BPortBSoccer on the board. Turn up the volume. You will want to hear the crowd. pic.twitter.com/MHVjg58rTD

— Paul Gotham (@PickinSplinters) October 27, 2017
"It was like déjà vu; it literally just happened in the semis," Colby Wharram said. "I had the same exact goal when I scored in that game. I just turned my hips and tried to aim for the net and hope for the best that it goes in."
Ten minutes later, Zach Wharram connected from a tough angle along the right side of the 18-yard box.
"Heckuva set of twins right there," said Brockport head coach Chris Zorn. "They've just blossomed this year for us. I couldn't ask for anything more from those two. It's been a pleasure working with them."
The win was fitting for Zorn, who after 30 years of coaching including 15 at the varsity level, is set to retire at season's end.
VIEW MORE JODI ZUROWSKI PHOTOS HERE.
"You know it's a dream come true," he said. "To be finishing out my career with a sectional title especially with a group of boys like this. I honestly couldn't ask for anything more in the soccer environment."
Brockport (16-2-1), which opened the season undefeated in nine matches, won its first title since back-to-back Class AAA championships in 2005 and '06.
"These guys have earned everything that they've gotten this year. No one gave them any credit early on, and we kinda took that to heart over the last three, four weeks."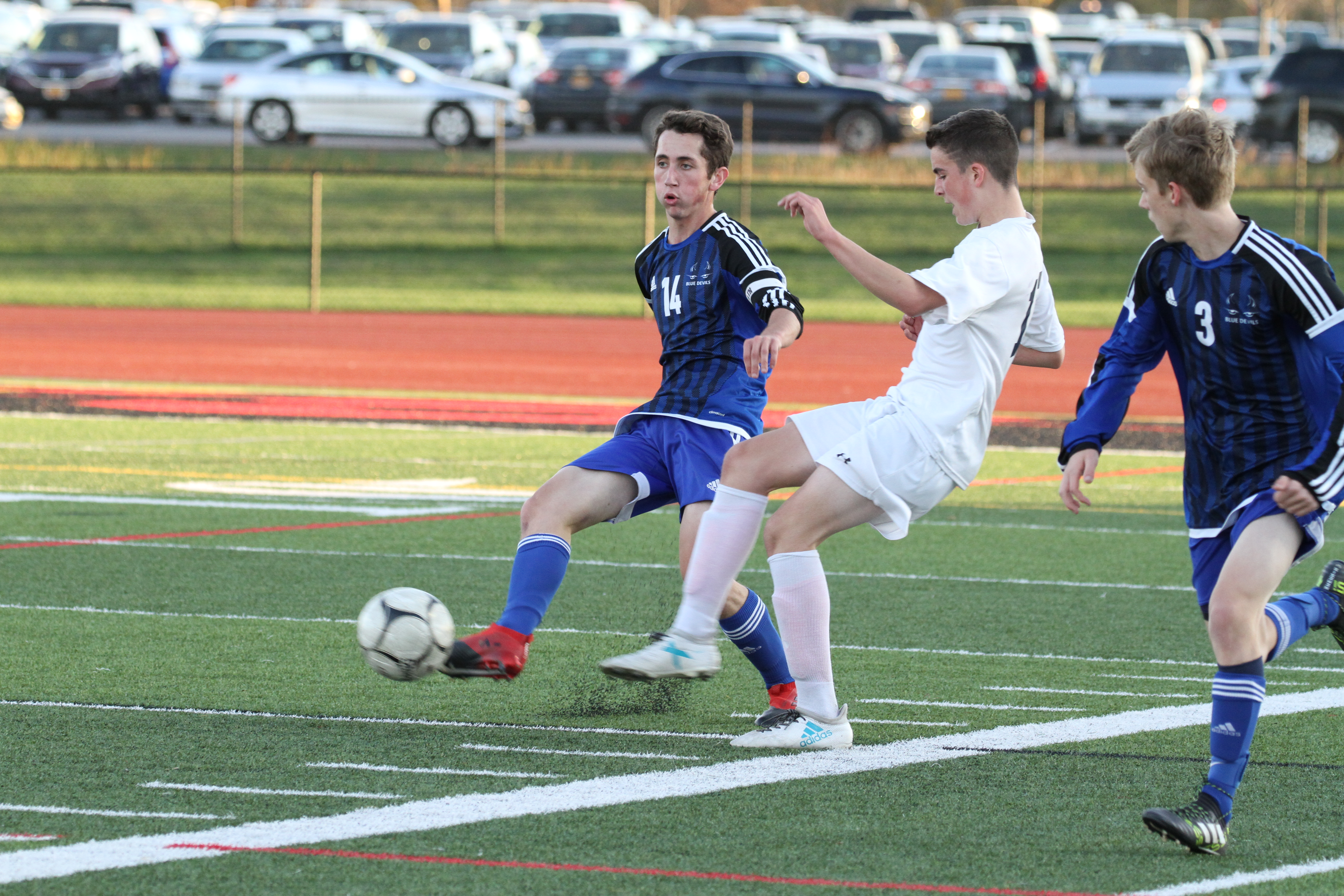 The Monroe County Division III rivals split the season series with Brockport taking the first match 2-0 on August 31st. Brighton returned the favor on September 26th edging the Blue Devils, 3-2. That setback was Brockport's first of the season.
"That stayed right up here with these guys," Zorn said pointing to his head.  "That might have given us a little incentive tonight."
With starting center back Caleb Peck nursing an injured hamstring, the Blue Devils made a lineup change.
"We couldn't have him not on the field," Zorn explained. "We pushed him up into the middle where he didn't have to make those recovery runs."
Both squads had taken separate turns climbing the polls during the season. Brighton (15-3-0) had won 11 straight at one point and matched the Blue Devils by reaching No. 3 in the NYS Class A rankings.  The Barons were playing Friday night without Gabriel Barraclough-Tan (nine goals and three assists).
"He's one of our playmakers in the middle," Brighton head coach Adam Hiller said of his junior midfielder. "We had to shift some people around a little bit. All year we've been dealing with injuries. That's what teams do. We just didn't find a way to get it done today."
Connor McQuillan cut the deficit in half for Brighton with a goal in the 51st minute.
51' Connor McQuillan gets Brighton on the scoreboard. @BPortBSoccer leads 2-1. Class A1 final pic.twitter.com/0KVwGAIQCo

— Paul Gotham (@PickinSplinters) October 27, 2017
"All year they've been fighting," Hiller said of his squad. "I told them at halftime that 'hey, a two-nothing deficit all we got to do is score one early and then make them think a little bit. We just couldn't put one in the last 30 minutes."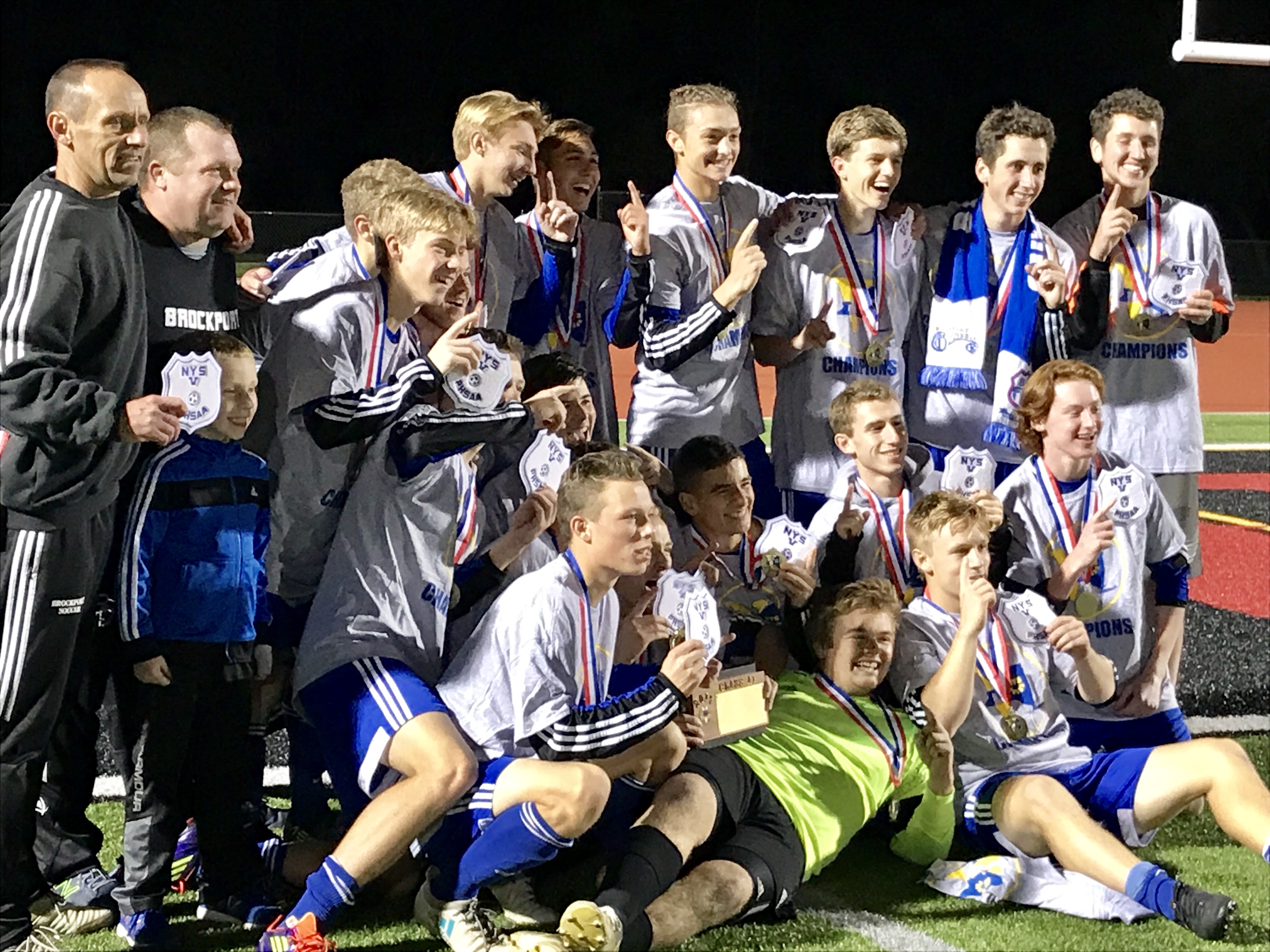 Brockport advances to meet Class A2 champion Pittsford Sutherland in the regional qualifier. Sutherland upset three-time champion Honeoye Falls-Lima, 2-0. Brockport and Sutherland will meet Tuesday night at Spencerport Central Schools. A 5 p.m. kickoff is scheduled. The winner will take on the Section VI Class A champion.
*Updated to include the time and location of the Class A regional qualifier.