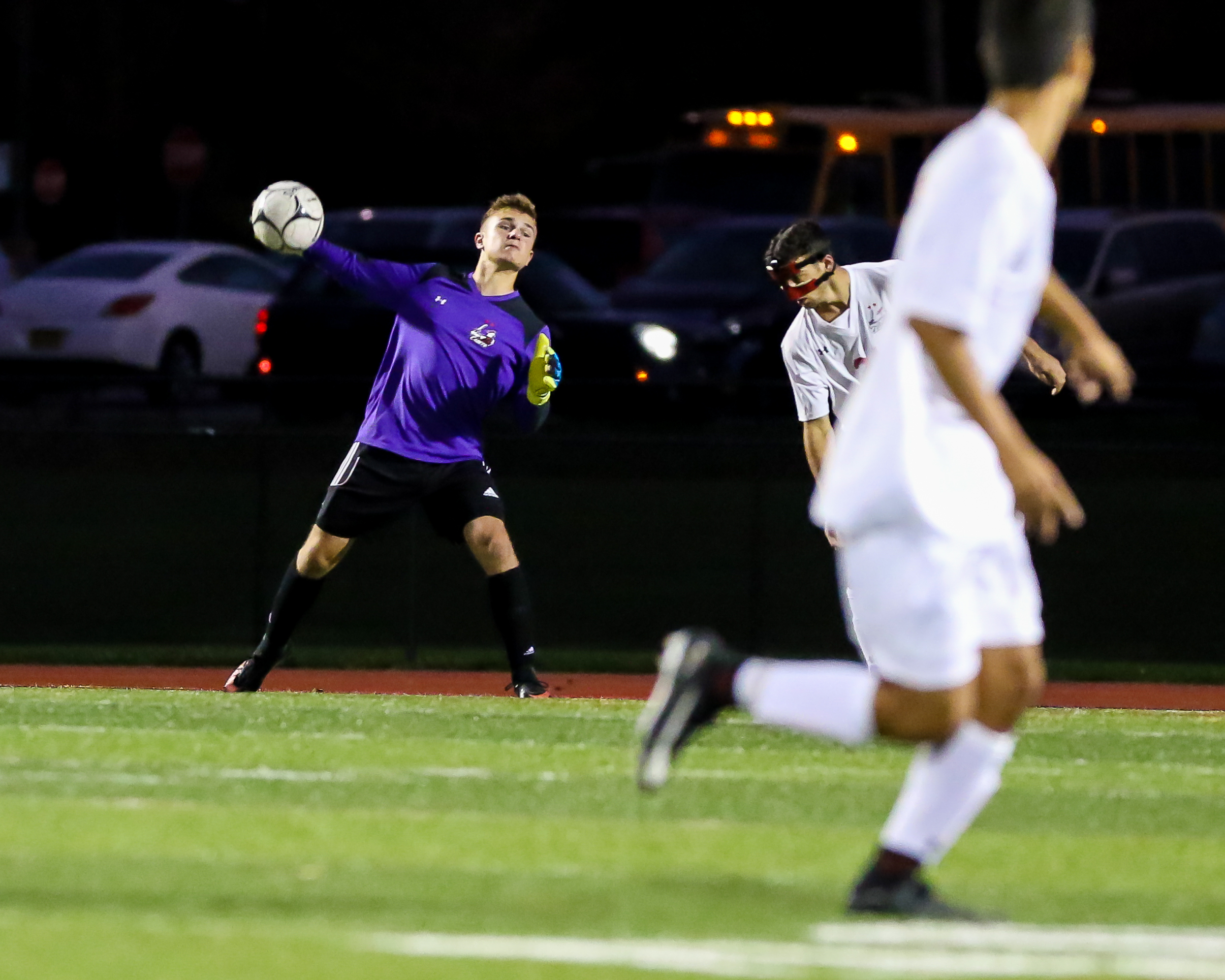 By PAUL GOTHAM
The scoreboard at Spenecerport Central Schools' soccer facility indicated Hilton had beaten Rush-Henrietta 2-0, but Cadets coach Mike Ellicott wasn't overly interested in accepting the victory.
Playing with a man advantage for 42-plus minutes, the Cadets struggled to find consistency on offense. Their coach didn't shy away from the truth.
"We just set ourselves up for some silly mistakes," Ellicott said after the victory in the Class AA semi-finals. "We weren't making particularly good decisions on the ball. We got a little tied into this whole atmosphere of everyone screaming and shouting and having a great time."
As a result, the usually patient Cadets lacked offensive buildup.
"It was a bit disappointing in that we had a few guys who wanted to go and do it on their own," Ellicott added. "You just can't beat a team on your own. You got to be with your teammates. We were just too individualistic for me.
"We didn't start using that third or fourth player. It was just one-twos up the line and then drive to the goal. It makes it really easy to defend when you do that."
Hilton took a 1-nil lead with 25:51 to go in regulation as the result of an own goal. Ryan Petiti's throw-in from the right sideline reached the R-H goalmouth where a Royal Comets defender, forced off-balance by the lengthy toss, headed the ball into his own net.
It seemed fitting.
"It was an ugly goal," Ellicott noted. "We'll take an ugly goal. Right now, a goal's a goal. That opened the game, and we had a lot of opportunities."
Four minutes and change later, Justin Arilotta redirected an Evan Pirnie pass for an insurmountable two-goal advantage.
R-H played a man down after a red card was issued with 2:12 remaining in the first stanza.
"The red card changes the game," Ellicott said. "I'm certainly not going to fight that or argue that.
"It galvanized them for 20 minutes. It was really very interesting to see how they played a man down. They played better a man down. You heard their guys on the field. Our guys were getting a little frustrated."
The win was the third this season for Hilton (14-3-1) over their Monroe County Division I rival. Rush-Henrietta (7-10-1) fell 3-2 on Hilton's LeBeau Field, September 7th. The Cadets took the rematch 2-1 earlier in October.
VIEW MORE CHRIS ROACH PHOTOS HERE.
"Jake's done a wonderful job his first year," Ellicott said of R-H coach Jake Falci. "I give him a lot of kudos. They've got very individualistic talent. He's brought them slowly together."
Cadet goalkeeper Joey Gombatto registered his seventh shutout of the season.
"He made some excellent saves. I was talking to him at the end, and he was saying 'I'm not the most technical keeper.' You're making saves buddy. It doesn't matter. You're not the most technical keeper. You getting in the way of the ball. That's your job right now."
Hilton advances to the Class AA final where they will meet McQuaid (18-0-0). The Knights beat Webster Thomas, 1-0 in the earlier semi-final. A 7:30 p.m. kickoff is scheduled for Tuesday at Spencerport.