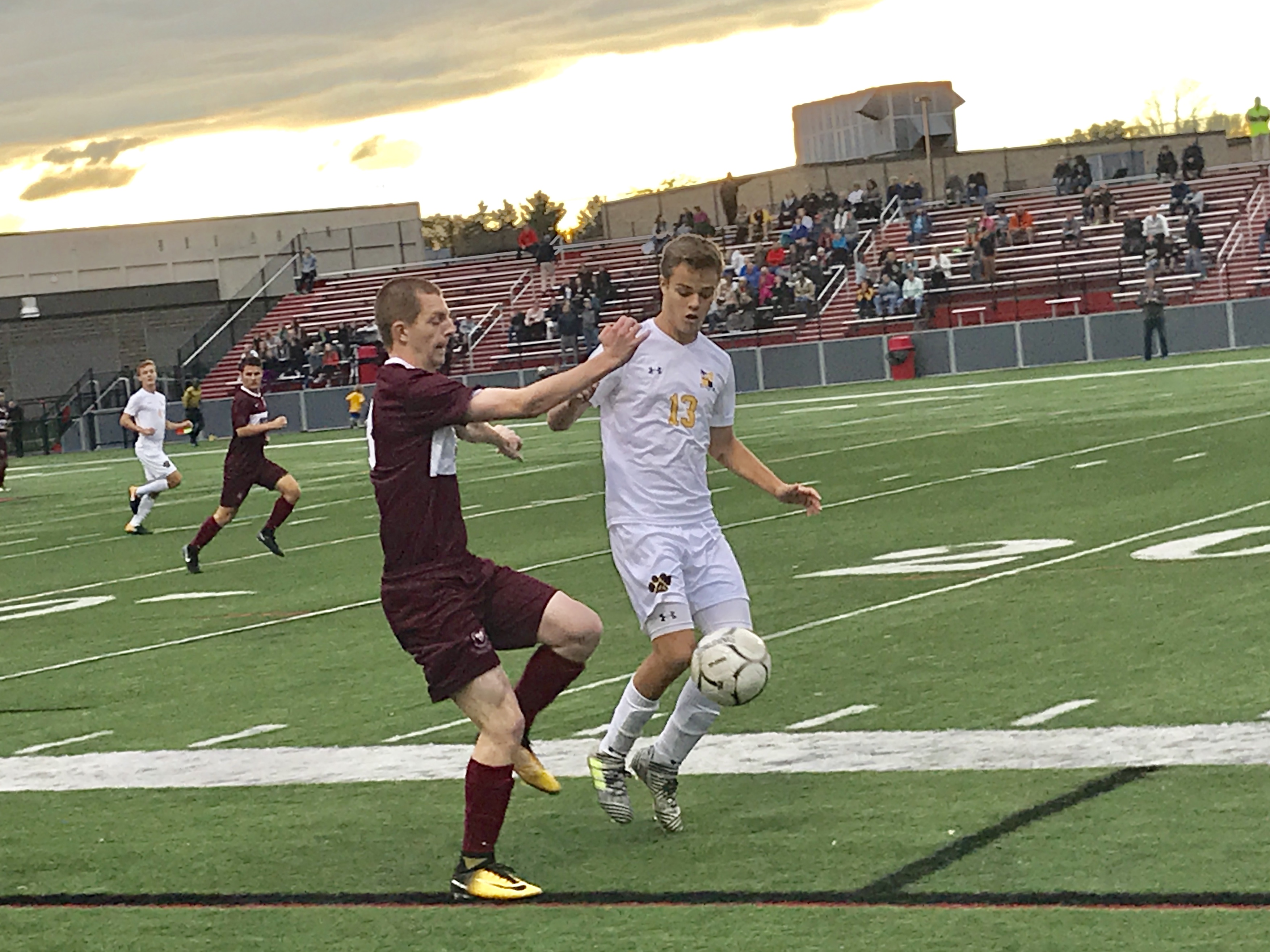 BY PAUL GOTHAM
Maybe the third time is the charm.
David Goetz lined up his third corner kick in as many minutes. This one proved to be the winner.
Tanner Smith nodded home Goetz's service from the right corner flag in the 93rd minute, and the Honeoye Falls-Lima Cougars defeated the Aquinas Li'l Irish, 1-0 in Class A2 quarter-final action at Penfield High School Tuesday night.
"We just knew especially in overtime with the sudden death that it's do or die," Goetz said. "I had one about two minutes earlier and I just tried to put it in the same way because we won that one. Luckily, Tanner got on the end of it and it went in."
With HF-L's leading scorer, Parker Hotchkiss, cutting to the near post, Smith climbed the ladder among a tangle of bodies for the golden goal.
"A lot of times we're trying to free up Tanner because he is bigger than Parker," Goetz explained. "We just try to get him on the back post. They just make two different runs. It depends where the ball goes and hopefully one wins it."
The goal was Smith's second of the season.
"It was a good ball in," Smith said. "It felt like it was a last chance really. We had to have it, attacking and doing whatever was necessary."
If it was a last chance, it was the final in a list of opportunities for an HF-L squad which controlled play for long stretches and rained repeated shots on the Aquinas frame.
"We weathered the storm in terms of not scoring goals and not trying to take on too much," HF-L coach Mike Merrill said. "We just kept playing the style that we want to play. We had some nice serves in eventually we got one which was great after a lot of opportunities."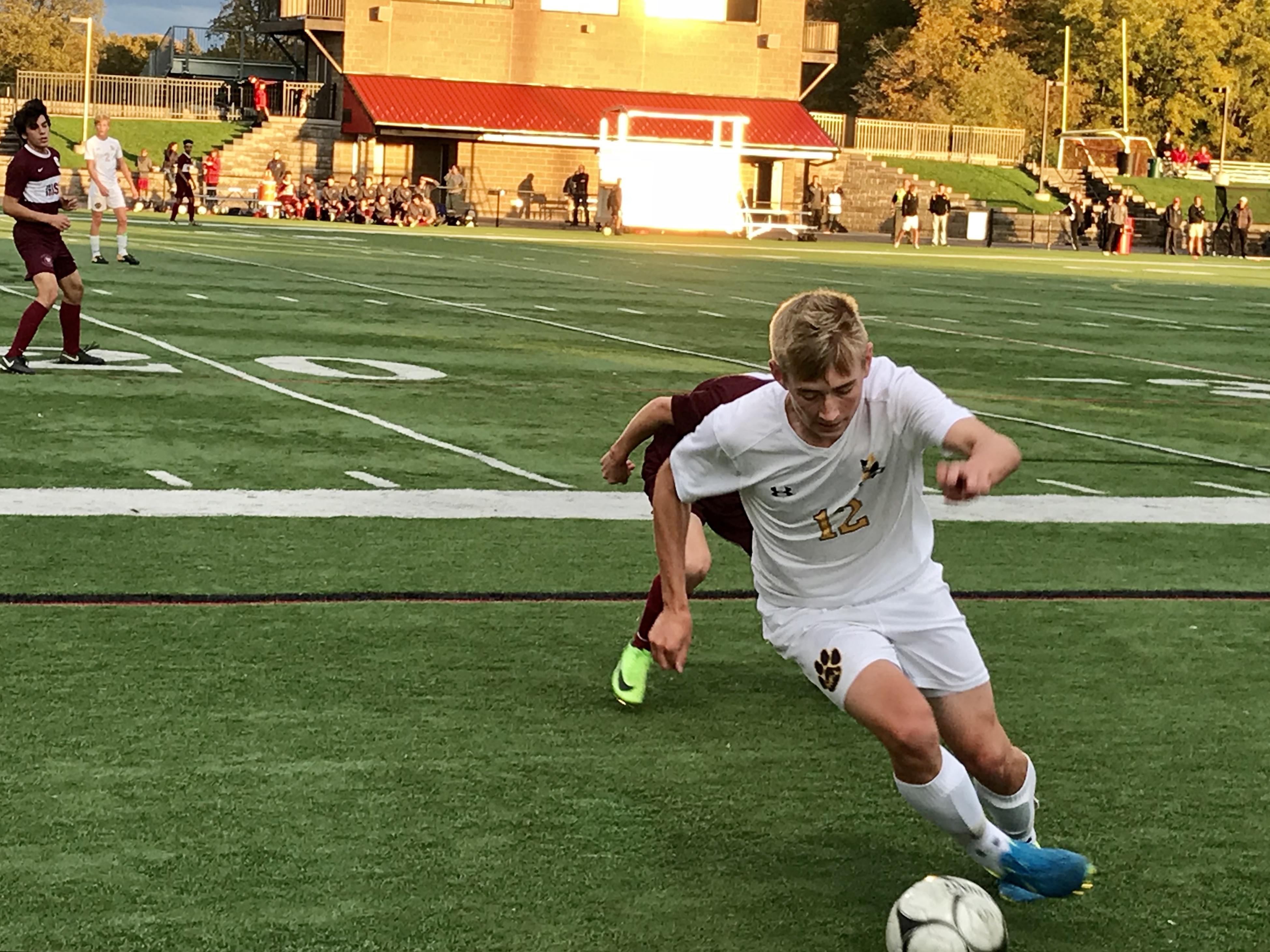 Smith's tally finally penetrated a wall created by Aquinas goalkeeper Kyle Pero and his backline which cleared away earlier HF-L attempts which looked destined to find the back of the net.
"Sometimes in the game of soccer you kinda get that flow going where you think you're about to get one," Merrill said. "It did feel like we were ready to break through. They had guys on the end line a couple times to make saves. Fortunately that one got through."
Aquinas used HF-L's offensive buildup for opportunities in the open field.
"We definitely had some opportunities, but so did Aquinas," Merrill noted. "They're dangerous in the counter attack. We didn't convert (early). It's sectional time. One goal and that was what we needed. We got the job done. Hats off to Aquinas. They frustrated us and played hard."
The best of those chances for the Li'l Irish came late in regulation. After fending off a flurry HF-L threats, Michael Theodorou sprung Josiah Fragnito with a diagonal pass in the 72nd minute. Fragnito made a rush into the field for an attempt but Cougar goalie Nico Coria was there for the save.
Five minutes later, Fragnito set up Aiden Kopacz inside the area, but Kopacz's redirect ricocheted off a leg in front of the goalmouth.
"The kids battled," Aquinas coach Josh Gleason said. "We had nothing to lose. No one gave us a chance to win. The kids were amped up for the opportunity to prove people wrong. We had our chances."
Pero made seven saves for Aquinas.
Hotchkiss leads HF-L with 15 goals on the season.
HF-L, ranked No. 12 NYS Class A, moves on to play No. 3 seed Pittsford Sutherland in Friday's final. The Cougars will be looking to win their fourth straight Class A2 title. HF-L beat Sutherland earlier in the year, 3-2. The two teams met in the 2015 final with the Cougars winning 2-1.
"It's feels good just hopefully we're not done yet," Smith said.
A 7:30 p.m. kickoff is scheduled on Hilton's LaBeau Field.