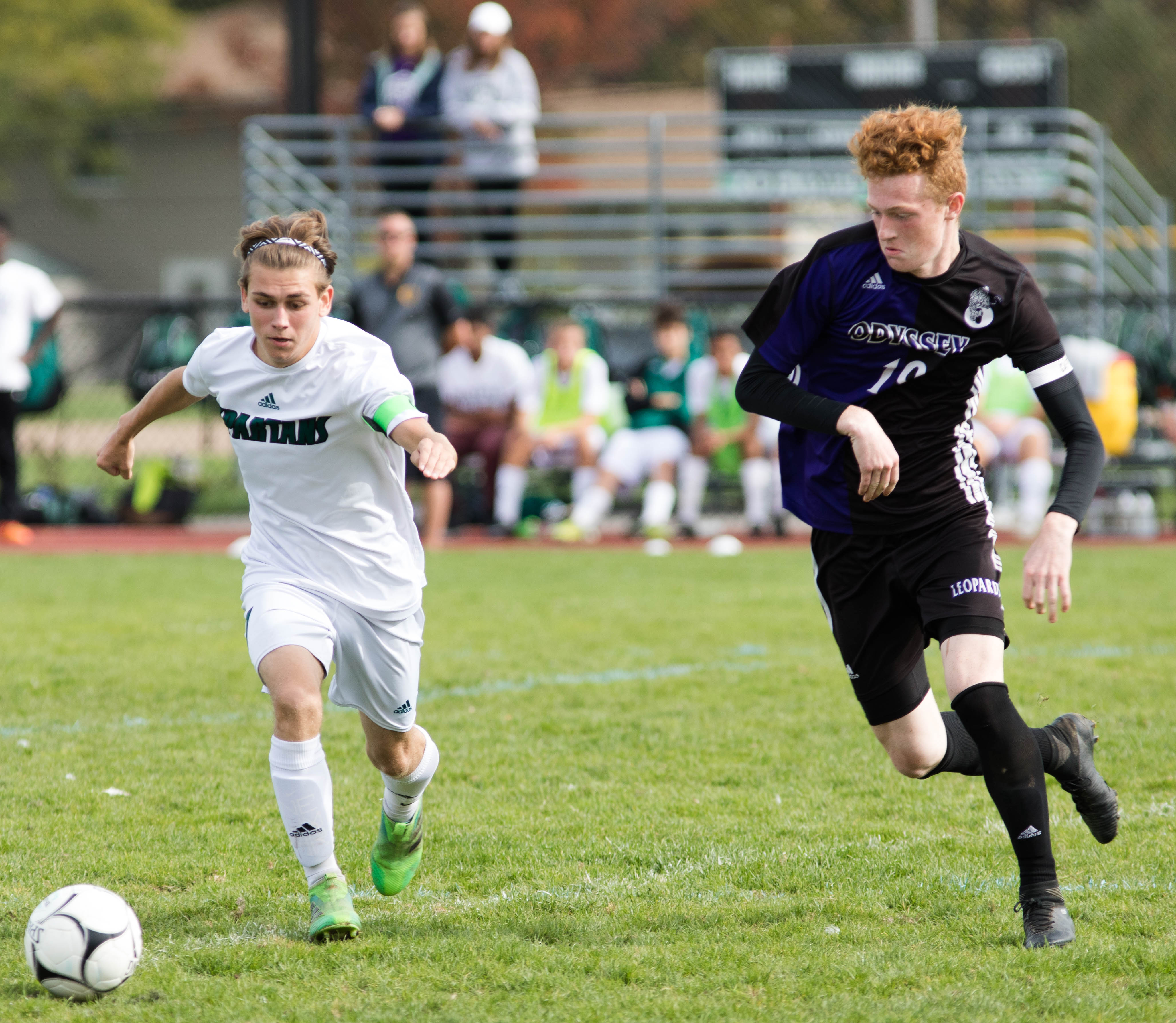 Class B1
No. 1 Pal-Mac 6 No. 8 Newark 0
Nick Sapienza netted a hat trick. Jake Gallina added two goals and an assist while Alex Wahl collected three helpers for Pal-Mac (14-3-0). Bryce Medyn chipped in a tally. Game Martinez had an assist.
No. 2 Livonia 9 No. 7 UPrep 1
Kyle Feldman netted four goals, and Tavian Hino had three tallies to lead Livonia (14-3-0). Mark Brado scored twice for the Bulldogs to go with an assist. Nate Adams had three helpers. Hino, Ewan Maxwell and Sam Warner had an assist apiece.
No. 3 Hornell 4 No. 6 Waterloo 0
Henrique Bolis scored twice and added an assist to lead Hornell (11-4-0). Kane Countryman chipped in a goal and an assist. Cole Yanni had a tally. Matt Smith and Taylor Stutzman added an assist apiece.
No. 5 Greece Odyssey 2 No. 4 Greece Olympia 0
Kyle Pezzulo turned away a penalty kick in the 44th minute, and Greece Odyssey advanced to meet top-seeded Pal-Mac in the semifinals. READ MORE.
Class B2
No. 1 Bath-Haverling 3 No. 8 Dansville 0
Thomas Binkowski had a goal and an assist as Bath-Haverling (15-1-10) won its eighth straight.
No. 2 World of Inquiry 7 Penn Yan 0
Emmanuel Nsengiyuma paced WOI with two goals and two assists. Aruba Jeylani and Joe Mohamed added a goal and an assist for the Griffins (11-5-0). Isaac Hakizimana, Suheil Jeylani and Je Bardques had a goal apiece.
No. 6 Letchworth/Warsaw 2 No. 3 Mynderse 1
No. 4 Wayland-Cohocton 3 No. 5 Wellsville 1
Alum Holbrook had two goals and an assist to lead Wayland-Cohocton. Colton Moir added a goal.
Class C1
No. 1 Byron-Bergen/Elba 3 No. 8 Gananda 0
Kylar Chambry scored twice to lead the top-ranked team in the state. Greyson Huntington started the scoring. Sam Pringle, Wade Thompson and Brendon Kendall had an assist apiece.
No. 2 Williamson 6 No. 7 Marcus Whitman 0
No. 3 Holley 2 No. 6 Pembroke 1
Kayden Servais scored with three seconds remaining in the second overtime as Holley advanced to meet Williamson in the semis-final. Matt Wilson assisted on the game winner. Erik Balys gave Holley a 1-nil lead in the 17th minute with an assist from Sal Solis. Sunny Kittisack leveled the match with an assist from Jamil Jr. Marable.
No. 4 Sodus 3 No.5 Avon 0
Will Lamar scored twice. Collin Karasinski had a goal and an assist. Ryan DeBadts and Marcellus Burton had an assist apiece.
Class C2
No. 9 Red Creek 5 No. 1 Bloomfield 2
Tristan McIntyre and Keith Vivlamore netted two goals apiece as Red Creek upset top-seeded Bloomfield. Dylan Wood had a goal and an assist. McIntyre also had a helper. Simon Wille scored once for Bloomfield.
No. 10 Caledonia-Mumford 1 No. 2 Keshequa 0
Jonathan Boilard scored an unassisted goal in the first half to lead Cal-Mum in the upset.
No. 6 Geneseo 3 No. 3 Marion 2
Jack Ganier, Daniel Kaye and Raul Morell scored a goal apiece and Geneseo knocked off the reigning C2 champion, Marion. Danny Kelly had two assist for Geneseo.
No. 4 Bishop Kearney 3 No. 5 Campbell-Savona 0
TJ Tytler netted a pair of goals, and the Bishop Kearney Kings advanced to meet No. 9 seed Red Creek in the semi-finals. READ MORE.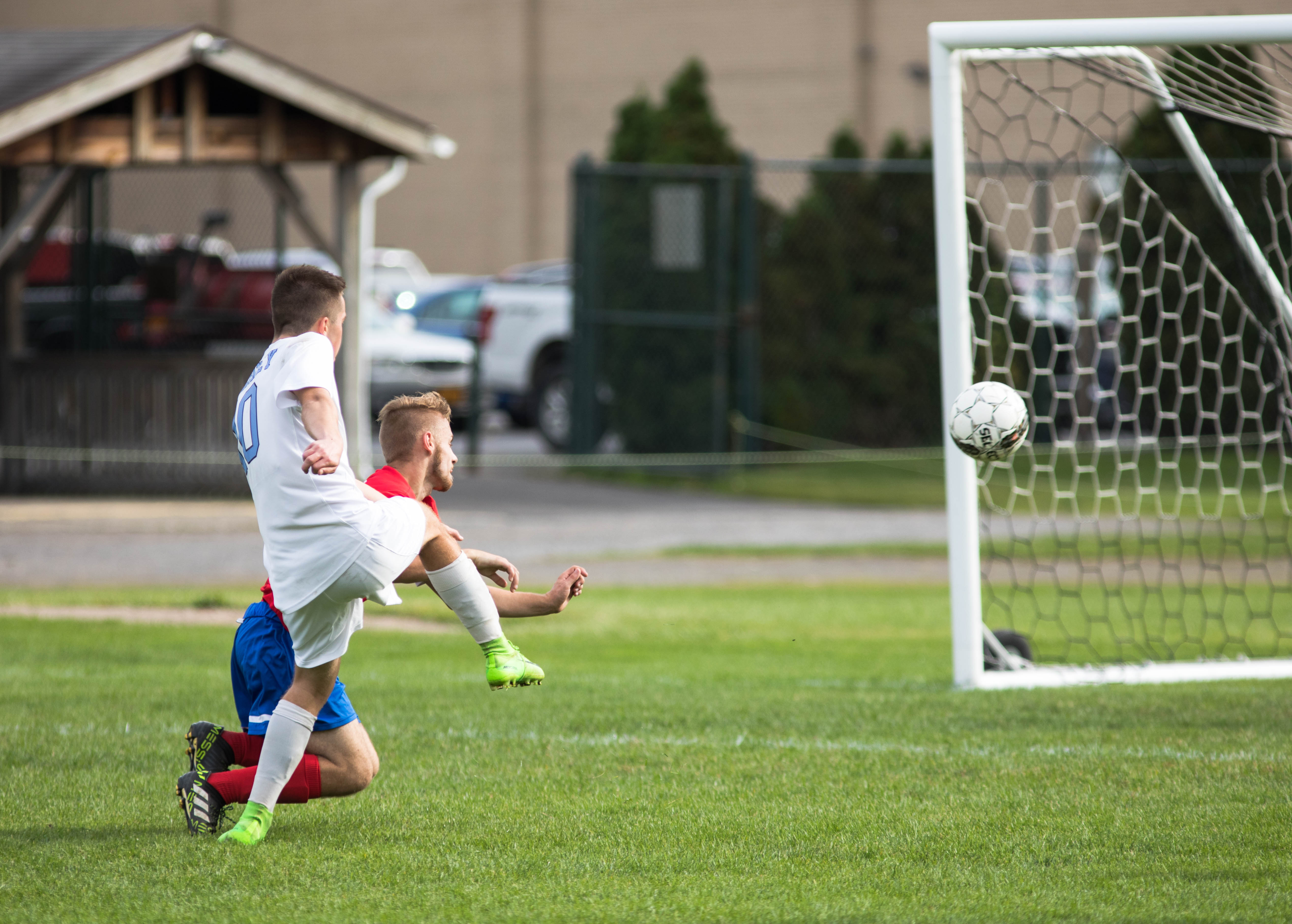 FRIDAY'S RESULTS
Class AA
No. 1 McQuaid Jesuit 6 No. 8 Gates-Chili 0
McQuaid, ranked second nationally by USA Today, advanced past Gates-Chili on six goals from five different scorers: Dan Malloy, Chris Maenza, Brennan Brown, Justin LaFountain and Adrianno Margiotta (2). The Knights will face No.5 seed Webster Thomas in the Class AA semifinals.
No. 2 Hilton 2 No. 7 Victor 1
Justin Arilotta and Joshua Ranke connected on first-half goals, and the Hilton Cadets held on to beat league rival Victor, 2-1 in Section V Class AA quarter-final action on LeBeau Field, Friday night. READ MORE.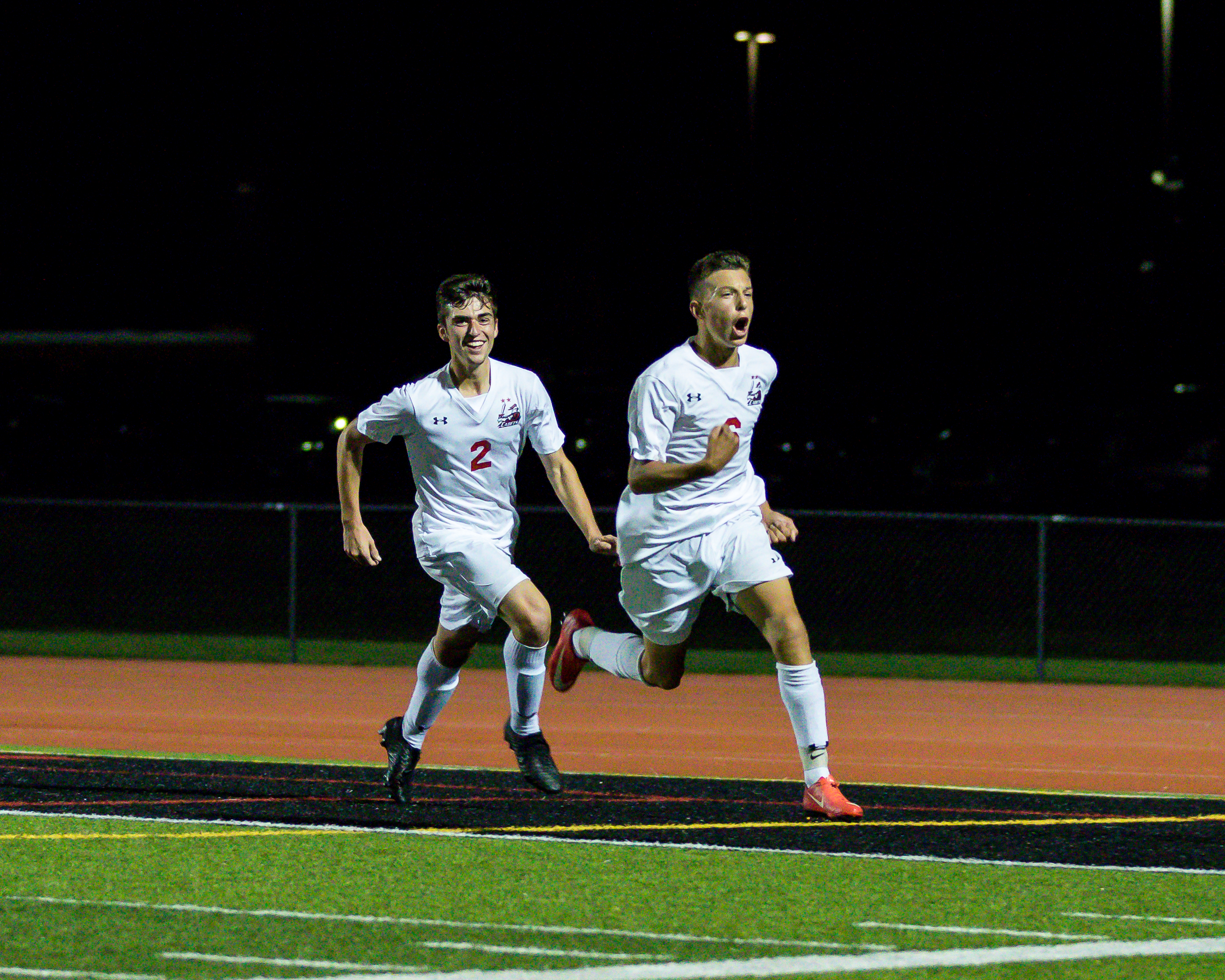 VIEW MORE CHRIS ROACH PHOTOS HERE.
No. 3 Fairport 1 No. 6 Rush-Henrietta 1 (R-H advances on PKs)
No. 5 Webster Thomas 3 No. 4 Churchville-Chili 2
Luke Piazza connected on a pass from Danny Charleton in the first overtime period to send Webster Thomas into the Class AA semifinals, where they will face No. 1 seed McQuaid Jesuit. Kyle Sicke and Ben McKeown also tallied goals for the Titans.
Class A1
No. 1 Brighton 2 No. 9 Canandaigua 0
A 0-0 halftime score may have put the top-seeded Barons on notice as they responded with second-half goals from Connor McQuillan and Lyosha Georas. The Barons will face No.4 seed Greece Athena in the Class A1 semifinals.
No. 3 Greece Arcadia 6 No. 6 Eastridge 0
Tyler Lewandowski netted four goals. Chris Colilli and Noah Skillman added a goal apiece. Arcadia advances to No. 2 seed Brockport in next Tuesday's semi-final.
No. 4 Greece Athena 4 No. 5 Pittsford Mendon 0
Dylan Rice entered Friday's Class A1 quarter-final with four goals in the previous 16 games. The Greece Athena freshman equalled his season output in the Trojans 4-0 victory over the Pittsford-Mendon Vikings Friday afternoon. READ MORE.
From Thursday: No. 2 Brockport 4 No. 10 Irondequoit 0
Zachary Langelotti scored two goals. Ben Leach and Zach Wharram added a goal and an assist apiece for Brockport (14-2-1). Caleb Peck and Michael Rennie added an assist apiece.
Class A2
No. 1 Honeoye Falls Lima 1 No. 8 Wilson Magnet 0
Matt Bond netted the game winner, and HF-L moved on to play No. 4 seed Aquinas in the Class A2 semi-final. The Cougars have won the last four A2 titles.
No. 2 Wayne 4 No. 7 Batavia-Alexander 0
Cullen Bock, Devin LaDue, Jon Graziose, and Tyler Maglier scored a goal a piece as Wayne moved past Batavia-Alexander. Wayne will face No.3 seed Pittsford Sutherland in the Class A2 semifinals.
No. 3 Pittsford Sutherland 5 No. 6 Geneva 0
Liam Wilmot collected two goals and an assist. John Mozrall added three assists, and Sutherland advanced to second-seeded Wayne in the Class A2 semi-finals. Will Bowen, Michael Jobling and Dylan Kladstrup chipped in with a goal apiece. Will Graupman had an assist for Sutherland (9-7-1).
No. 4 Aquinas 4 No. 5 East 3
Senior Michael Theodorou collected a goal and an assist as the Aquinas L'il Irish erased a second-half deficit. READ MORE.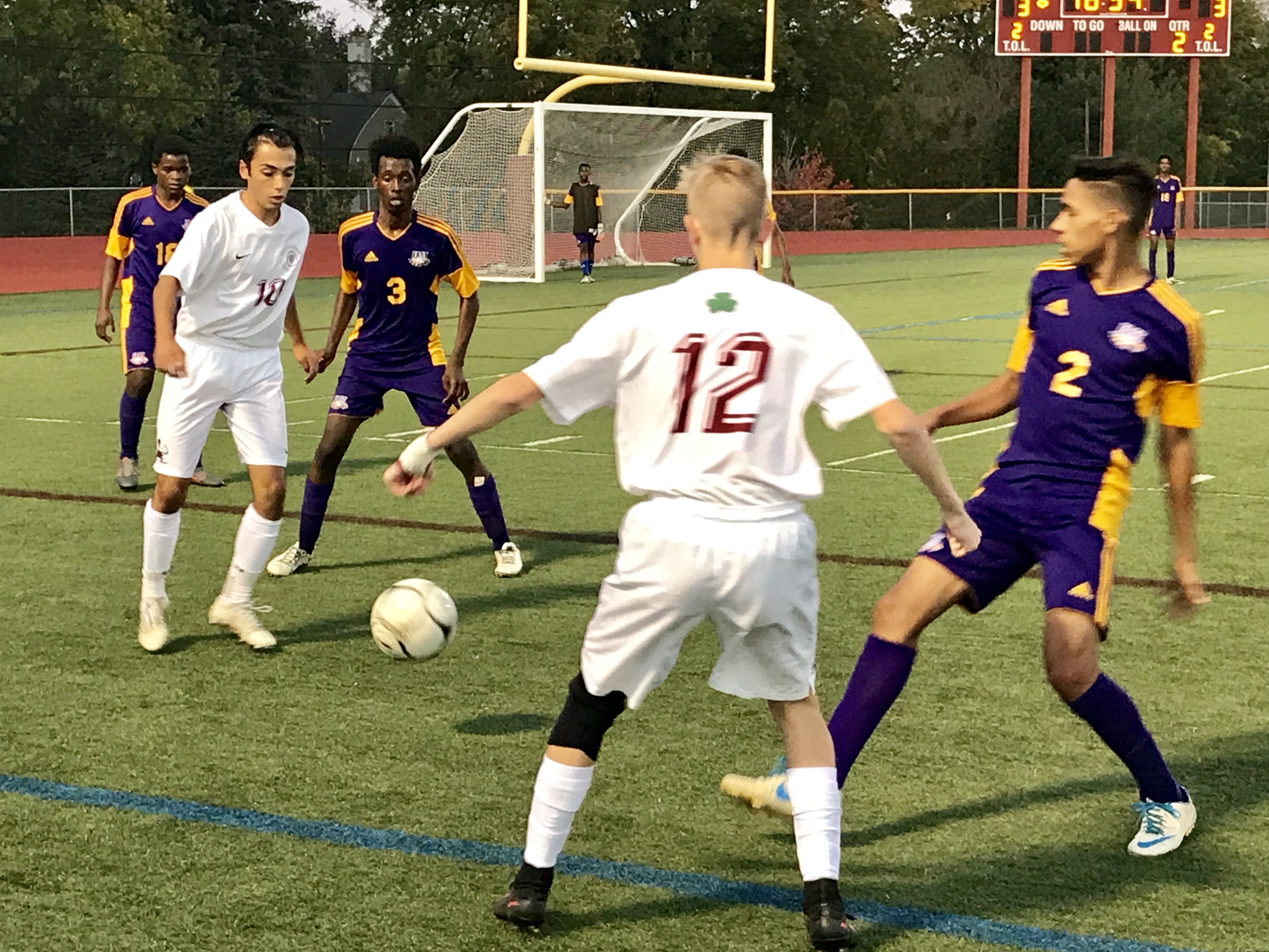 Class D1
No. 1 Naples 2 No. 8 Alfred-Almond 0
Tim Brautigan and Adam Quarterman posted a goal a piece in the second half to help Naples get past Alfred-Almond. Naples will face No. 5 seed Jasper-Troupsburg in the Class D1 semifinals.
No. 7 Wheatland-Chili 2 No. 2 Charles Finney 1
No. 3 Mount Morris 4 No. 6 Filmore 1
Colin Brickwood, Collin Young, Cameron Regal and Dylan Cicero each scored a goal each as Mount Morris advanced past Filmore. Mount Morris will face No. 7 seed Wheatland-Chili in the Class D1 semifinals.
No. 5 Jasper-Troupsburg 2 No. 4 Honeoye 1
Hunter Hadley scored on a pass from Parker Groff in the first overtime period to push Jasper-Troupsburg past Honeoye. Jasper-Troupsburg had tied the game at one on a second half goal from Connor VanGorden. Jasper-Troupsburg will face No. 1 seed Naples in the Class D1 semifinals.
Class D2
No. 1 Belfast 4 No. 8 Houghton 0
Adam Enders scored two of Belfast's four goals and assisted on the other two to help lead Belfast past Houghton. Isaah Lesiure and Hunter Enders scored Belfast's other two goals. Belfast will face No.5 seed Avoca in the Class D2 semifinals.
No. 7 Bradford 4 No. 2 Prattsburgh 3
No. 3 Scio 2 No. 6 Andover 1
Scio trailed 1-0 heading into halftime, but posted two second half goalsfrom Jonathan Spohr and Carter Scholla to propel the comeback victory. Scio will face No. 7 seed Bradford in the Class D2 semifinal.
No. 5 Avoca 5 No. 4 Lima Christian 1
Evan Reppert tallied two of Avoca's five goals as Avoca cruised past Lima Christian. Cameron Giglio, LaDre Stanford and Justin Peplinski also got in on the action with a goal a piece.