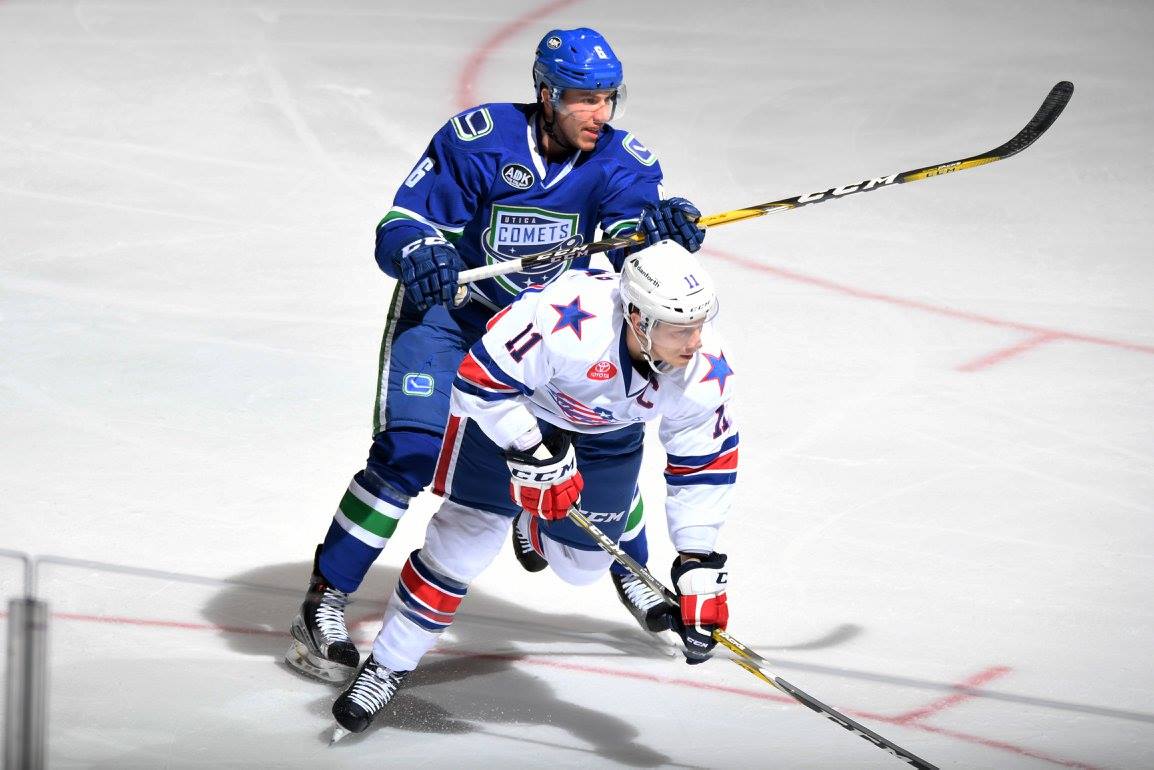 By TODD ETSHMAN
ROCHESTER, N.Y. — The Rochester Americans are not going to go undefeated in the 2017-'18 season. The Utica Comets made sure of that as they picked up their first win of a season opening seven game 23 day road trip.
The Comets applied offensive zone pressure right after the opening faceoff and were quickly rewarded with a goal by Nikolay Goldobin off a turnover behind the Amerks cage just 46 seconds into the game.
The Comets didn't score again in the period but continually kept the puck in the Amerks zone, outshot the Amerks, 13 to 8, and disrupted the home team's passing and break out attempts.
"I know we're not going to win all 76 games but I do expect, at home, to come out the first shift and be prepared and we weren't," an exasperated coach Chris Taylor said after the game.
Comets defenseman Patrick Wiercioch took a drop pass from Reid Boucher at the seven minute mark of the second period and deposited it in the top left corner of the net behind Amerks goaltender Linus Ullmark to complete the scoring.
It was Wiercioch's first goal as a Comet and in the AHL since January 11, 2013, since he's been in the NHL with Ottawa and Colorado.
Boucher assisted on both Comet goals. It was only a two-goal lead with over half a game left to play but the Comets thwarted any Amerk comeback attempts in the second and third periods.  Thatcher Demko, the Comets six foot four inch goaltender handled all 19 second period shots he faced as the Amerks tried to mount a comeback.
Few if any of those shots came through traffic or off a rebound, however.
"We didn't make it too tough on him,"  Nick Baptiste said. "I have to be stronger in front of the net. We got a little frustrated tonight, myself included."
Baptiste lamented the lack of power play success. The Amerks missed on four power play attempts in the game. "It wasn't even good in the games we won (against Syracuse)," Baptiste noted.
"That's a good hockey team. They came ready to play and we didn't and it showed," said Amerks captain Kevin Porter.
Porter said being ready to play "falls on me as captain and the other leaders on this team."
The team will have plenty of time to work on things since they don't play again until they face Charlotte at home on Friday, October 20 and then get a re-match with Utica at home on the 21st.
In Buffalo, the Sabres may be struggling, but if they need someone from Rochester to help give them a spark, it would be difficult to pick based on the 2-0 loss at home.
"Individually, that's where we got in trouble. You get out of sorts playing that way," Taylor noted.
Taylor said it will indeed be a hard week of work ahead for the team. "We have to get better and this week we're going to," said Taylor.