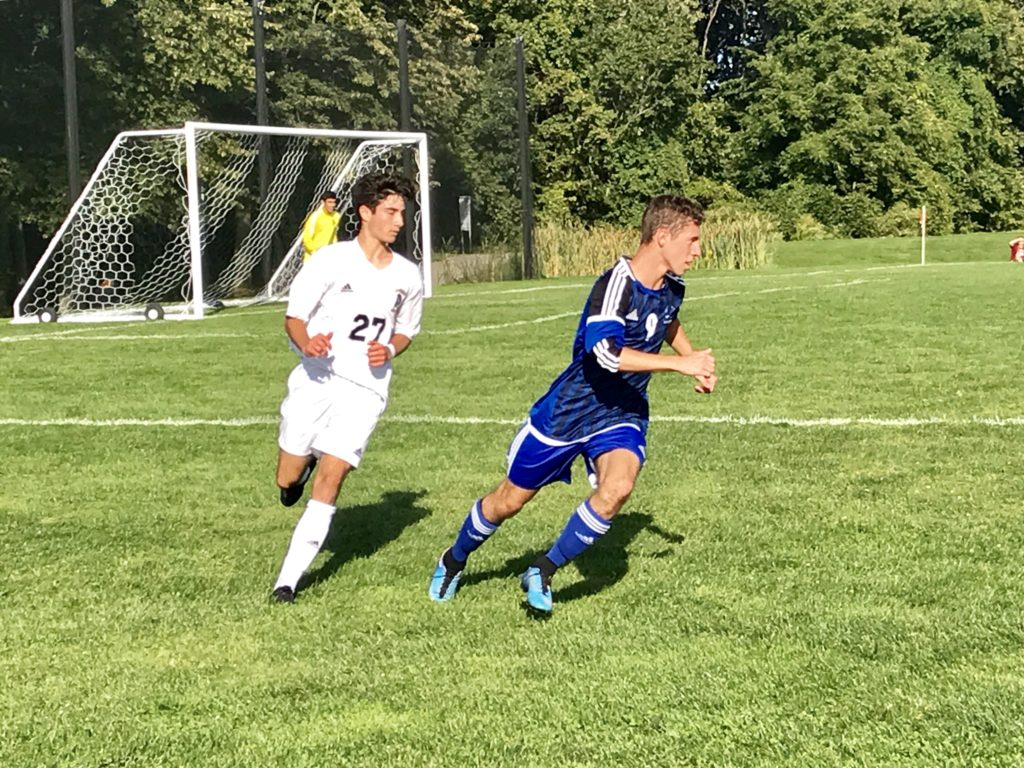 Brockport 3 Canandaigua 0
Zachary Langelotti netted the eventual game winner in the first half as Brockport (13-1-1/8-1-1) claimed the Monroe County Division III title. Colby Wharram and Zach Wharram added second-half tallies.  Vander Hart, Ben Leach and Alex Trostle had an assist apiece for Brockport, ranked No. 9 NYS Class, which has won five straight. Zach Wharram leads Brockport with 13 goals and eight assists on the season.
Pittsford Sutherland 2 Greece Athena 1
Dylan Kladstrup scored his first goal of the season in the 62nd minute, and Pittsford Sutherland (8-6-1/4-4-1) won for the sixth time in their last eight games. Will Graupman assisted on the play. Kyle Snyder also connected for the Knights. Will Bowen collected an assist on Snyder's goal.
Pittsford Mendon 2 Brighton 1
Marty Banghart delivered the golden goal with one minute remaining in the first overtime to cap a dramatic Mendon comeback. Trailing 1-nil late in the second half, Matt Bamford leveled the match with an unassisted goal. Connor Krapf assisted on the game winner for Mendon (6-8-1/3-6-0). Caio De Medeiros gave Brighton (12-2-0/8-2-0) a lead early in the first half with an assist from Connor McQuillan. The Barons had won 11 straight games and entered play ranked No. 3 NYS Class A.
Greece Olympia 2 Greece Odyssey 1
Guy Kadge collected a goal and an assist as Greece Olympia (9-6-1/4-4-0) avenged an earlier loss. Andrew Balch found the back of the net in the sixth minute to give the Spartans the early advantage. Kadge doubled the advantage midway through the second half. Dylan Ange scored Odyssey's lone goal in the 80th minute with an assist from Kent Johnson. Odyssey won the previous meeting in overtime, 2-1. Olympia has won three of its last four games. Kadge has seven goals and three assists on the season.
Greece Arcadia 2 Churchville-Chili 2
Churchville-Chili's Parker Zah scored twice as Churchville-Chili finished with an undefeated mark in Monroe County Division II action. Greece Arcadia's Ryan Karker had two assists as the teams went into halftime tied 2-2 and played to a scoreless draw from there. Carter Englert and Jose Santiago tallied for Arcadia (9-3-3/7-1-2). Andrew Vannest added an assist for C-C (12-2-1/9-0-1). The Saints are ranked No. 22 NYS Class AA.
Rush-Henrietta 3 Victor 0
Zein Mohamed scored once and added an assist as Rush-Henrietta (6-8-0/4-6-0)  won for the fifth time in seven tries. Peter Breen and Hunter Kassel added a goal apiece. Cory Meintel had an assist.
Fairport 3 Gates-Chili 0
Christopher Barker collected three assists for Fairport (10-3-1/7-2-1). Lucas Simpson, Andy Sykes and Alex Christidis scored a goal apiece. The Red Raiders are No. 20 NYS Class AA.
Penfield 1 Hilton 0
Mark Zilist scored in the 17th minute with an assist from Oleg Savka, and Penfield (4-10-0/4-6-0) went on to upset Hilton (11-3-1/8-2-0). The Cadets rank No.7 NYS Class AA.
Eastridge 9 Batavia/Alexander 1
Matt Stefaniw collected two goals and two assists. Tyler Tryt added two goals and an assist as Eastridge (9-6-0/5-3-0) won its second straight game. Dakoda Iamele and Jordon LeBlanc scored two goals apiece for the Lancers. Garrett Silva added a tally. Sarah Shaibi had two assists. Jacob Lynch and Anthony DiMarco had an assist apiece.
Webster Schroeder 2 Spencerport 1
Mirac Karakus and Alex Ortiz connected on second-half goals as Webster Schroeder erased a one-goal halftime deficit to snap a nine-game winless skid. Colin Merkey had an assist. Vincent Ranieri scored Spencerport's lone goal with help from Ajan Rajamohan.
Webster Thomas 4 Irondequoit 1
Brett Kaemmerlen had a goal and an assist to lead Thomas (9-4-2/5-3-2). Michael Geraco, Luke Piazza and Kyle Sicke scored a goal apiece. Owen Lederman had two assists. Ilya Yurovsky added a helper for the Titans. Mason DeLuca gave Irondequoit an early 1-0 edge. Bed Berhe set up the play.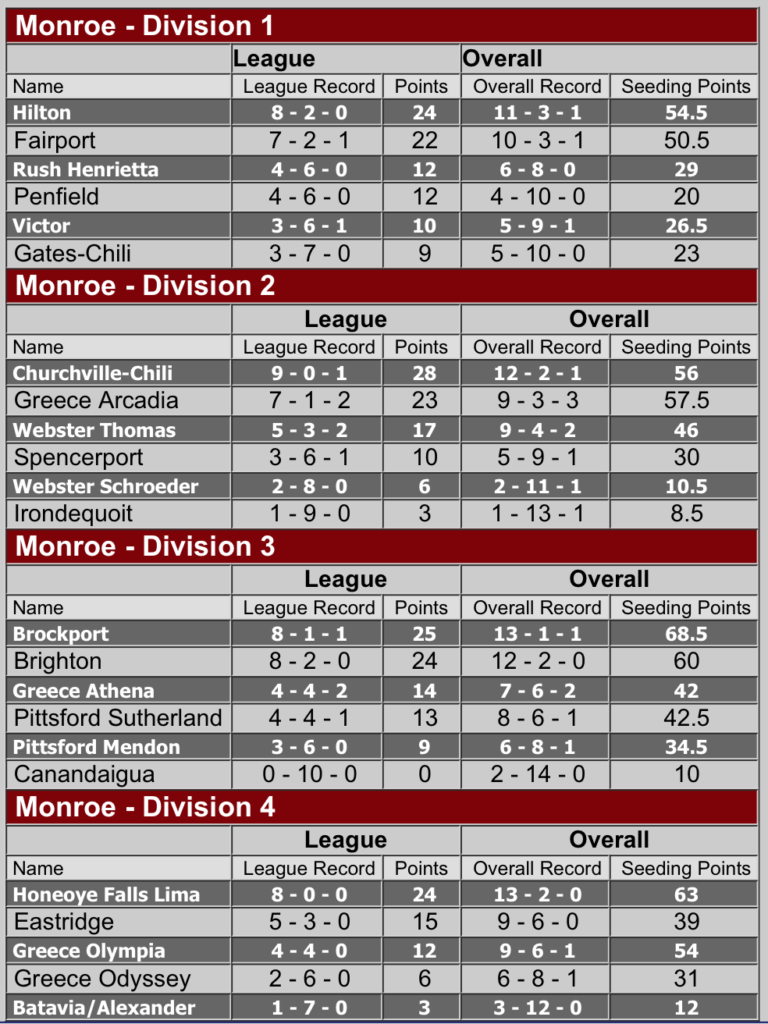 Naples 4 Marcus Whitman 0
Aiden Peterson scored once and assisted on another as Naples, No. 2 NYS Class D, improved to 15-0-1 overall and 14-0-0 in Finger Lakes league play. The shutout was the 14th this season for the Big Green Machines which have allowed just two goals. Evan Bay, Luke Didion and Adam Quarterman also scored a goal apiece. Tim Brautigam and Cole Rathbun both chipped in with an assist.
Bloomfield 5 HAC 1
Simon Wille scored twice for Bloomfield. James McClelland, Dan Frazo and Tanner Kimball had a goal apiece for the Bombers. Adam Sheehan and Sam Evans both added an assist. Nick Schultze scored HAC's lone goal with an assist from Noah Mendola.
Pal-Mac 2 Geneva 1
Pal-Mac, No. 21 NYS Class B, won its fourth straight and improved to 12-3-0 overall and 10-1-0 in Finger Lakes action.
Mount Morris 10 Pavilion/York 0
Josh Hart netted a hat trick. Dylan Cicero scored twice and Mount Morris, No. 11 NYS Class D, improved to 12-2-1 on the season. Collin Young had a goal and two assists. Michael Edwards and Steven Soto chipped in a goal and an assist apiece. Colin Brickwood and Franky Mendez both found the back of the net.
Bath-Haverling 1 Wayland-Cohocton 0
Noah Hill scored in the 79th minute and Bath-Haverling, No. 3 NYS Class B, avenged its only loss of the season. Ethan Buckley assisted on the game winner for the Rams (14-1-1/7-1-0). The shutout was the 11th this season for Bath-Haverling. Wayland-Cohocton (9-3-3/4-3-0) won the previous meeting 2-1 on September 20th.
SOTA/NW/NE 3 Wilson Magnet 1
Saheed Miller and Chris Rapoza had a goal and an assist apiece for SOTA/NW/NE. Lucky Khounsombat added a goal for the SilverHawks.
World of Inquiry 5 Edison/Monroe 1
Yusuf Jeylani scored twice to give WOI a 2-0 lead at halftime. Suheil Jeylani added two goals and an assist. Emmanuel Nsengiyuma scored with an assist from Isaac Hakizimana. Ayub Jeylani added two assists. Ali Ali had the Edison/Monroe tally with an assist from Esam Saleh.
Red Creek 2 Williamson 1
Tristan McIntyre connected on a pair of unassisted goals in the first half, and Red Creek (6-8-1/5-6-1) went on to upset Williamson, ranked No. 7 NYS Class C. Connor Garrod scored the lone Williamson (13-2-0/10-2-0) goal in the 52nd minute with an assist from Simon VanHoover.  The Marauders have lost two of their last three games.
Marion 2 East Rochester 1
Braeden Szostak assisted on both Marion (10-4-2/8-3-1) goals as the Black Knights won their seventh straight game. Ethan Walters and Jackson Taylor had one goal apiece for a 2-0 Marion halftime lead. Chuck Domm converted a penalty kick for the lone East Rochester goal.
TUESDAY
Belfast 3 Houghton 0
Adam Enders scored twice and assisted on another goal as Belfast, No. 10 NYS Class D, ran its record to 14-1-0 on the season. Hunter Enders added a goal, and Alex Enders had an assist.
Wheatland-Chili 3 Attica 2
Anthony Rosado scored in the 77th minute with an assist from Will Gebhardt, and Wheatland-Chili (9-5-0/7-2-0) held off a late rally for its second straight win. David Domina gave Wheatland-Chili a l-nil edge in the first half, and Joey Sutherland doubled the advantage seven minutes into the second stanza. Attica's Quincy Burg cut the deficit in half 12 minutes later and Zachary Kowalewski leveled the match in the 72nd minute. Gebhardt collected two assists in the contest. Rosado added a helper. Nick Liczewsky and Logan Veley had an assist apiece for Attica.
Bishop Kearney 7 Northstar Christian 1
TJ Tytler netted a hat trick for Bishop Kearney (10-4-1) including two in the second half to break open a one-goal game at the break. Jordan Freed and Fernando Furioso added a goal and an assist apiece. Caleb Baranka and Matt Tierney both scored a goal for Kearney. Evan Stevely had two assists for the Kings. Alex Mowry, Casey O'Gara and Brandon Whitlow chipped in with one assist each. Collin Nasso scored the lone Northstar goal.
Addison 4 Prattsburgh 0
Nick Sutryk netted a pair of second-half goals as Addison (8-4-2/3-1-2) knocked off Prattsburgh, ranked No. 16 NYS Class D. Brice Bump opened the scoring in the fifth minute with an assist from Thomas Jacobson. Logan Windngale made it a 2-nil game 14 minutes later. Stevie Hartman and David Howe had an assist apiece.