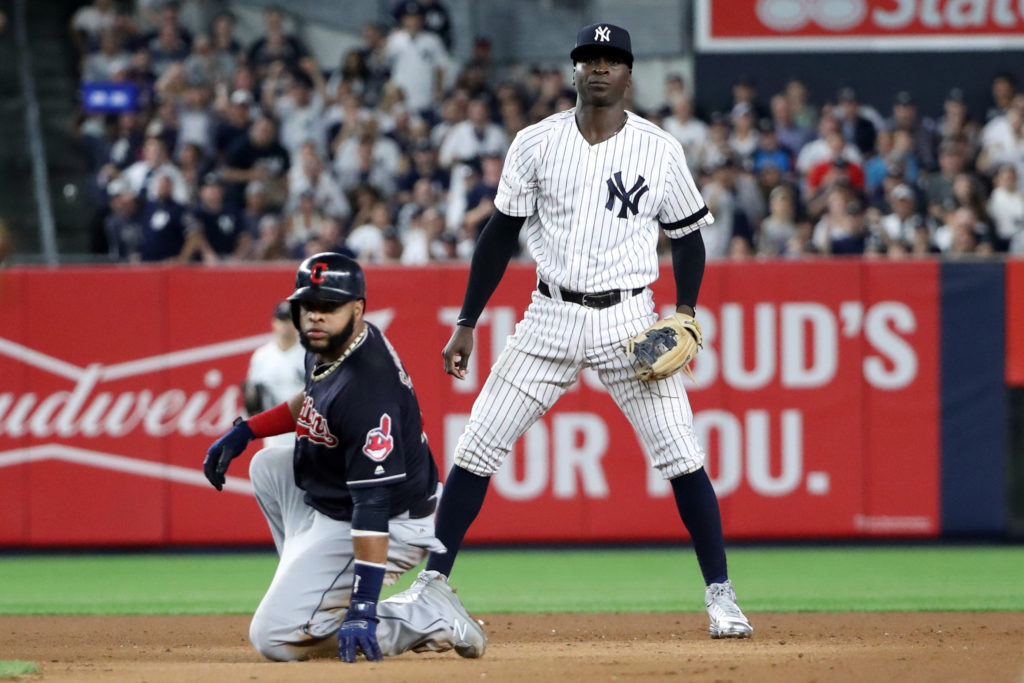 HOUSTON ASTROS (2-1) 3
BOSTON RED SOX (1-2) 10
BOSTON, MA– Hanley Ramirez and Rafael Devers combined for six RBI on seven hits to help the Red Sox score 10 unanswered runs. Joe Kelly, David Price, Addison Reed and Carson Smith shut out the Astros over the final seven-and-two-thirds innings, allowing nine hits and one walk, striking out five.
Devers drove in two of his RBI with his first career playoff home run, coming in the third inning with two outs. Price has now thrown six-and-two-thirds scoreless innings in relief and struck out six in two games this series.
Carlos Correa hit a two-run home run for the Astros, giving him two home runs and six RBI over three games this postseason. Jose Altuve went 3-for-4 and is now 8-for-11 in the series.
The win prevented the Red Sox from being swept, but an Astros win in game four will clinch the series.
CLEVELAND INDIANS (2-1) 0
NEW YORK YANKEES (1-2) 1
NEW YORK, NY– Greg Bird smacked a solo home run in the seventh inning, his second of the series. Masahiro Tanaka tossed seven scoreless innings, letting up three hits and one walk while fanning seven for the win. Aroldis Chapman picked up the save for the Yankees, hurling one-and-two-thirds scoreless innings in relief with two hits allowed and four strikeouts.
Bird's home run was just the second by a left-handed hitter off lefty Andrew Miller all season, the other being hit by Cody Bellinger of the Dodgers. The win marked the first of Tanaka's postseason career.
Carlos Carrasco threw five-and-two-thirds scoreless innings for the Indians, surrendering three hits and three walks with seven set down by strikeout. The start was the first of Carrasco's career in the playoffs.
The win kept the Yankees from being swept in an ALDS for the first time in team history. It was also the first time since July 14 that the Indians were shut out.
MONDAY SCHEDULE:
HOUSTON ASTROS vs. BOSTON RED SOX (Game 4) 1:08 p.m.
WASHINGTON NATIONALS vs. CHICAGO CUBS (Game 3) 4:08 p.m.
CLEVELAND INDIANS vs. NEW YORK YANKEES (Game 4) 7:08 p.m.
LOS ANGELES DODGERS vs. ARIZONA DIAMONDBACKS (Game 3) 10:08 p.m.