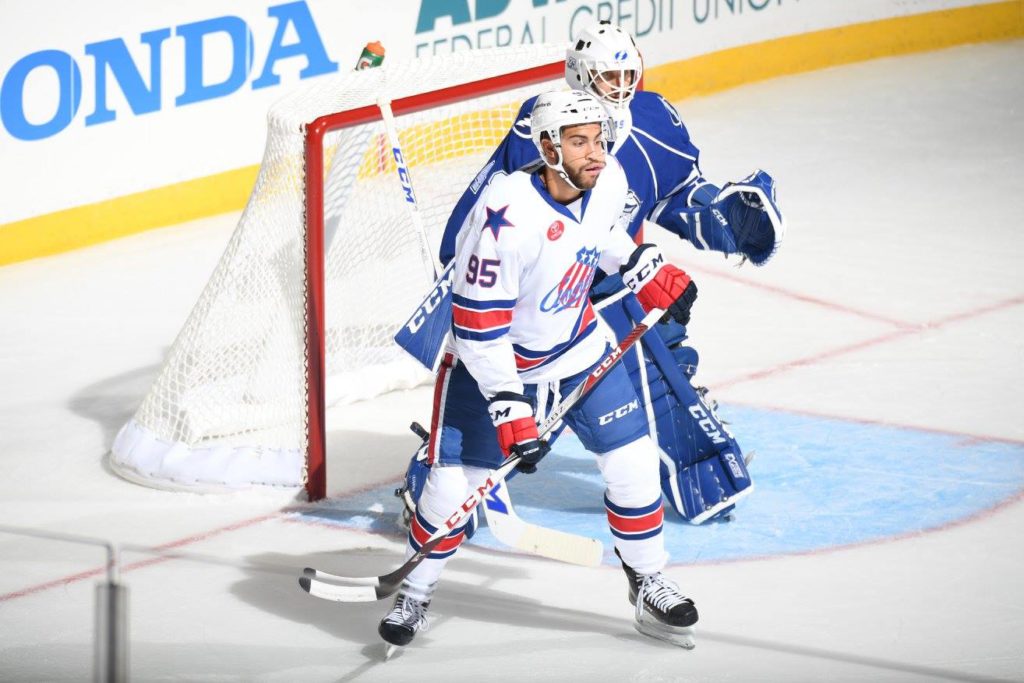 By TODD ETSHMAN
Justin Bailey scored two big goals, new head coach Chris Taylor got his first win as a head coach in the AHL, and the Rochester Amerks started the 2017-'18 season with a 3-1 win over last season's Calder Cup runner-up, the Syracuse Crunch.
An opening night crowd of 5,009 had plenty to cheer about. It started with pre-game introduction cheers for returning players like Bailey and goalie Linus Ullmark and continued with the return of veteran defenseman Nathan Paetsch, who played for the organization from 2003 to 2010.
All three did not disappoint on opening night. Bailey scored twice, Paetsch solidified the defense and Unmark was outstanding in stopping 28 of 29 shots on the night. But, it was Taylor who got the game puck from his players for a big first win as Amerks coach. Taylor got plenty of game pucks here for his accomplishments as a player.
Ulmark lost his shutout bid with just 2:26 left to play in the third period. Crunch coach Benoit Groulx made an unusual move in pulling his goaltender for an extra attacker with over four minutes to play but it paid off when center Mitchell Stephens got the puck in through a crowd of players in front of Ullmark. But, that was a s close as the Crunch would get.
"Linus was outstanding for us tonight. He made great saves at critical times especially on the penalty kill in the second period," Taylor said.
Syracuse went scoreless in six power play attempts for the night.
The Amerks were one for five on the power play.
"We would have liked to get more pressure but it's the first game. Both teams struggled and the ice wasn't that great," Taylor said.
Bailey nearly had a hat trick when he hit the post with the Syracuse net empty in the closing minutes.
"All of us wanted to have a good start," Bailey said. "I haven't scored in a few months and it's been a long summer."
Bailey said he had never faced veteran Crunch netminder, Michael Leighton, before but was able to send two blasts past him from his right wing position.
The first with 88 seconds left in the first period hit inside the left post and came out before Leighton even flinched.
His backbreaking goal in the third  gave the Amerks a 3-0 lead. It was another bullet that beat Leighton through the legs. Bailey got the puck off a dropped stick on the ice in the Amerks zone, then left the defense behind with speed.
In between Bailey's goals was a second period goal by newcomer, Steve Moses, a veteran right winger who spent the past two seasons in Russia in the KHL. It, too, clanged off the post and in at 1:06.
Taylor said he liked Bailey's game but also said there are aspects of his game he has to pick up if he's going to play in Buffalo.
"It's a process and he knows it," Taylor said. "He can skate and beat defensemen one on one and he has a great shot."
The two teams meet again in Syracuse on Saturday night.