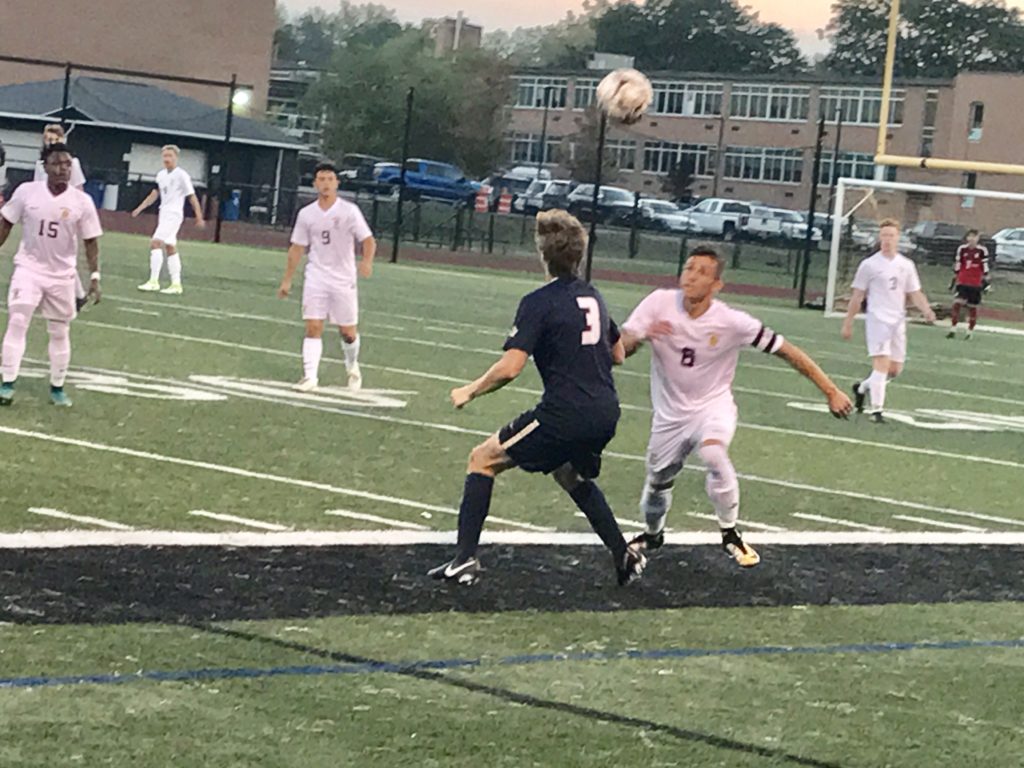 The McQuaid Jesuit Knights needed a strong second half. The Williamson Marauders required a golden goal in the first overtime. Section Five's two top-ranked teams in the state maintained their respective spots.
Caught in a scoreless draw at half, McQuaid struck for three goals in the opening five minutes of the second half Friday night en route to a 4-0 win over St. Francis (VI), a 12-0-0 mark on the season and their second straight week atop the NYS Class AA poll.  The usual suspects did the work for McQuaid: Dominic Duncan (15 goals, five assists on the season) scored a goal and added two assists in the win. Justin LaFountain (11 goals, five assists) netted two, and Dan Malloy (nine goals, six assists) scored a goal. McQuaid beat Canisius, 3-0 earlier in the week. McQuaid will host RCAC rival World of Inquiry on Wednesday and travel to play SOTA/NW/NE on Friday.
Despite wins over Webster Schroeder and Webster Thomas, Churchville-Chili (9-2-0/7-0-0) dropped from No. 20 to No. 21 Class AA. The Saints will do battle with Irondequoit and Spencerport this week. Alex Voglewede led C-C to its fourth shutout of the season in the 1-0 triumph over Thomas. Fairport, which fell to Thomas and tied Victor, dropped from No. 17 to No. 23. The Red Raiders have a busy week ahead with tilts against Rush-Henrietta and Penfield before traveling to Hilton for a contest which could decide the Monroe County Division I crown. Bobby Guilfoil leads Fairport with five goals.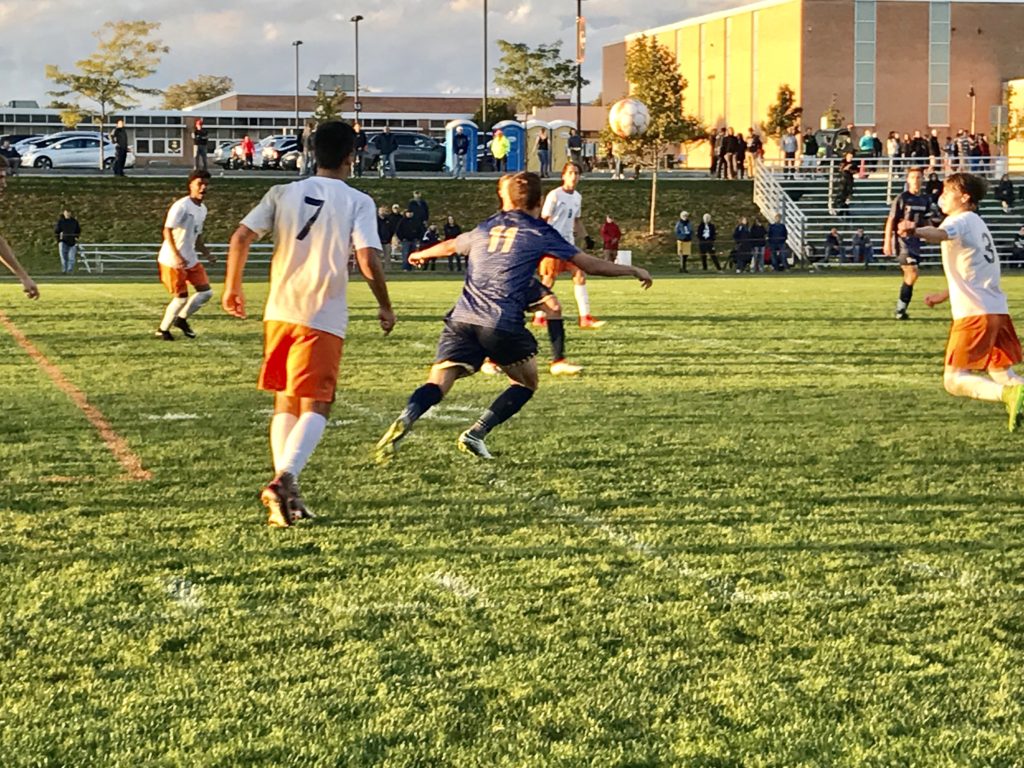 File under long overdue – Hilton made its first appearance of the season in the rankings. After wins over Victor and Gates-Chili, the Cadets (9-1-1/6-1-0) went from unranked to No. 10. Hilton will play at Rush-Henrietta on Wednesday before hosting Fairport at LeBeau Field on Saturday. Evan Pirnie has nine goals and six assists for Hilton.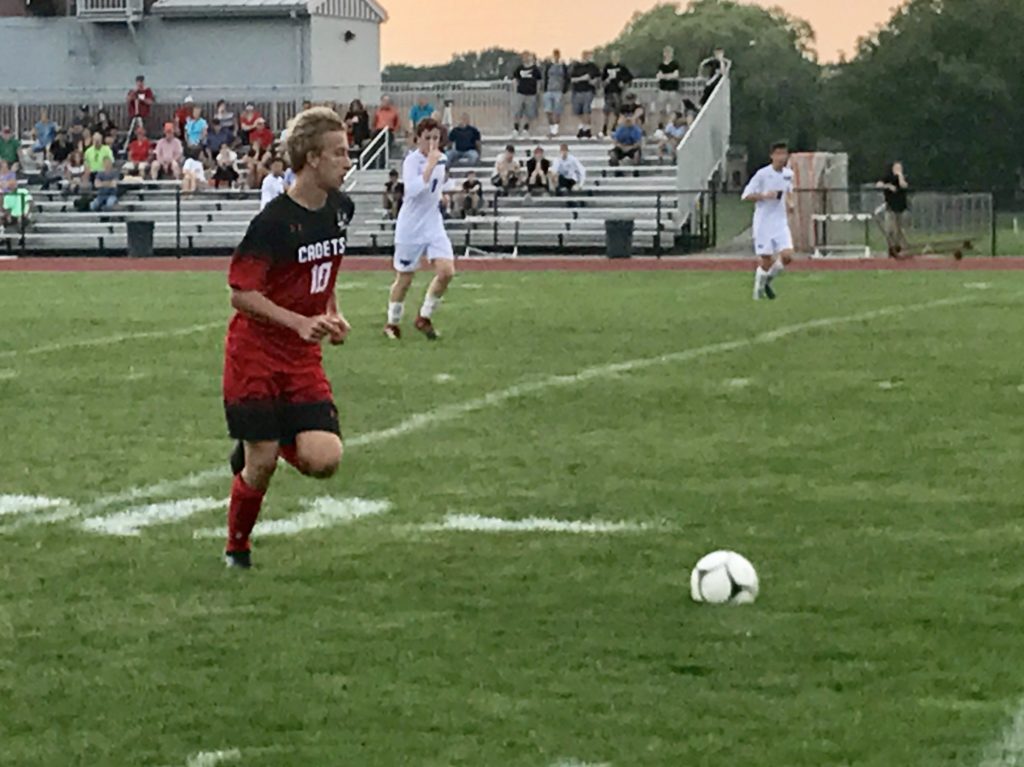 Andrew Niles connected in the 89th minute to give Williamson a 2-1 win over Gananda. The Marauders (11-0-0) closed the week with a triumph over Sodus to keep No. 1 NYS Class C for the third consecutive poll. Williamson will play North Rose-Wolcott on Tuesday this week and follow with a game on Thursday versus Marion. Byron-Bergen/Elba (13-0-1) won twice last week without a setback and dropped from No. 11 Class C to No. 12. They will close their regular season with games against Kendall and Wheatland-Chili. Bloomfield (10-3-) has won seven straight including victories over Honeoye and Marcus Whitman to move into the rankings at No. 20 NYS Class C.
With wins over then No. 3 Brockport and Greece Athena, Brighton (10-1-0) jumped from No. 10 to No. 3 NYS Class A. Felipe Haunch leads the Barons with 11 goals and five assists on the season. Gabriel Barraclough-Tan has eight goals and three assists. Brighton plays Canandaigua and Pittsford Sutherland this week.
Brockport (10-1-1) dropped to No. 10 Class A. Zachary Langelotti and Zach Wharram have 11 goals apiece for the Blue Devils. Brockport plays Pittsford Sutherland and Greece Athena this week.
After winning six straight, HF-L (10-2-0) finally moved into the rankings at No. 24 Class A. Cougars goalkeeper Nico Coria has five shutouts during the recent streak and six on the year. Parker Hotchkiss leads the HF-L offense with nine goals.
Bath-Haverling (10-1-1) beat Dansville twice last week and stayed No. 6 Class B. Livonia triumphed over Wayland-Cohocton but lost to Hornell and yet the Bulldogs moved from No. 11 to No. 7 Class B. Palmyra-Macedon (8-3-0) moved into the rankings at No. 25.
Naples (10-0-1) moved up to No. 2 NYS Class D. The Big Green Machines have allowed just one goal this season. Mount Morris (10-1-1) is No. 9 NYS Class D while Belfast is ranked No. 13 and Jasper-Troupsburg at No. 15.