After beating Webster Thomas earlier in the season, one might have expected Churchville-Chili to press its advantage in a rematch. Especially considering  the Saints hold the top spot in Monroe County Division II entering the game and would be playing in front of a homecoming crowd.
Ninth-year coach John Mahoney had something else in mind.
"Our game plan was 11 guys behind the ball," Mahoney explained. "If we did that and defended them and didn't give them their chances, then I thought we would counter on them.
"We were behind the ball all game long. You get 10, 11 guys behind the ball defending. That's how Chelsea and Manchester United and a lot of the Italian teams play. You get guys behind the ball and you counter. We did it well today."
The strategy proved effective on a day with passing showers. Seamus Parker took a Mario Cozzo feed from the right wing and finished in the bottom left corner as the Saints, ranked No. 20 NYS Class AA,  won their second straight game.
"We opened up at the very end there," Mahoney noted. "We had a little bit more of our creative guys on the flanks. That was getting us forward a little bit more."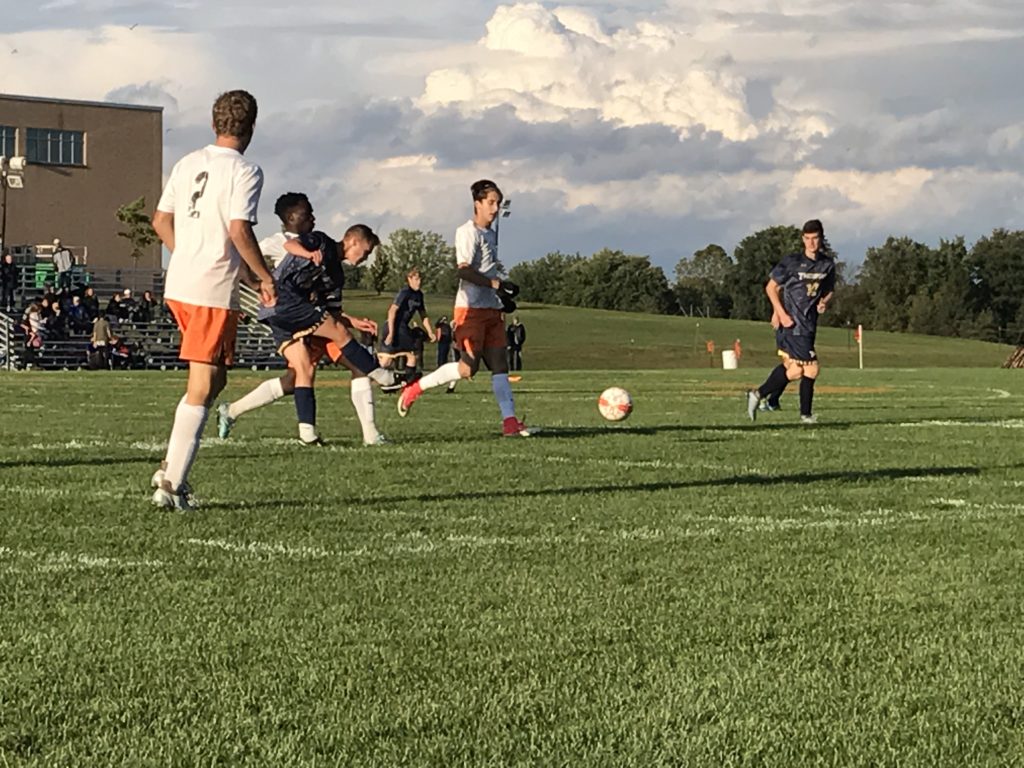 With a tangle of players in front of him creating a screen, Parker connected from just outside the 18-yard using his left foot.
"We were playing a high/low striker," Mahoney added. "He's a right-footed player. He struck it well. Kept it low."
The goal was Parker's second of the year.
"I'm kinda lucky it's a wet day out because I think [a defender] slipped on it and it popped right to me," Parker said.  "Mahoney always tells me 'shoot, shoot, shoot, shoot.' I never do. For some reason today I did.
"I am definitely a right-footed player. I think that's my first left-footed goal."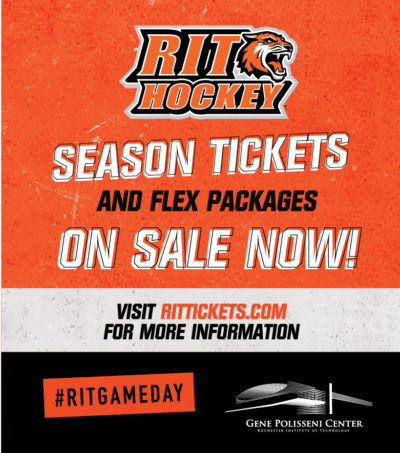 Senior goalkeeper Alex Voglewede anchored a defense which absorbed a relentless Thomas attack.
"They were definitely putting a lot of pressure," Voglewede said. "For the last 10 minutes I would say they had the possession. There were umpteen crosses into the box that they got a touch on or their head on that just went out of bounds.  They had two corner kicks, and they were well-placed. I got a hand on one when it popped back up. Our defense cleared it out from there."
The shutout was the fourth this season for Voglewede and Churchville-Chili (9-2-0/7-2-0)
"He had punch outs," Mahoney said of his keeper. "He had some big saves on some really good free kicks that they had. They had some dangerous free kicks. They might have gone toward him, but they were whipped in and fast. On a slick day that's hard to keep your hands on those. A lot of times they'll deflect down. He held them. He played well. He played really, really well."
Alex Voglewede punches away a Thomas threat. @CCCSDathletics holds on for a 1-0 victory. pic.twitter.com/8UsmgmcOV2

— Paul Gotham (@PickinSplinters) September 29, 2017
The loss snapped a four-game Thomas (7-2-2/3-2-2) winning streak. The Titans were unbeaten in their last six.
"That's a legitimate team right there," Mahoney said of Thomas. "We've beaten them twice and both times I've said the same thing. That's one of the top two or three teams in Rochester. I'm talking in any class. They are quality."
The win also gave C-C breathing room at the top of Division II standings with second place Greece Arcadia trailing at (7-3-2/5-1-1).
"That was huge," Parker said of the win. "I feel like when we play better teams, it just makes have to play up with them. It's just amazing to beat a team like that in our division. Now we have such a better chance of winning it."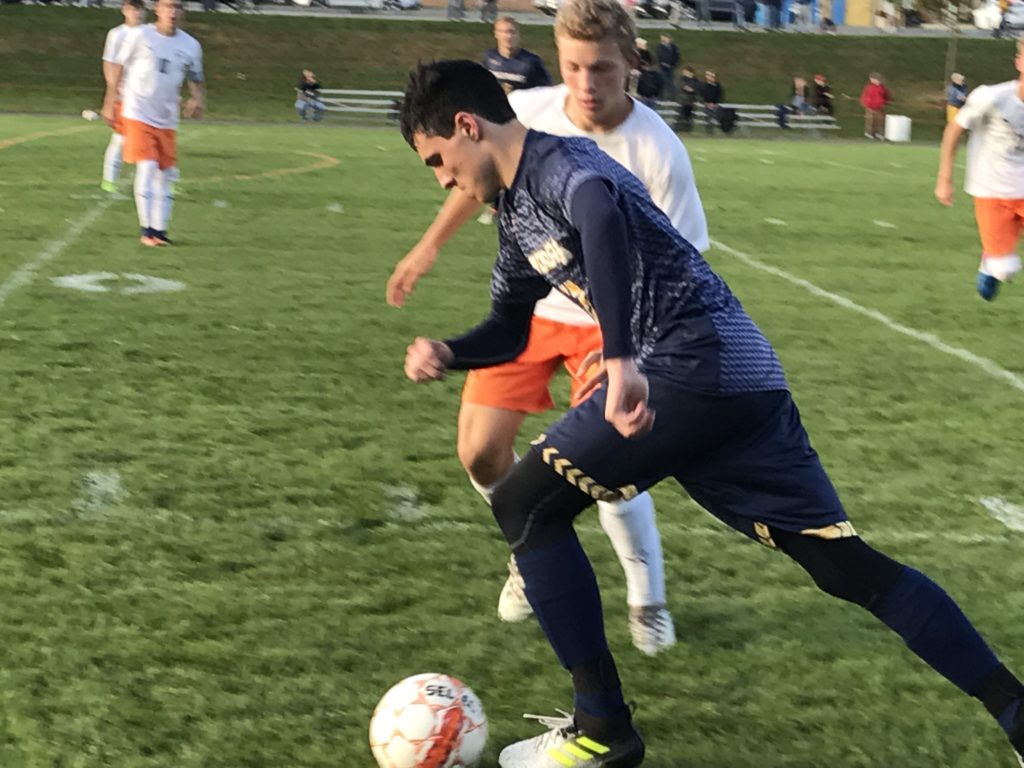 Churchville-Chili took the earlier meeting between the two teams, 2-0.
Churchville-Chili hosts Irondequoit on Tuesday. The Saints have a rematch at Arcadia on October 11th.
Thomas plays at Webster Schroeder on Wednesday.