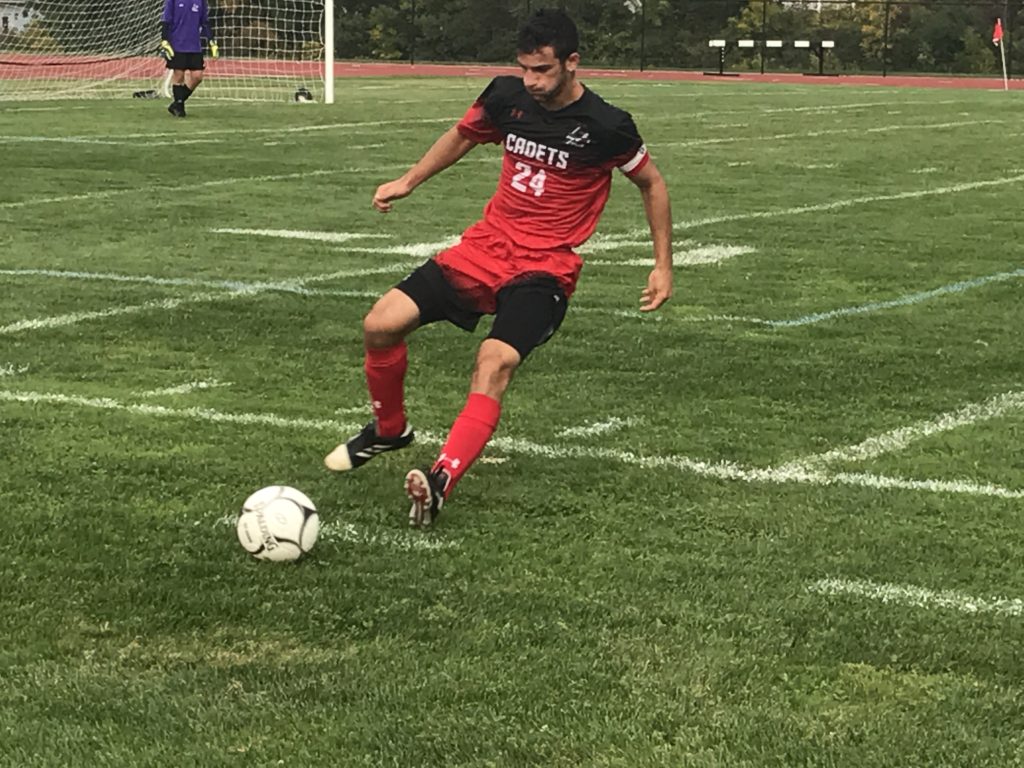 Honeoye Falls Lima 2 Greece Olympia 0
Nico Coria registered his sixth shutout of the season, and Parker Hotchkiss netted his team-leading ninth goal as the Honeoye Falls-Lima Cougars won their sixth straight. READ MORE.
Spencerport 2 Irondequoit 1
Alex Sigurjonsson netted his third goal of the season in the second overtime, and Spencerport improved to 3-3-1 in Monroe County Division II. Ajan Rajamohan scored the first Spencerport (5-6-1) goal.
Fairport 1 Victor 1
Fairport got the scoring started with a goal from Tanner Crisafulli, his second of the season. Victor responded, though, with Andrew Crean converting on an Ethan Ashe pass to tie the game. The goal was Crean's sixth of the season and the assist was Ashe's second. Fairport sits in second place in Monroe County Division I at 4-1-1. Victor is in third at 3-3-1.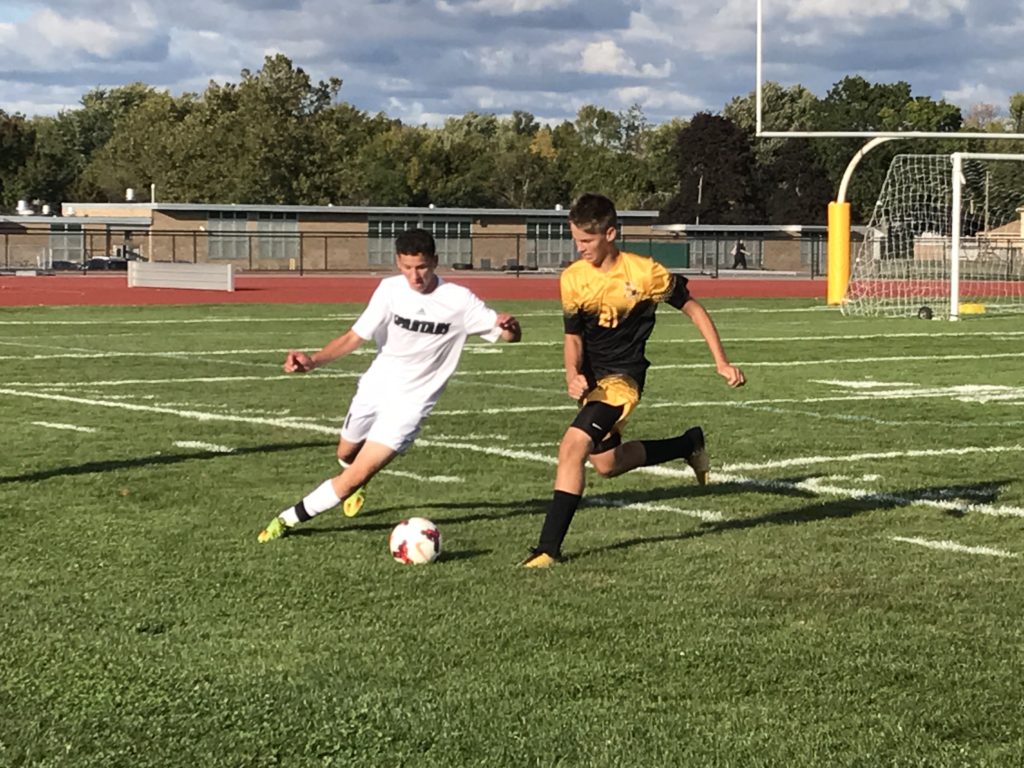 Brockport 3 Pittsford Mendon 2
Vander Hart found the back of the net twice including the game winner from Michael Rennie as Brockport, ranked No. 3 NYS Class A, responded to its first loss of the season last time out. Tyler Daly supplied the other Blue Devil goal. Zachary Langelotti and Zach Wharram added an assist apiece for Brockport (9-1-1/5-1-1). Ty Wilkes and Youseff Naguib scored for Mendon (3-7-1/1-5-0). Michael Harrington added an assist for the Vikings. Brockport lost to Brighton in Tuesday.
Hilton 2 Gates-Chili 0
David Stirpe scored his first goal of the season, assisted by Evan Pirnie (sixth assist) to help the Cadets take a 1-0 lead into halftime. Pirnie added a second half goal, his ninth of the year, assisted by Jack Gombatto, his second assist of the season. This was Hilton's third shutout of the year as they sit atop Monroe County Division I at 6-1-0 in conference play, 9-1-1 overall.
Greece Arcadia 4 Webster Schroeder 2
Tyler Lewandowski posted a hat trick. Sergio Garcia tallied Arcadia's other goal, his third of the year. Chris Colilli assisted on three of Arcadia's goals, totaling six helpers on the year. Greece Arcadia sits in second place in Monroe County Division II at 5-1-1. Lewandowski leads the Titans with 12 goals on the season.
Brighton 2 Greece Athena 1
Lyosha Georas tucked one inside the near post in the 66th minute and Brighton (9-1-0/6-1-0), despite playing without a key piece for a better part of the second half, won its eighth straight. READ MORE.
Rush-Henrietta 4 Penfield 2
Hunter Kassel scored twice while Peter Breen and Curtis Rowe added a tally apiece for Rush-Henrietta (4-6-0/2-4-0). Khalid Qasim collected two assists for the Royal Comets. Justin James and Zein Mohamed both had a helper.
Eastridge 9 Wilson Magnet 0
Jordan LeBlanc registered a hat trick and added two assists. Matt Stefaniw tallied three times. Tyler Tryt chipped in a goal and four assists. Eastridge improved to 7-4-0 overall. Garrett Silva and Mike Demauro also scored for the Laners. Abdulnahab Muthana had an assist.
Canandaigua 4 Edison/Monroe 1
Ali Ali scored with an assist from Esam Saleh for the Inventors.
Bishop Kearney 3 Lima Christian 1
TJ Tytler scored twice to lead Bishop Kearney (5-4-0). Ramsey Daymon added an unassisted goal in the 78th minute. Fernando Furioso had an assist for the Kings. Jordan L'Esperance had Lima Christian's lone goal with an assist from Clark Consul.
Mount Morris 5 Geneseo 2
Five different players scored a goal apiece as Mount Morris, ranked No. 3 NYS Class D, improved to 9-1-1 on the season. Colin Brickwood, Collin Young, Ryan Morgan, Franky Mendez and Dylan Cicero all found the back of the net for Mount Morris. Steven Soto had two assists. Michael Edwards and Josh Hart added a helper apeice. Jack Gagnier scored twice for Geneseo. Danny Kelly added an assist.
Livonia 3 Wayland-Cohocton 1
Kyle Feldman collected a goal and an assist for Livonia, ranked No. 11 NYS Class B. Mark Brado and Tavian added a goal apiece. Kevin Klimm scored with an assist from Kalum Holbrook for Wayland-Cohocton.
Bath-Haverling 1 Dansville 0
Thomas Binkowski connected in the 60th minute with an assist from Nick Strong and Bath-Haverling, ranked No. 6 NYS Class B, improved to 9-1-1 overall and 3-1-0 in Livingston County action.
Byron-Bergen/Elba 1 Holley 0
Kyle Foeller scored with an assist from Kylar Chambry for Byron-Bergen/Elba, ranked No. 11 NYS Class C.
Naples 7 South Seneca-Romulus 1
Nick Green scored twice and had an assist as Naples, ranked No. 7 NYS Class D, improved to 9-0-1 on the season. Stefan Radak, Luke Didion, Evan Bay, Stuart Yates and Cole Rathbun added a goal apiece. Tim Brautigam and Ben Gordon and two assists apiece. Jacob LaPrarie and Aiden Peterson both had an assist. The goal was the first one allowed this season by Naples.
Belfast 2 Friendship 0
Adam Enders scored twice for Belfast, ranked No. 15 NYS Class D. McKenzie Cox and Eli Broshar had an assist apiece.