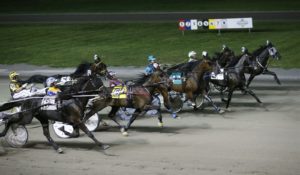 By Kevin Oklobzija
The Spot Play Hot Plays for Wednesday night at Batavia Downs
Race 3
No. 6 Stargazing Cruiser (5/2 morning line). Drops in class to this never-won-three condition and will surely be the favorite. Faced much, much tougher — and was first-over — in her last race, which was her first after shipping down from Canada.
Race 7
No. 4 Kruella (8-1 morning line). Gets her best post since the second week of the meet, when she won the filly & mare open. Figures to get a perfect second-over trip.
Race 9
No. 5 Barefoot Bluejeans (5-1 morning line). There are a lot of horses that are off-form in this field, and I think there's potential for the front end to collapse. Barefoot Bluejeans had a solid race or two before a sick scratch in mid-August, and last week closed nicely (:29.4) from post-8 when dropped to this bottom level for the first time.
Recapping Monday's SPHPs
Race 2 Can U Be Fun. Winner. Made a strong three-wide move heading to the third-quarter marker and overpowered the field. The 9/2 morning line became 3-2 at post time.
Race 4 Bred to Race. Finished last. Went off at 9/5, left, tucked and then brushed to the front when another leaver went off-stride. But for whatever reason, he was was all done after a half mile. Backed through the field.
Race 8 A Weekend. Fifth. Tried it first-over as the 6/5 favorite and raced poorly.
Race 9 Maradona. Winner. I said this was the surest thing of the night and maybe the week. I was wrong. He was the surest thing of the century. Went off at 2/5 and blazed to a never-in-doubt front-end victory in 1:53.4.