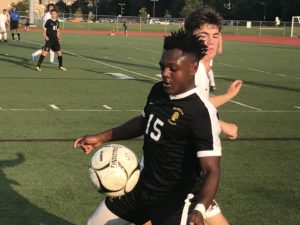 Spencerport 2 Penfield 0
Vince Ranieri knocked home a second-half header, and Spencerport (4-4-1) won its second straight by shutout.
McQuaid 7 St. Francis (VI) 2
Dominic Duncan collected two goals and an assist for McQuaid ranked No. 1 Region II in the USA Today poll and No. 2 in the New York State Writers Association Class AA poll. READ MORE.
Williamson 3 Red Creek 2
Hunter Byron netted two goals, and Justin Easton added the eventual game winner in the 68th minute as Williamson, ranked No. 1 Class C NYS improved to 8-0-0 on the season. Eaton, who leads Williamson with 15 goals and eight assists added a helper as did Connor Garrod and Simon VanHoover. Tristan McIntyre and Ignasio Lancho scored for Red Creek. Dylan Wood chipped in an assist.
North Rose-Wolcott 4 Gananda 3
Sean Schukraft, Steven Heumann and Zach Ciprich scored a goal apiece in a losing effort. Zach Dier and Raphael Frazon contributed an assist apiece for Gananda.
Marion 1 East Rochester 1
Aidan Cady scored in the 26th minute for East Rochester
Kendall 6 Northstar Christian 2
Nathan Warters netted four goals including three as Kendall pulled away in the second half. John Rath and Jacob Esposito added a goal apiece for Kendall. Michael Gardner chipped in two assists. Chris Butlin had one helper. Waters has nine goals on the season. Colin Nasso had a goal and an assist for Northstar Christian. Josh Pickett added a goal. Joshua Caporaletti added an assist.