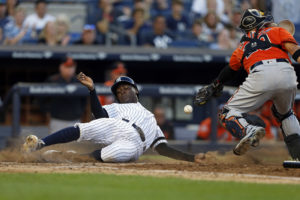 Seattle Mariners (74-75) 6
Houston Astros (90-58) 8
Houston, TX- Five Astros recorded multiple hits, helping them jump out to a 6-0 lead after five innings. Jose Altuve was one of them, increasing his AL batting average lead to .348 while Carlos Beltran also added three hits, two of which brought in Altuve. Dallas Keuchel pitched six innings of one-run ball to record the quality start. The heart of the Mariners' lineup started a late inning comeback, making it 8-5 heading into the ninth. Mitch Haniger hit a solo shot to bring to 8-6, but Joe Musgrove was able to hold it down the rest of the way to earn the six-out save.
Los Angeles Dodgers (96-52) 3
Washington Nationals (89-59) 2
Washington, DC- Cody Bellinger recorded two early RBI hits, including a second inning solo shot and third inning single, to give the Dodgers an early 2-0 lead. Anthony Rendon cut the lead to one with a 4th inning solo home run, but Justin Turner extended the lead back to 3-1 with a sacrifice fly. The Nationals cut the lead to one late on a Trea Turner sacrifice fly, but Kenley Jansen came in to record his 38th save of the season. Rich Hill recorded the win for the Dodgers, throwing five innings of one run ball with seven strike outs. He was pulled after 74 pitches, presumably to rest his arm for the postseason.
Baltimore Orioles (72-77) 3
New York Yankees (82-66) 9
New York, NY- Jordan Montgomery shined in his spot start return to the rotation, throwing six scoreless innings with six strikeouts. Didi Gregorius led the Yankee offense with a 3-4 day, including a three-run homer. Todd Frazier and Greg Bird also homered for New York. Austin Hays homered for Baltimore, the first home run of his career.
St. Louis Cardinals (77-71) 1
Chicago Cubs (82-66) 4
Chicago, IL- Albert Almora led the way for the Cubs, going 3-4 with two RBI. Addison Russell added a pinch hit solo home run in the 8th to extend the lead to 4-1. Kyle Hendricks threw seven-and-two-thirds of one run ball with five strike outs to record his seventh win of the year. Wade Davis threw a scoreless ninth to record his 30th save of the season. The Cardinals lone run came in on a Matt Carpenter solo home run in the eighth inning.
Kansas City Royals (73-75) 4
Cleveland Indians (92-57) 8
Cleveland, OH- A day after Cleveland's 22-game winning streak was snapped, they struck right back with a win. Edwin Encarnacion hit his 35th home run of the season while red hot Francisco Lindor another three hits and two RBI. Austin Jackson, Carlos Santana, Jay Bruce and Yandy Diaz all recorded two hits a piece. Carlos Carrasco picked up his 16th win on the year, giving up four runs over six-and-two-thirds with five strikeouts.
Pittsburgh Pirates (68-81) 1
Cincinnati Reds (65-84) 2
Cincinnati, OH- Sal Romano and Ivan Nova were locked into a pitchers duel, going into the 7th inning scoreless. The Reds' bats then woke up, putting up two runs in the seventh on a Jesse Winked home run and Scooter Gennett RBI single. Kevin Shackelford came on for the save but gave up a solo shot to Andrew McCutchen, cutting the lead to one. The Reds brought in Cody Reed for the the final out, recording his first save of the season. Romano finished with eight scoreless innings and six strikeouts, recording fifth win of the season.
Chicago White Sox (60-88) 10
Detroit Tigers (61-87) 4
Detroit, MI- The White Sox jumped on Myles Jaye early, putting up six runs in the first two innings, including Nick Delmonico's eighth home run of the season. White Sox starter, Reynaldo Lopez, gave up three runs in the second, but settled down to throw seven innings of four run ball, picking up the win. All members of the White Sox starting lineup either scored or reached base safely, while Yolmer Sanchez was the only White Sox starter not to record a hit. James McCann went 3-4 for Detroit with a double, triple and two RBIs.
Boston Red Sox (85-63) 3
Tampa Bay Rays (72-77) 1
Tampa, FL- Mookie Betts hit an early solo homer for Boston as Rick Porcello threw another excellent outing, giving up one run (unearned) over seven-and-two-thirds. Craig Kimbrel threw a scoreless ninth to pick up his 33rd save of the year. With the win, the Red Sox remain three games up on the Yankees for the AL East Division lead.
Oakland Athletics (65-83) 3
Philadelphia Phillies (58-90) 5
Philadelphia, PA- Oakland jumped out to an early 2-0 lead, led by Matt Olson's 20th home run, before the rain started to come down, prompting a long delay. Both teams had to pull their starter and the bullpen was responsible for the remaining five and a half innings. After the delay, the Phillies scored five runs unanswered, including a two run shot from Jorge Alfaro, to take a 5-2 lead. Jed Lowrie hit a solo shot to cut the lead to two in the ninth, but Hector Neris was able to hold the lead to record his 21st save of the year.
Toronto Blue Jays (70-79) 7
Minnesota Twins (77-71) 2
Minneapolis, MN- Josh Donaldson posted a monstrous game Saturday night, going 4-5 with a pair of solo home runs. Marco Estrada gave up only two runs over eight frames to record his ninth win on the season. With the loss, the Twins are now one up on the Angels for the second AL Wild Card berth. Eddie Rosario and Eduardo Escobar each had solo home runs for the Twins.
New York Mets (64-84) 7
Atlanta Braves (67-80) 3
Atlanta, GA- The Mets' young rookies led their offense to a win over former Met, R.A. Dickey, on Saturday night. Dominic Smith went 2-4 with two RBI, Brandon Nimmo hit an RBI double and Gavin Cecchini added another three hits and two RBI. Jacob deGrom threw seven innings of one run ball with seven strikeouts to record his 15th win on the year. Freddie Freeman homered for Atlanta, his 27th of the year.
Milwaukee Brewers (78-70) 4
Miami Marlins (69-79) 7
Milwaukee, WI- The Marlins played the role of "home" team in Milwaukee as they are still unable to play in Miami due to Hurricane Irma. That did not seem to matter as they were able to defeat the "visiting" Brewers, with all position players recording hits, including multi-hit games from Dee Gordon, Marcell Ozuna, Justin Bour and Derek Dietrich. Adam Conley recorded the win, allowing three runs over five-and-two-thirds with five strikeouts. With the loss, Milwaukee sits 3.5 games behind Colorado for the second NL Wild Card berth. Ryan Braun went 3-5 for Milwaukee with two doubles and a solo home run.
San Diego Padres (65-83) 0
Colorado Rockies (82-67) 16
Denver, CO- Tyler Anderson made his return to the Rockies' rotation after a ten-week DL stint, posting six scoreless innings and six strikeouts. The Rockies offense exploded for 16 runs, led by lefties Charlie Blackmon and Carlos Gonzalez. Blackmon went 2-4 with a double, home run and four RBI, while CarGo went 3-4 with a home run and two RBI. Blackmon would have come up with the bases loaded in the seventh but they pinch hit Pat Valaika, who of course hit a grand slam.
Arizona Diamondbacks (87-62) 2
San Francisco Giants (57-93) 0
San Francisco, CA- Paul Goldschmidt hit a first inning two run shot and that was all the offense that Arizona would need. Zack Greinke threw eight shutout innings with eight strikeouts, allowing only three base runners. Fernando Rodney picked up his 38th save of the year. Madison Bumgarner threw seven innings for San Francisco, giving up the aforementioned two runs and striking out six.
Texas Rangers (72-76) 0
Los Angeles Angels (76-72) 2
Los Angeles, CA- The late season acquisition of Justin Upton is continuing to pay dividends for the Angels, as he was responsible for both of LA's two runs. After hitting a first inning solo shot, Upton followed that up with another in the eighth. Parker Bridwell threw six shutout innings for LA with seven punch outs while Yusmeiro Petit picked up his fourth save of the year.