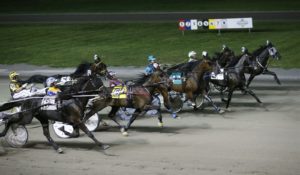 By Kevin Oklobzija
Spot Play Hot Plays for Batavia Downs
Monday
Race 1
No. 1 Doing Some Damage (6-1 morning line). Drops back to a $12,500 claimer, where he was a winner the last time he was in this class. Oh, and he had the rail that day. We've got no shot of getting 6-1, however. Try 7/5.
Race 2
No. 5 City Kid (7/2 morning line). Ray Fisher is obligated to drive the 1, Keystone Bernard, for Maria and Jack Rice so Larry Stalbaum gets the drive. City Kid is pretty sharp, and he'll love the drop in class.
Race 6
No. 4 Skyway Hurricane (4-1 morning line). Tis the season? Had her acclimating mile after shipping in from the Meadows. Doesn't face much here at all.
Race 10
No. 3 X Spinsive (9-2 morning line). The 2, Gorgeous View, arrives from Hawthorne as a new acquisition for J.D. Perrin. He'll be bet, and rightfully so. The 4, Rollovin, will also take money, but he's coming off breaks in his last two races. That scares me. So I'll give a shot to a fresher horse who had been racing in Ohio. Tried Tioga in his first start for Ron Houghtaling and paced a 1:54 mile. That's a good tightner for tonight.
Recapping the SPHPs from the weekend.
Sunday at Belmont
Ah, the Belmont winner's circle on a bet-back horse from the Saratoga meet. Such a wonderful feeling.
Lucullan went off at 3-1 (the fourth choice among a clump of four horses that were bet) and was ridden perfectly by Kendrick Carmouche. The best part: the Pick 3 payoffs were tantalizing.
at Batavia Downs
Friday
Race 5. The play was boxing the only two competitive horses in the race, the 1 & 5. I knew the payoff would be short. I never thought the exacta would pay only $4.40. A winner nonetheless.
Race 6 Twin B Halo went off stride and finished last.
Race 7 Heaven's Diva. Took a shot with a big long shot but they lined up 1-2-3 and went around the track that way.
Race 11 Before I Die. Went off at 17-1 and rallied for second behind the 5/2 second choice for a $91 exacta.
Saturday
Race 9 Lenny Mac. From 7/2 morning line to 3/2. A wire-to-wire winner.
Race 13 Idbegoodatthat. Went off at 7/2,  came first over and did the backstroke better than Olympic gold medalist Ryan Murphy. Finished last.