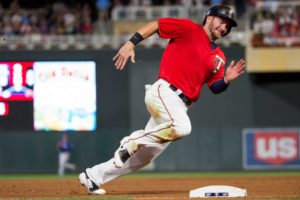 By Kevin Oklobzija
The Rochester Red Wings lineup has been depleted by recalls but they'll actually be getting hitting help for the final two regular season games.
Robbie Grossman will join the Red Wings on a major league rehabilitation assignment and he'll be the designated hitter for Sunday's 6:05 p.m. game against the Pawtucket as well as the 1:35 p.m. regular-season finale on Monday.
"We hope he's real healthy," said Wings manager Mike Quade, whose club still has a magic number of two to clinch a playoff spot after Saturday's 5-3 loss to Pawtucket. Lehigh Valley was rained out and will play a doubleheader with Scranton/Wilkes-Barre starting at 5:35 p.m. Sunday.
His arrival comes when the Wings desperately could use an offensive spark as they continue to try to nail down the International League's International League wild-card berth. Zack Granite, Mitch Garver and Kennys Vargas are all with the Twins and Tommy Field has been playing with a tender hand.
Grossman went on the disabled list with a fractured left thumb. He suffered the injury in an Aug. 17 game when he collided with Byron Buxton while chasing a fly ball and jammed his thumb on Buxton's forearm.
The 27-year-old outfielder was hitting .243 with a stellar .367 on-base percentage for the Twins. He has some pop in his bat (seven home runs in 380 plate appearances) but more importantly is extremely patient at the plate; his 60 walks in 98 games are proof of that.
The Wings' starting pitchers the next two games, Hector Santiago and Adalberto Mejia, also are on MLB rehab assignments. Each is limited to five innings or 75 pitches, whichever comes first.