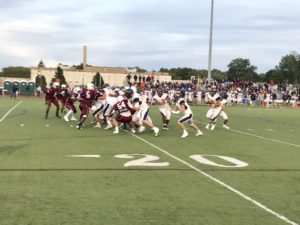 By PAUL GOTHAM
Chris Varone scored a pair of touchdowns and set up the winning strike as the Victor Blue Devils outlasted the Aquinas Institute Lil Irish, 28-24 in non-league action at Wegmans Stadium, Friday night.
Varone highlighted a seven-play drive, and Victor erased a second-half deficit.
"It feels great to come out with a W, start of the year strong," the senior running back said. "We got a lot of work to do obviously, but we just got to keep pounding and keep grinding."
After jumping out to a 14-0 lead after their first two drives, the Blue Devils surrendered 21 straight to Aquinas capped by a 70-yard bomb from Jon Kloch to Kobe McNair.
"We just knew we had to bounce back," Varone said. "Our coaches always say 'forget the last play. Don't worry about it. It's over. You can't do anything to go back and change it.' We just came back strong and physical and just pounded it down their throats and were able to get back in the end zone."
Victor took over and ran seven straight plays on the ground. Varone's 45-yard rumble put the ball on the 18-yard line.
"Backside O-line got a huge push, and I just cut it back and kept going," Varone explained. "That was a great push all around. The O-line kept me from getting touched. That's all them right there."
Four plays later he ran off tackle from the two-yard line for a touchdown.
Aquinas responded with a field goal, but Victor marched 65 yards for the winning score.
Hudson Alread rolled out of the pocket and found tight end Mike Novitsky in the flat on third-and-long for the game winner.
"We faced adversity," Victor head coach Geoff Mandile said. "We got some returners, some kids that have been through a lot of big situations. They came through today. I'm very proud of the way they performed."
Victor's defense stopped Aquinas on the first drive of the game. The Blue Devils offense needed eight plays to go 75 yards. Varone got Victor on the scoreboard with a five-yard rush.
Aquinas went three and out on the next possession, and Victor took over on the Lil Irish 13 after a botched snap on a punt.
Four plays later, Andrew Russell went five yards up the middle for a 14-0 Victor advantage.
But Aquinas responded with a 13-play drive. Jonathan Parrinello hit McNair for AQ's first points of the game.
A holding penalty stalled Victor's ensuing drive and Marlek Connor Jr. stepped in to block a punt setting up Aquinas on the Victor 21-yard line.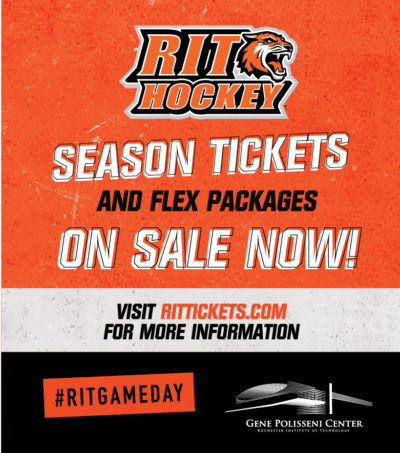 "I'm so proud of this group of kids," first-year Aquinas coach Derek Annechino said. "You go down 14-0 and a lot of people would go into the tank especially against a team like this. That is a great football team we played here tonight. Our kids fought back. They battled back. If we made a few more plays, we might have been able to get it done. That's what the game is all about."
Ruben Torres broke off a 13-yard rush to knot the game at 14 with 1:08 to go in the half.
"We're a young team," Annechino added. "Hats off to whoever is calling the plays for Victor. They do a nice job over there."
Aquinas stopped Victor on the first drive of the second half, and Kloch went up top to find McNair on the second play of the drive to give Aquinas its first lead of the game at 21-14.
"We knew they had deep threats," Mandile said. "They hit one on us. We stuck with our game plan. We knew we had to keep doing what we do. Keep hammering away and we had a great drive after that."
Aquinas junior running back Caron Robinson rushed the ball 23 times for more than 100 yards.