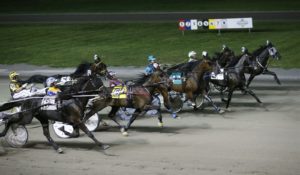 By Kevin Oklobzija
Spot Play Hot Plays for Labor Day weekend
First we'll start at Saratoga for a couple horses on my watch list:
Saturday, Sept. 2
Race 5
No. 13 Lucullan. He'll need some luck in the form of a scratch to even start, since he's on the also-eligible list. If he does draw in, though, he'll be a major player. Was flying late to be third in his last race on July 30 and galloped out like Arrogate. The winner of that allowance race came back with a black-type fourth-place finish in the West Point on Aug. 25. The fourth-place finisher, Kantune, won in this same class on Aug. 20.
Sunday, Sept. 3
Race 9
No. 1 Stormy's Song. Went off the 6/5 favorite on Aug. 6 in this class and endured a horror trip for the first quarter mile. Five of today's nine entrants come out of that same race. She broke a step to the left coming out of the gate and at the same time Royal Inheritance veered right coming out of the gate, slamming into Stormy's Song. Then jockey Joel Rosario had to grab leather to avoid the horse to the right, Sheplaysthefield. That left them three lengths behind the field. Rosario then rushed up like the it was a quarter-mile race, only to find himself forced to check abruptly when he ran into the hind end of Tasteful and Luz Mimi. Stormy's Song had no interest in running the rest of the race after those debacles.
On to Batavia Downs
Friday, Sept. 1
Race 2
No. 1 Osprey Vision (3-1 morning line). Just missed in the top trotting class two weeks ago. Now drops a notch, draws the rail and gets Matt Kakaley in the sulky. Considering Kakaley's hands, this veteran trotter may not even know there's a driver behind him.
Race 7
No. 4 Asiago Romano (3-1 morning line). Coming off back-to-back tough trips. May leave, or take the second-over trip. Either way, I like him to be 1-2. Use him in exacta boxes with the 1 (Major Sugar Rush) and the 2 (Prophet Blue Chip), and maybe even the 5 (Cheese Melt).
Saturday, Sept. 2
Race 2
Fire Your Guns (2-1 morning line). MAJOR driver change, with Jim Morrill Jr. getting in the bike.
Race 4
No. 6 Teo Enteo A (7/2 morning line). Start No. 3 in North America after arriving from Australia. Should be all systems go. Time for him to flaunt his crazy speed.
Race 5
No. 6 If You Want Fire (7-1 morning line). The inside horses aren't all that sharp right now. So even if Lucky Millionaire at the rail protects his position, I still think the race sets up for something off the pace. If Drew Monti can work out the second-over trip, he may end up in the winner's circle. There's no Santana Beach, Mr. Perseverance or Sir Ziggy's Z Tam in this field.
Monday, Sept. 4 (1:15 post time).
Race 3
No. 7 Black Cotton (9/2 morning line). Ships into the J.D. Perrin barn from Hawthorne and has speed. Assuming he adapts to the half-mile track, he may go right down the road in a race where half the field is shipping in from Ohio or Illinois.
Race 4
No. 1 Well Well Well (7/2 morning line). Coming off an aggressive drive out of the 8-hole, when he paced an insane half of :55.4. Now gets the rail and Kevin Cummings is driving.
Race 6
No. 2 Mach Stockn Barrel (9/2 morning line). Claimed for $12,500 last week by James Clouser Jr. and actually drops in class, getting into $10,000 claimer on the also-eligible money-earned condition. The barn change alone will improve him. The drop in class only makes the task easier.
Recapping Wednesday's SPHPs at Batavia Downs
Race 4 Roll With Faith. Scratched.
Race 5 Cam's Oracle. Parked the mile yet still finshed third.
Race 8 The Filly Princess. Scratched.