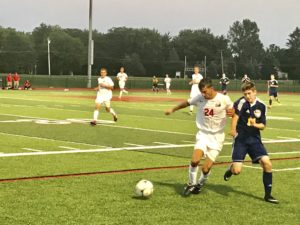 By PAUL GOTHAM
As far as opening night victories go, Mike Ellicott will take the outcome. The means by which the Hilton Cadets achieved that result? That's another matter.
Joshua Ranke took advantage of an early giveaway and found the back of the net as Hilton defeated the Victor Blue Devils, 1-0 in Monroe County League play on LeBeau Field, Wednesday night.
Tom Callery intercepted a clearing attempt and feathered a chip over the Victor backline where Ranke gathered the pass and beat Victor net minder Matt Carlson from inside the 18-yard box.
"Tom had great awareness," Ellicott noted. "Not just to win it, but he saw a teammate in front and lofted it over. It was a great assist, a perfect assist really.
"It's been something that we've worked on since day one with just a quick transition. Don't give them time to realize they lost the ball. Expose the loss of the ball and go. We had a few really nice moments with that in the first half."
The Cadets made a push with several more opportunities, but those chances became almost non-existent in the second half.
"I don't know if my heart can do too many of those," Ellicott joked. "The frustrating thing was the first half we felt like we had a lot of control and we were dictating the play. In the second half it just disappeared. It unraveled.
"It wasn't terrible by any stretch, but we didn't impose ourselves, and we're better than that. We let them in the game. It just became a little too frenetic at times. It needs to be a little bit more relaxed."
That disjointed effort resulted in a pair of late scoring opportunities for Victor including a situation where Andrew Crean got behind the Hilton defense into the open field. Cadets senior defender Aaron Masters was there on both occasions with the stop.
"He had a really rough year last year," Ellicott said of Masters. "He got injured in our very first game and never really made it back. He is a guy who we had so many high expectations for. He came back from the injury, but he was never the same player. As a senior he knows that the game is right there and very important for him.
"He's got a point to prove, and he wanted the test tonight of taking on their star and for me he did his job."
Ellicott also pointed to the play of fellow senior back David Stirpe.
"He's that quintessential stay-at-home defender. We know with David we've always got somebody who is going to bail us out, just have somebody in that position who is going to be our insurance policy. It's great to have that type of guy on the team."
Joey Gombatto made four saves for the shutout.
Hilton travels to Gates-Chili for a 4:30 pm kickoff next Tuesday, September 5th.
Victor (0-3) hosts reigning Class AA champion Fairport also on Tuesday.
Hilton and Victor meet again on September 26th.