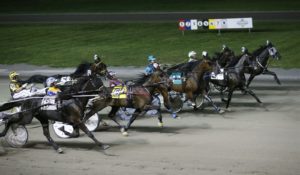 By Kevin Oklobzija
The Spot Play Hot Plays for Wednesday, Aug. 30 at Batavia Downs
Race 4
No. 2 Roll With Faith (5/2 morning line). Comes out of the New York Execelsior Series. Not a fan of fillies against the boys, but this one has talent and speed. I'm boxing in an exacta with the No. 6, and using on top in small exactas with Nos. 5 and 7.
Race 5
No. 8 Cam's Oracle (8-1 morning line). Drops about three notches in class and, while he has the dreaded 8-hole, he had a tour of the track last time and now should leave, get early position and roar home in the stretch.
Race 9
No. 4 The Filly Princess (12-1 morning line). She needed her last race off the lame scratch, and she figures to get an ideal second-over trip. Well worth taking a swing.
Recapping the SPHPs for the weekend
Travers Day card at Saratoga
Race 3 Fortune Cookie and Strike Me Down. Off the board and third. Fortune Cookie was ridden by Jose Ortiz but took no money and raced horribly. Strike Me Down is a definite bet-back. He went off a 6-1 and fought with rider Joel Rosario for a half-mile before finally settling into a real running pattern. Finished third.
Race 5 Sycamore Lane. Second. Coming off nearly a 25-month layoff, he raced HUGE at odds of 7-1. Set all the fractions and got beat at the wire on a head bob by Profiteer. Still, the exacta was a healthy $171.50.
Race 8 Takaful. Second. Blazed away on the front end for Jose Ortiz in quick-for-the-day fractions but just wasn't good enough to hold off favored Practical Joke, who got a masterful ride from Joel Rosario. Takaful (6-1) was an easy second and the exacta returned a very fair $39.40.
Race 11 (the Travers Stakes). I liked 5-Good Samaritan but boxed him with 3-West Coast and 4-Tapwrit. West Coast ran huge, winning wire-to-wire just like the connections did a year ago with Arrogate. Good Samaritan had a horrible start, getting pinched back at the start by a three-horse sandwich from Tapwrit, 6-Girvin and 7-Always Dreaming. He ended up at the back of the pack and did make a late run to be fifth. Tapwrit finished fourth, lacking any sort of late run.
Batavia Downs
Friday
Race 6 Farmerssixfournine. Third. Went off as the 7/5 favorite, got away third, attempted a methodical first-over bid but got rough-gaited past the half and dropped back to sixth as he struggled to find his normal gait until they turned for home. Somehow rallied for third.
Race 7 Barn Winner. Winner. Enjoyed a two-hole trip and zipped home to win by a length over Bz Glide, paying $7.80 to win.
Race 10 In Runaway Bay N. Winner. It was far too much to hope for a price, even if the morning line was a ridiculous 6-1. Went off as the 3/5 favorite, got stung with a three-wide leave for the first eighth of a mile and yet rolled to the easiest of victories.
Saturday
Race 1 Rockin In Heaven. Winner. Went of at a VERY generous 7/5 and was an easier winner in the fastest time of the meet, a sizzling 1:52.1. He floated away off the gate, let the leavers settle, then brushed to the front. He paced the back half-mile in :56 flat. A horse that couldn't lose somehow paid $4.80.
Race 5 Teo Enteo N. Off the board. Didn't leave from the 8-hole and wasn't able to close much ground. I assume it's all systems go when he draws and/or is assigned an inside post.
Sunday
I'm not here to pick chalk but sometimes you just need to take it (like on Sunday) and go price shopping another day.
Race 4 Clive Bigsby. Winner. Expected him to go right down the road and he did, winning the $53,500 New York Sire Stakes event. A small win price ($3.10) but he wasn't going to lose.
Race 10 Fox Valley Lena. Winner. Simply too fast for the field she faced, yet she still paid a pretty nice win price ($4.60).