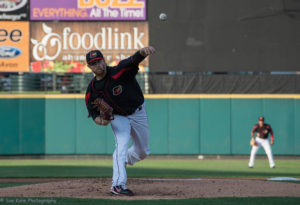 By Kevin Oklobzija
If the Rochester Red Wings wanted to take a critical look at their 4-3 loss to Scranton/Wilkes-Barre on Monday night, they could point to a pair of mini rallies that should have been big innings.
After ByungHo Park led off the second with a home run, tying the score 1-1, the Wings failed to do more damage by stranding a runner at third.
In the sixth, they scored two runs to pull within 4-3, yet left the bases loaded when Engelb Vielma fouled out to third for the final out.
Take advantage of the opportunity to score more in either inning and the Wings win and thus maintain a three-game lead over Lehigh Valley in the International League's wild-card chase.
They should, however, take a realistic look at their night: they were lucky to be within a touchdown, let alone a run.
The RailRiders loaded the bases four times but scored just four runs. They left 14 runners on base, including 10 in the first four innings against Wings starter David Hurlbut. Needless to say, he battled to get outs when he really needed them.
"Hurlbut somehow got through five innings," manager Mike Quade said. "What a great job he did without his best stuff."
The loss, coupled with Lehigh Valley's 4-3, 10-inning win over Syracuse, means Rochester's wild card lead has been sliced to two. Each team has 14 games remaining.
But forget about scoreboard watching. The Wings, 8-5 in their past 13 and 22-13 (.629) since mid-July, have too much work to do.
"All you can do is control what you can control," Wings second baseman Tommy Field said. "We just need to keep playing the way we've been playing the last two or three weeks. Our pitching's been unbelievable and we've been getting hitting in clutch situations."
They'll need that pitching/hitting daily double to continue because the lineup suffered a huge power loss on Monday while the upcoming schedule is difficult.
Kennys Vargas was recalled again by the Minnesota Twins, who put Miguel Sano on the disabled list on Sunday.
Monday was the first of four against the RailRiders, who are an IL-best 80-47. They have four at Scranton/Wilkes-Barre next Monday-Thursday.
The RailRiders surely won't have Starlin Castro next week, and perhaps not for much longer this week. On a rehab assignment from the New York Yankees, Castro went 2-for-4, scored one run and drove in another.
Castro also made a sparkling play behind second to rob Anthony Recker of a hit in the second, which denied the Wings a big inning.
Notes: Greg Bird, also on rehab from the Yankees, went 2-for-3 and scored twice. … Irondequoit's Cito Culver was 1-for-3 and also walked twice. He's a fixture in the RailRiders batting order, but not at any one position. He was at shortstop last night, his 39th start there. He also has made 24 starts at first, 10 at second and 14 at third. That's called versatility. … Wings right-hander Aaron Slegers (13-4, 3.18) opposes SWB righty Brady Lail (6-4, 5.06) on Tuesday.