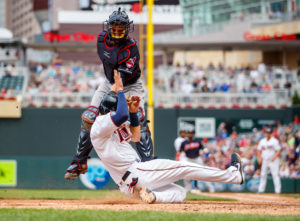 New York Yankees (65-55) 7
New York Mets (53-66) 5
NEW YORK– Gary Sanchez went deep and drove in a career-high five runs as the Yankees completed the Subway Series sweep over the Mets. Backed by a surplus of offense, Luis Severino tossed six-and-one-third innings of one run ball for the Bronx Bombers while eliminating nine on strikes. His counterpart, Steven Matz, was charged with seven runs (six earned) on seven hits through three-and-one-third innings. Curtis Granderson provided much of the Mets' offense by hitting a grand slam in the bottom of the ninth cutting the Yankees' lead to two before Dellin Betances earned the save.
Tampa Bay Rays (60-63) 3
Toronto Blue Jays (59-62) 5
TORONTO– Josh Donaldson continued his red-hot August (.400, 21 RBI) by hitting two long balls to push the Blue Jays further into Wild Card contention. Getting the nod for Toronto, Chris Rowley went five innings, yielding two runs while issuing five bases on balls. Now winless in his last three starts, Tampa Bay's Chris Archer pitched seven innings, surrendering three runs and striking out ten.
Cleveland Indians (66-52) 9
Minnesota Twins (59-59) 3
Game 1
MINNEAPOLIS– Yan Gomes went 3-for-3 with a home run, two runs scored and four RBI as the Indians took the first game of a day-night doubleheader against the Twins. Carlos Carrasco started for Cleveland, tossing eight shutout innings, allowing just two hits, to go along with ten strikeouts. Minnesota's Kyle Gibson continued his season long struggle to pitch deep into games, lasting four innings and giving up three runs on seven hits. Also to Gibson's disadvantage was an offense that failed to put the bat on the ball as the Twins struck out nineteen times, setting a franchise record for most strikeouts in a nine-inning game.
Cleveland Indians (66-53) 2
Minnesota Twins (60-59) 4
Game 2
MINNEAPOLIS– Max Kepler hit a tie-breaking home run in the seventh inning to help the Twins snap the Indians' six game win streak. Making his major league debut for Minnesota, Aaron Slegers went six-and-one-third innings, letting up two runs on two hits. Opposing him was Ryan Merritt, who was called up from Triple-A Columbus for the game. In three-and-two-thirds innings, the southpaw yielded six hits and two runs (one earned). Providing the offense for Cleveland were Jay Bruce and Carlos Santana who each brought home a run.
Chicago White Sox (45-73) 8
Texas Rangers (60-60) 9
ARLINGTON– Nomar Mazara launched a go-ahead three run homer and brought home five runs to give the Rangers their seventh win in their past eight games. Struggling with his command, Tyson Ross lasted four-and-one-third innings for Texas, surrendering five runs (three earned) and walking five batters. Opposing him, Reynaldo Lopez, endured a similar outing by pitching the same number of innings but was charged with six runs (five earned) while eliminating six on strikes. Pacing the White Sox' offense was Jose Abreu, who went 2-for-5 with a run scored and three runs batted in.
Arizona Diamondbacks (67-54) 4
Houston Astros (74-47) 0
HOUSTON– Daniel Descalso hit an inside-the-park home run during the Diamondbacks' win over the Astros. Pitching for Arizona, Patrick Corbin nearly went the distance for his first complete game but fell one out shy. After allowing a two-out double to Yuri Gurriel in the ninth, the southpaw exited having allowed four hits and striking out seven. Opposing him, Mike Fiers went five-and-one-third innings, giving up three runs (two earned) on seven hits while also fanning seven batters.
Washington Nationals (72-47) 2
San Diego Padres (54-67) 1
SAN DIEGO– Ryan Zimmerman hit a go-ahead home run in the eighth inning to propel the Nationals over the Padres. Pitching against his former team, Washington's Edwin Jackson tossed seven innings of one run ball on eight hits. On the mound, Jhoulys Chacin surrendered one run and issued four walks in five innings for San Diego. Driving in their lone run was Jose Pirela who brought home Manuel Margot on an RBI single.
Philadelphia Phillies (43-76) 4
San Francisco Giants (49-74) 5
SAN FRANCISCO– Jarrett Parker had two hits including a two-run double to push the Giants past the Phillies in a matchup of two of baseball's worst teams. Jeff Samardzija started for San Francisco, allowing four runs and eight hits while striking out six. Making his shortest start in over two months, Philadelphia's Aaron Nola gave up five runs, three walks, and seven hits.
Atlanta Braves (54-65) 10
Colorado Rockies (67-54) 4
DENVER– Ender Inciarte launched two solo shots and scored three times as the Braves earned a four-game split with the Rockies. On the hill for Atlanta, Lucas Sims earned his first big league win, tossing five innings while yielding two runs on five hits. Jeff Hoffman took the loss for Colorado after surrendering four runs in four-and-one-third innings. Headlining the Rockies' offense was Charlie Blackmon who went 3-for-5 with two runs scored and two RBI.
St. Louis Cardinals (62-59) 11
Pittsburgh Pirates (58-63) 7
PITTSBURGH– Dexter Fowler reached base five times while driving in three runs and scoring an additional three more as the Cardinals snapped their four-game losing skid. Failing to make it past the third inning for the second time in his past three outings, St. Louis' Adam Wainwright allowed five runs on seven hits. Jameson Taillon was charged with the loss for the Pirates after his outing was shortened due to a rain delay. In five innings of work, he gave up four runs and seven hits to go along with seven punchouts. At the plate, Josh Harrison led Pittsburgh with three hits and two RBI.
Cincinnati Reds (51-71) 13
Chicago Cubs (63-57) 10
CHICAGO– Phillip Ervin made the most out of his first major league start by going 3-for-4 with three runs scored and four RBI to lead the Reds over the Cubs. At the dish, Joey Votto and Jose Peraza also contributed three runs batted in apiece for Cincinnati. Backed by a nine-run second inning, Scott Feldman still did not have the start that he envisioned. In three-and-two-thirds innings, the righty was tagged for six runs on seven hits with five of those being home runs. Chicago's Jon Lester did not fare much better, though, as he was unable to make it out of the second (1.2 IP) and lit up for nine runs (seven earned) and seven hits. Pacing the Cubs' offense were Alex Avila and Ian Happ who combined to bring six across the plate.