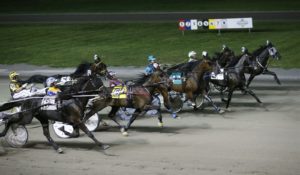 Spot Play Hot Plays
For Batavia Downs
Wednesday, Aug. 16
Looks like a chalk-filled card. And if there are long shots, I'm not sure how anyone would logically handicap them winning, so I won't try.
Race 9
No. 2 Quicksilvercandy A (3-1 morning line). She drops into a $7,500 claimer after winning for $10,000 just two weeks ago. A calculated risk by her long-time owner and driver, Larry Stalbaum; at 13 years old, who's taking her? Down the road at a short price and will look to hold off Wicked Elphaba's wicked late kick.
Race 10
No. 4 JM'sdukeofdelight (6-1 morning line). The 9/5 program favorite, Helena's Hope, is a mare against the boys. I'll take a stand against her, since her form is rather blah of late. And the 5/2 second choice on the morning line, rail-sitting Jolly Jubiter, has been 42-1, 25-1, 74-1, 67-1, 37-1, 45-1, 27-1 in his last seven starts. Let's price shop in this bottom-level condition, especially since we get Drew Monti in the sulky.
SPHP weekend recap
Friday
Race 1 Yohansbastion Mach. From 5-1 morning line to 7/2 at post time. Sat fifth, tipped heading to the 3/4 marker, fanned three-wide on the turn and was a clear second to runaway winner Rollover, the 1/2 favorite.
Race 7 Osprey Vision. Listed at 6-1 on the morning line, went off as the 2-1 favorite. Left hard, as did two others, and a speed duel ensued. Eventually let Striker Ace go, but that horse dropped anchor on the final turn and Osprey Vision was shuffled out of it.
Race 8 Lucky Guess. Went off as the 3-2 favorite and won like he was 1/5.
Saturday
Race 4 Ser Jon. Was sitting in the pocket when he went off stride nearing the half.
Race 8 Big Ricky. Sent off as the 8/5 favorite, he enjoyed a two-hole trip and zipped up the passing lane to win.
Sunday
Race 5 Junior Pride. Went off at 6-1, enjoyed the pocket trip but couldn't get by the 5/2 front-runner. Completed a VERY healthy $42.60 exacta.
Race 7 Raylan Givens. Went off the 8/5 second choice, got away second and went backwards turning for home.
Race 10 Alexa's Hope. Came first-over against the 4/5 favorite and settled for second.