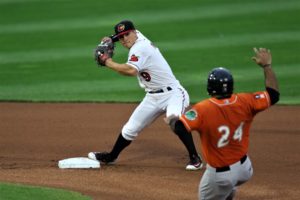 By Kevin Oklobzija
On one play, center fielder Zack Granite couldn't get in fast enough to make a seventh-inning catch.
An inning later, right fielder Daniel Palka couldn't get back fast enough to make an eighth-inning catch.
As a result of both two-out hits on Friday night, the Norfolk Tides scored four runs and sent the Rochester Red Wings to defeat once again, this time 7-2 at Frontier Field.
Then again, even if the outfielders had made what would have been good catches, the Wings still might not have won. Their offense was non-existent.
Norfolk starter Tyler Wilson allowed just two hits in his eight innings, a two-out single to Kennys Vargas in the fourth and a two-out double to Mitch Garver in the sixth.
By the time the Red Wings did score a pair of runs in the ninth off reliever Donnie Hart, it was far too little, far too late.
As a result, instead of moving into a tie with Lehigh Valley in the International League wild-card chase, the Wings remain a game back. That's two straight nights where the Wings had a chance to catch the IronPigs but saw their bats fail them.
"Now matter how well we pitch it, we still have to score runs," Wings manager Mike Quade said. "If I'm saying that every day for the next week, we'll have a problem."
On Thursday night, the Red Wings had plenty of bases runners but went just 2-for-17 with runners in scoring position in a 6-4, 12-inning loss to the Tides (56-63).
On Friday, the Wings had just three bases runners and stumbled to their third loss in five games on the homestand. They are 67-52 with 23 games to play.
Because Lehigh Valley won the season series against Rochester (13-9), the Red Wings must finish ahead of the IronPigs in order to earn the wild card berth.
Wilson and Wings starter David Hurlbut (8-7) were engaged in a pitcher's duel into the seventh when the Tides finally broke through with a run on Logan Schafer's RBI single.
With Chance Sisco on second base and two outs, Schafer lined a ball to center field. Granite charged but couldn't get to the ball in time and Sisco scooted home with the game's first run.
The game-breaking hit came in the eighth off reliever Jake Reed. First, Drew Dosch earned a walk after a nine-pitch at-bat, loading the bases. Mike Yastrzemski, the grandson of Boston Red Sox Hall of Famer Carl, then masterfully fouled off pitch after pitch before lacing the 10th pitch of the at-bat to right center.
Palka ran back to his right and reached up but the ball just eluded his glove, all three runners scored and the Wings were essentially doomed.
"We just couldn't solve Wilson at all," Quade said. "We didn't make a lot of solid contact all night."
The series continues with a 7:05 p.m. game on Saturday and concludes with a 1:35 p.m. matinee on Sunday.