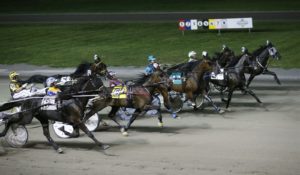 By Kevin Oklobzija
At Batavia Downs
Friday, Aug. 11
Race 1
No. 5 Yohansbastion Mach (5-1 morning line). Back to the races as of last weekend after a 21-month hiatus. This was a FAST horse who loved the front end. A solid refreshing mile last week, zooming home in :28.4. Now gets the ultra-aggressive John Cummings Jr. in the bike. Added incentive to race well: he's in a $5,000 claimer on Wednesday. If he's half of what he once was, he wins.
Race 7
No. 1 Osprey Vision (6-1 morning line). Climbs to the Open but is always super-tough on the front end. Well worth using on both ends of the exacta.
Race 8
No. 3 Order By Commander (9-2 morning line). Claimed in back-to-back weeks and stays in the same class, but facing lesser trotters.
Saturday, Aug. 12
Race 4
No. 3 Ser Jon (9-2 morning line). New to the James Clouser barn in July, it's time for this son of The Panderosa to flaunt his class.
Race 8
No. 3 Big Ricky (6-1 morning line). He should leave, Larry Stalbaum should retake with rail-sitting Steuben Patriot and Big Ricky uses the passing lane to get the job done. Or so my quite-foggy crystal ball shows.
Sunday, Aug. 13
Race 5
No. 2 Junior Pride (5-1 morning line). Moves to an inside post after an 8-hole draw last week. Drops two or three notches in class. While he's no Open pacer, he faces a field that's hardly imposing.
Race 7
No. 2 Raylan Givens (4-1 morning line). Draws perfectly and hasn't been in this cheap for a long time. Endured a half-mile, three-wide move to nowhere on last week's gooey track. Now gets Larry Stalbaum in the bike. All systems go.
Race 10
No. 2 Alexa's Hope (3-1 morning line). Faced much better at Tioga, then drew post 8 for her first start at Batavia, and that was a $5,000 claimer. Drops to the bottom and gets Kevin Cummings. I'll box in the exacta with the 1 and 6.
Recapping Wednesday's SPHPs
Race 5 Open Water. Cut the mile but got beat a quarter-length by the pocket-sitter, settling for second.
Race 6 Hot Patootie. An easy wire-to-wire victory at odds of 6/5.
Race 8 It's A Miracle. Scratched due to sickness.
Race 9 Ping Pong Hanover. Never got involved from the 8-hole, never threatened. Pay attention to when he gets a real post.