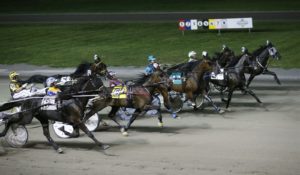 Batavia Downs
Friday
Race 3
No. 4 Lenny Mac (6-1 morning line). Drops in class, picks Drew Monti and, if final odds resemble the morning line, is far more inviting than No. 5 Winky's Pride (2-1).
Race 4
No. 1 Sea Star (4-1 morning line). Will either take the 2-hole trip or will cut the mile. Either way, he's the must use in the exacta.
Race 8
No. 1 Studio City (6-1 morning line). First things first; there's no chance he goes off 6-1. But he looks powerful here. Kevin Cummings chooses off No. 4, who he just won with, and the 8-year-old drops out of the Open.
Saturday
Race 2
No. 6 Magical Cowboy (6-1 morning line). Plunges in class, from a $12,500 to a $5,000 claimer, but gets in on the also-eligible condition.
Race 11
No. 5 Farmerssixfournine (4-1 morning line). Plucked out of an $8,000 claimer after facing much tougher week after week, he actually drops in class due to the also-eligible condition of the race (non-winners $2,000 last five). Gets Larry Stalbaum in the bike and should relish the easier competition.
Recapping Wednesday's SPHPs
Race 1: It's A Miracle. Left like he was a dragster on July 26. Didn't leave this week and, thus, didn't have a chance as the short field lined up 2-1 and finished 1-2. A bet-back yet again.
Race 6: Exotic Beach. The 2-5 favorite showed all of her Meadowlands back-class to win by 9 1/2 … at odds of 2/5.
Race 9: Ping Pong Hanover. Made a menacing move past the three-quarter marker but flattened out, which was predictable considering a five-week layoff.