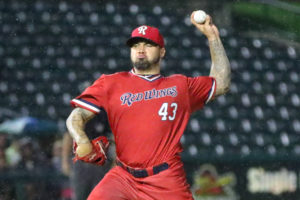 By KEVIN OKLOBZIJA
If Hector Santiago is going to help the Minnesota Twins win games, he first needs to do it for the Rochester Red Wings.
In his first two rehabilitation starts for the Wings in late July, he wasn't all that sharp, giving up a combined five hits, five walks and five runs in four-plus innings.
But the real Santiago returned on Thursday night to show he's closer to MLB ready and, at the same time, keep the Red Wings from a premature playoff demise.
The 29-year-old left-hander allowed just one run while striking out nine in 5 2/3 innings while Dan Palka provided the necessary offense with a three-run homer in the third as the Red Wings defeated the Lehigh Valley IronPigs 5-2.
The victory was critical for Rochester. The IronPigs won the first two games of the three-game series, widening their lead over the Wings in the International League wild-card chase to 4 1/2 games. Since the teams don't play against this season, another loss and a 5 1/2 game deficit would have been perhaps too much to overcome over the final month.
"This was obviously very important for us," Wings manager Mike Quade said. "It would have been very devastating if we got swept."
Delayed for two hours by the threat of heavy rain before he could throw the game's first pitch, Santiago took charge right away. He fanned four of the first seven batters he faced, relying on infinitely better location than he displayed in his first two rehab starts, at Indianapolis on July 25 or at Toledo on July 29.
"His location, his stuff, everything was better than we saw the last couple starts," Quade said. "Today was the guy we expected to see."
Santiago did find himself in trouble. A one-out dropped fly ball in the left field gap by Matt Hague and then a two-out single and walk loaded the bases for Lehigh Valley in the third but Santiago escaped as No. 3 hitter Rhys Hoskins grounded out.
Santiago has been with the Wings, trying to ready himself to rejoin the Twins. He has been on the disabled list since July 5 with upper thoracic back pain and discomfort.
"Admittedly he was rusty (in his first two outings) but I think he's healthy now," Quade said. "I saw some very good change-ups tonight and I think that's a huge pitch for him."
Palka's homer in the third, his 10th of the season, came after a leadoff walk to Tommy Field and a one-out double by J.B. Shuck. For Shuck it was his second of three hits.
J.P. Crawford hit a solo homer off Santiago in the sixth but the Wings retaliated in the bottom half of the inning on an RBI single by Niko Goodrum and a sacrifice fly by Leonardo Reginatto.
The Wings (63-47) play four at Syracuse on the weekend (starting with a doubleheader on Friday). Kyle Gibson was scheduled to start Game 1 on Friday but he instead is rejoining the Twins and will start for them on Saturday.