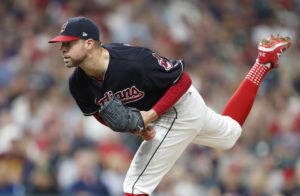 New York Yankees (57-50) 1
Cleveland Indians (58-48) 5
CLEVELAND– Francisco Lindor, Jose Ramirez and Yan Gomes each plated a run for the Indians as the team snapped their three-game losing skid. On the hill, Corey Kluber was dominant, tossing a complete game three-hitter while setting down eleven on strikes. Making his much anticipated debut for New York, Sonny Gray was hindered by a three-error first inning from his defense. He ended up yielding four runs (two earned) on four hits and three walks in six innings. The lone run for the Yankees came on a home run courtesy of Gary Sanchez.
Tampa Bay Rays (57-53) 5
Houston Astros (69-39) 3
HOUSTON– Steven Souza Jr. went 2-for-4 with three runs batted in to lead the Rays to their third consecutive victory. Tampa Bay's starter, Blake Snell, lasted four innings while allowing three runs on seven hits to go along with five strikeouts. Pitching for the Astros, Collin McHugh outlasted Snell by tossing six innings and giving up two runs (one earned) on five hits. Jose Altuve and Alex Bregman were the catalysts for Houston's offense each contributing three hits and one RBI as well as scoring a run.
Chicago White Sox (41-65) 5
Boston Red Sox (60-49) 9
BOSTON– Andrew Benintendi reached base five times, going 3-for-3 with two walks, two runs and an RBI to help the Red Sox hand the White Sox their third straight loss. Although he did not have his best outing, Rick Porcello earned his first win since June going five-and-one-third innings and letting up five runs on seven hits for Boston. Miguel Gonzalez was unable to get out of the second inning for the White Sox as he was tagged for seven runs on seven hits. At the plate, Chicago's Nicky Delmonico went deep for his first career home run and drove in three runs.
Detroit Tigers (50-57) 7
Baltimore Orioles (53-55) 5
BALTIMORE– Justin Upton and Miguel Cabrera drove in two runs apiece to give the Tigers their third straight win. On the mound, Matt Boyd allowed three runs on four walks and five hits in four-and-one-third innings for Detroit. Getting the start for Baltimore, Chris Tillman was lit up for seven runs (five earned) on six hits in just two innings of work.
Texas Rangers (52-56) 4
Minnesota Twins (51-55) 1
MINNEAPOLIS– Joey Gallo's three run home run propelled the Rangers past the Twins in their series opener. Making his first start since suffering a chest muscle strain in May, A.J. Griffin pitched six innings of one run ball for Texas. Minnesota's Adalberto Mejia was on the losing end after giving up four runs on seven hits and three walks in four innings.
Seattle Mariners (55-55) 4
Kansas City Royals (56-51) 6
KANSAS CITY– Brandon Moss hit two long balls and had three RBI as the Royals completed the come-from-behind win to end their three-game losing streak. Trevor Cahill got the nod for Kansas City, pitching four-and-two-thirds innings while yielding two runs on six hits. Seattle's Yovani Gallardo was saddled with the loss after surrendering three runs on three hits and three walks in five innings. At the dish, Robinson Cano and Danny Valencia paced the Mariners' offense with two hits and an RBI apiece.
Oakland Athletics (48-61) 2
San Francisco Giants (42-68) 11
SAN FRANCISCO– Jarrett Parker went 3-for-4 with a run scored and three runs driven in as the Giants earned a Bay Bridge Series split. Pitching at least six innings for the seventh straight game, Ty Blach threw eight innings, allowing two runs on six hits and four strikeouts. Unfortunately, Oakland's starter Kendall Graveman, did not have the start that he envisioned when coming off the disabled list. In just two innings, he gave up seven runs on seven hits.
Philadelphia Phillies (39-67) 4
Los Angeles Angels (54-55) 5
LOS ANGELES– Andrelton Simmons sparked a late-inning rally and later scored the go-ahead run to lead the Angels to a series sweep of the Phillies. Parker Bridwell started for Los Angeles and let up four runs on six hits in five innings. His counterpart, Jerad Eickhoff, struggled in the first inning after surrendering a two run home run to Mike Trout, but settled down to yield three runs on three hits in six innings. Providing all of the offense for Philadelphia were Freddy Galvis and Nick Williams, who each had two RBI.
New York Mets (49-57) 4
Colorado Rockies (62-47) 5
DENVER– Nolan Arenado earned a bases-loaded walk in the bottom of the ninth to give the Rockies a walk-off victory. Also contributing for Colorado at the plate were Charlie Blackmon and DJ LeMahieu, who each had three hits and an RBI. Backed by some early run support, German Marquez was able to keep his team in the game by pitching six innings and allowing three runs on six hits. For the Mets, Rafael Montero gave up four runs on ten hits in five-and-two-thirds innings. Accounting for a third of New York's hits, Asdrubal Cabrera had two singles as well as an RBI double.
Los Angeles Dodgers (76-32) 7
Atlanta Braves (49-58) 4
ATLANTA– Chris Taylor went 3-for-5 with three runs scored and two runs batted in to lead the Dodgers to a series win over the Braves. Backed by some early run support, Alex Wood pitched six innings for Los Angeles, letting up just one run on seven hits. Opposing him, Sean Newcomb was prone to too many walks as he yielded three runs on four hits and seven bases on balls. For the Braves, Ozzie Albies hit his first career home run which brought home three runs.
Arizona Diamondbacks (62-46) 10
Chicago Cubs (57-50) 8
CHICAGO– Paul Goldschmidt went deep three times, including one that broke a tie in the ninth, to go along with a career-high six runs batted in as the Diamondbacks toppled the Cubs. Zack Greinke went six innings for Arizona, surrendering six runs on nine hits while also fanning eight batters. Chicago's Jose Quintana would not fare much better on the mound as he lasted five innings and was charged with six runs on six hits. Trying his best to match Goldschmidt's numbers, Willson Contreras went 3-for-5 with two home runs and six RBI for the Cubs.
Cincinnati Reds (44-64) 0
Pittsburgh Pirates (52-56) 6
PITTSBURGH– Starling Marte went 3-for-4 with three runs scored as the Pirates avoided the series sweep. On the mound for Pittsburgh, Chad Kuhl pitched seven shutout innings, allowing four hits while eliminating six batters on strikes. Rookie, Sal Romano, struggled for Cincinnati as he was tagged for four runs and eight hits in six innings.
St. Louis Cardinals (53-55) 1
Milwaukee Brewers (57-53) 2
MILWAUKEE– Keon Broxton hit a go-ahead RBI single and made a run-preventing catch for the Brewers as they took two out of three games from the Cardinals. In his first start since coming off the disabled list, Matt Garza tossed five-and-two-thirds innings of one run ball while striking out four. Opposing him, Michael Wacha lasted four innings, giving up one run on five hits and three walks. The lone run for St. Louis came when Greg Garcia brought home Yadier Molina on a base hit to center field.