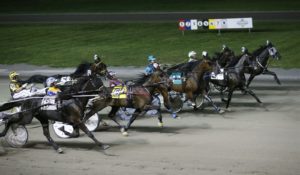 KEVIN OKLOBZIJA'S
Spot Play Hot Plays
Batavia Downs on
Friday July 28
Race 4
No. 6 Nippy (10-1 morning line): My favorite angle on the WNY circuit applies here; any horse from any other track. Three straight sub-29 final quarters and the program favorite (No. 5 Sin City Shark) changes barns and hasn't raced
in 34 days
so I'll hope he tires late.
Race 8
No. 1 Striker Ace (5-1 morning line): Finally a post. And not just a post, but the rail, which for eons has been the yellow brick road for trotters at Batavia Downs. Figures to get the perfect trip with Kevin Cummings in the sulky. The one negative: we've got no shot to get the morning line odds of 5-1.
Race 9
No. 6 Arnold (5-1 morning line): Forced to re-qualify after going off-stride in back-to-back races. Scooted home briskly (:29.3) in that qualifier and should get a second-over trip behind Wire Me Cash. May not beat the No. 1 Ona Dream, but certainly worth using in the exacta and trifecta.
Batavia Downs on
Saturday July 29
Race 6
No. 4 Rebel Soldier (5-1 morning line). In each of his last three starts at the $15,000 claiming level, he ended up in the winner's circle. He's in for $15,000
tonight
, and making his first start off the claim for J.D. Perrin. Don't expect 5-1 but expect a bang-bang finish with No. 1 P L Hellcat.
Race 8
No. 1 No Real Surprise (2-1 morning line). No surprise at all, actually. After three consecutive 8-hole draws, he lands at the rail with Jim Morrill driving. Look no further for a winner.
——-
Recap of July 26 plays:
Race 9: Worth Your Attention. Finished a not-good-enough third. Tried to leave, but two others inside also left. Rail horse was far too good.
Race 11: It's A Miracle. Finished an excuse-filled fifth. Left but was forced to let the outside horse, Dustlanemissmolly, go in a sizzling 27.2 opening quarter. Shuffled to last when Dustlanemissmolly dropped anchor, then was FULL of pace in the stretch. A definite bet-back.
Race 13: Larjon Laura. Finished 2nd. Two-hole trip but the front-runner, Dontch Remember with Jim Morrill Jr., was strong.