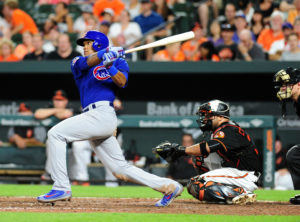 The second half of the season kicked off yesterday. While the Dodgers and Astros picked up right where they left off, teams like the Cubs and Mets looked to start fresh after disappointing first halves. In Boston, the greatest rivalry in sports resumed with a literal walk-off finish.
Chicago Cubs (44-45) 9
Baltimore Orioles (42-47) 8
BALTIMORE- The O's came back from an 8-0 deficit to tie things up, but Addison Russell's eighth home run of the year broke the tie in the ninth. The Cubs went deep five times in the win, and a scoreless ninth inning from Wade Davis gave him his 17th save of the year.
St. Louis Cardinals (43-46) 2
Pittsburgh Pirates (43-47) 5
PITTSBURGH- First baseman Josh Bell walked things off with a three-run dinger off of Seung-Hwan Oh. Felipe Rivero, the lefty with a fastball that reaches 102 MPH, won his fourth game of the year and lowered his ERA to 0.74 (why WASN'T he an all-star).
New York AL (45-42) 4
Boston Red Sox (51-39) 5
BOSTON- A Gary Sanchez two-run bomb gave the Yanks a 4-3 lead heading into the ninth, where closer Aroldis Chapman has been a bit shaky this season. He failed to record an out as he walked Andrew Benintendi with the bases loaded to lose this one for New York.
Colorado Rockies (52-40) 2
New York Mets (40-47) 14
QUEENS- All nine Met starters recorded at least one hit in this onslaught against the Rockies. Michael Conforto returned from his all-star debut by hitting his first long ball since June 2 against Pittsburgh. Jacob deGrom (10-3) struck out 11 over eight innings of work to earn his sixth straight win. Nolan Arenado exited after an injury suffered while rounding first base.
Toronto Blue Jays (42-47) 7
Detroit Tigers (39-49) 2
DETROIT- Justin Verlander's struggles continued as Steve Pearce took him deep to get the scoring started in the fifth inning. Joey Bats added to the scoring with his 15th round-tripper in the seventh. Aaron Sanchez earned his first victory of the year by throwing six innings and allowing one unearned run.
Washington Nationals (53-36) 5
Cincinnati Reds (39-50) 0
CINCINNATI- The Reds' bats were dormant in this one against Gio Gonzalez, who tossed 8 1/3 innings of scoreless ball. Bryce Harper went deep twice for the first place Nats.
Los Angeles Dodgers (62-29) 6
Miami Marlins (41-47) 4
MIAMI- AJ Ramos blew his second save of the year, allowing a three-run homer to Yasiel Puig in the top of the ninth. The shot was Puig's second of the night, and his 18th of the year. LA is 27-4 in their last 31 games.
Arizona Diamondbacks (53-37) 3
Atlanta Braves (43-45) 4
ATLANTA- The Braves continue to exceed expectations with a win out of the break. Newly adapted third baseman Freddie Freeman went deep and had two RBI in the win. R.A. Dickey (6-5) received a no-decision, but threw six innings of one-run ball.
Philadelphia Phillies (29-59) 6
Milwaukee Brewers (51-41) 9
MILWAUKEE- Both teams did all of their scoring against the opposing starter, but Zach Davies, 5.08 ERA and all, improved to 11-4 with the victory. A Ryan Braun grand slam capped off an eight-run second inning for the Brew Crew.
Seattle Mariners (44-47) 4
Chicago White Sox (38-50) 2
CHICAGO- A Robbie Cano three-run shot was all the Mariners needed to go up for good. James Paxton improved to 8-3 after he struck out nine in six innings. The good news for the White Sox though is that trading Adam Eaton, Chris Sale and now Jose Quintana in the past two years has left them in good shape for 2018, despite this season being a wash.
Minnesota Twins (45-44) 5
Houston Astros (61-29) 10
HOUSTON- Much like Milwaukee, the Astros used an eight-run second inning to break this game open. Brian McCann capped it off with his 11th home run of the year, a three-run shot. Jose Berrios (8-3) failed to make it out of the second inning in the loss.
Texas Rangers (44-45) 5
Kansas City Royals (44-44) 3
KANSAS CITY- After trailing 3-0, the Rangers used the long ball to get back into this one. An Adrian Beltre three-run shot in the sixth tied it, and Mike Napoli's two-run dinger in the seventh put Texas up for good. Martin Perez (5-6) went seven, allowing three runs for the Rangers.
Cleveland Indians (47-41) 0
Oakland Athletics (40-50) 5
OAKLAND- With Jose Quintana shipped off, Sonny Gray might be the hottest starting pitcher on the trade market. In his last four starts, he's 3-1 while allowing just four earned runs in 27 innings. He threw six scoreless last night, as Yonder Alonso hit his 21st dinger of the year.
Tampa Bay Rays (48-43) 2, 10 innings
Los Angeles Angels (45-48) 1
LOS ANGELES- Solo shots from Evan Longoria and Albert Pujols were the extent of the scoring through the first nine innings. In the tenth, a double by Brad Miller knocked in Wilson Ramos for the winning run. Brad Boxberger earned his second win of the year in just his fifth game, and has yet to allow a run.
San Francisco Giants (35-46) 5
San Diego Padres (38-51) 4
SAN DIEGO- The Giants walked away victors in a battle of the west coast's worst. Buster Posey's seventh inning homer proved to be the difference, and his .326 average trails Bryce Harper and Ryan Zimmerman both by just a point for second in the NL.