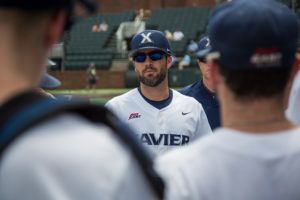 Courtesy of GoXavier.com
CINCINNATI – 
After a decorated playing career and four years as an assistant on the Xavier baseball staff, Billy O'Conner was named the program's seventh head coach on Tuesday.
"Billy is the full package when it comes to his playing, coaching and recruiting experience," said Xavier Director of Athletics Greg Christopher. "His passion for Xavier, mind for the game and tireless recruiting efforts have made him an invaluable part of our coaching staff during some great years for the program. More than that, I know he will continue our commitment to developing young men as students and people in addition to competitive baseball players. Billy has a bright future in coaching and I am excited to see the program continue to grow under his direction."
O'Conner recently completed his fourth season as an assistant on the XU staff during the 2016-17 season, helping the Musketeers to a third BIG EAST Championship in four years and a second straight NCAA Tournament Regional Final.
"This opportunity is a dream come true for me," said O'Conner. "It's an unbelievable feeling to grow up in the Xavier community, have the opportunity to play baseball at Xavier and now have the opportunity to represent the university and the baseball program as the head coach. This school and this program truly are home to me. I could not be more excited to help to build on a great foundation already in place."
During his time on the staff, XU has posted three 30-win seasons, made three appearances in the NCAA Tournament and had eight players selected in the MLB First Year Player Draft. That number includes back-to-back years with multiple picks and a program record four selections in last week's draft.
"I can't wait to get started on helping this program take the next step forward," said O'Conner. "I want to thank Greg Christopher and Susan Lipnickey, as well as the rest of the search committee for their trust in my vision of the future of this program. I'd also like to thank the coaches that I've worked with along the way, especially the ones that have made huge contributions to the success of our program, Scott Googins and Nick Otte. And mostly, I want to thank the people who have supported me the most throughout, my family and my fiancé, Elizabeth."
COACHING CAREER

Prior to his time as an assistant at XU, O'Conner spent one year as an assistant at Northern Kentucky and two years in the volunteer assistant role at Xavier.
O'Conner also managed the Great Lakes Summer Collegiate League's Cincinnati Steam for three summers, leading the team to a first-place finish in 2012. O'Conner was named the 2012 Joe Carbone Manager of the Year for his efforts.
A former collegiate catcher at Indiana and Xavier, O'Conner has had plenty of success tutoring XU's backstops over the past four seasons. In fact, Xavier has had a catcher on the Johnny Bench Award Watch List in each of the past four seasons as All-BIG EAST performers Dan Rizzie and Nate Soria have shined behind the plate.
Rizzie walked on as a freshman and blossomed into one of the best catchers in program history, eventually becoming a 13th round selection of the New York Mets in 2016. Soria was named the BIG EAST Freshman of the Year and a Louisville Slugger Freshman All-American after the 2015 season.
PLAYING CAREER
After beginning his collegiate career at Indiana University, O'Conner played his final two seasons at Xavier. He helped the Musketeers advance to their first NCAA Division I Tournament after capturing the 2009 Atlantic 10 Conference tournament championship. O'Conner was named the Most Outstanding Player of the A-10 Tournament.
As a senior captain, O'Conner batted .333 with two home runs and 39 RBIs and helped the 2009 team win 39 games, the highest single-season win total in program history. O'Conner was also a member of Xavier's 2008 squad that won the A-10 regular season crown.
At Xavier, O'Conner proved to be a standout student-athlete both on and off the field. Prior to his stint at XU, O'Conner was a key member of the Indiana University baseball team where he earned a Big Ten Conference Scholar-Athlete award.
O'Conner played two seasons at the professional level after graduating from Xavier. He spent one year as a member of the Texas Rangers organization, playing for the AZL Rangers and Spokane Indians, before playing one season for the Frontier League's Washington Wild Things.
PERSONAL
Outside of collegiate baseball, O'Conner has been active with the Cincinnati Reds Community Fund, the Vs. Cancer Foundation, and has been active in numerous community service projects, including Read Across America.
O'Conner is a Cincinnati, Ohio native and earned his finance degree from Xavier in 2009.