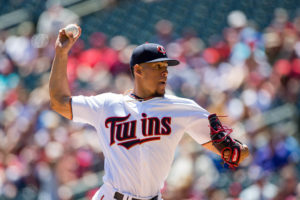 New York Yankees (38-26) 7
Oakland Athletics (28-38) 8
OAKLAND– Khris Davis hit a walk-off two-run single in the bottom of the tenth inning to seal the Athletics' victory over the Yankees. The base knock came after both teams had exchanged leads over the last four innings resulting in a game lasting four and a half hours. Other key contributors for Oakland were Chad Pinder and Jed Lowrie who each had three hits and an RBI. Sonny Gray pitched five-and-one-third innings for the A's, allowing three runs on eight hits and three walks. Jordan Montgomery was relieved after yielding four runs on seven hits in five-and-two-thirds innings. Starlin Castro finished 3-for-5 with an RBI and three runs scored for the Yankees. It is also worth noting that Gary Sanchez (3 hits, 2 RBI) left with an apparent injury in the top of the ninth after stealing second base.

Washington Nationals (40-26) 8
New York Mets (30-35) 3
NEW YORK– Daniel Murphy went 3-for-5 with a triple, run scored and two RBI as the Nationals won the series opener over the Mets. In 26 career games against his former team, the second baseman is now batting .394 with 28 RBI. Gio Gonzalez pitched seven strong innings, giving up two runs on five hits without issuing a walk. On the opposing side, Robert Gsellman was lit up for eleven hits and seven runs in five innings of work. However, the game was not the only thing that the Mets would lost. After attempting to make a diving catch, Juan Lagares broke his left thumb. That comes just one day after Matt Harvey and Neil Walker were placed on the disabled list.
Boston Red Sox (37-29) 0
Philadelphia Phillies (22-43) 1
PHILADELPHIA– In a game in which runs were difficult to come by, Ty Kelly's pinch-hit RBI double was all that the Phillies would need to snap an eight-game losing streak. On the mound, Nick Pivetta had the best start of his major league career thus far as he made it past the fifth inning for the first time. His start saw him fan nine batters while allowing just four hits in seven innings. While he was saddled with the no-decision, Chris Sale fell victim to a lack of run support as the southpaw's eight innings of one-run ball and ten strikeouts were put to waste. However, Sale was able to increase his major league lead in strikeouts to 136 while also having his 44th double digit strikeout game of his career.
Tampa Bay Rays (35-34) 3
Detroit Tigers (31-34) 5
DETROIT– Miguel Cabrera delivered a walk-off two run home run in the bottom of the ninth to give the Tigers a win over the Rays. The game ending shot was the seventh of his career and his first since 2013. Despite allowing five walks, Justin Verlander lasted seven innings and held Tampa Bay to two runs on six hits. Alex Cobb nearly matched him in innings pitched but fell just short as he went six-and-two-third innings while surrendering three runs (two earned) on eight hits. At the plate, Logan Morrison, Steven Souza Jr and Daniel Robertson each drove in a run for the Rays.
Baltimore Orioles (32-33) 2
Chicago White Sox (29-36) 5
CHICAGO– Matt Davidson went deep yet again to help the White Sox hand the Orioles their seventh loss in the last eight games. With the home run, he became the first White Sox player to homer in four straight since Alex Rios did it in 2013. David Holmberg got the start and ate up four-and-one-third innings while giving up one run on four hits. Once Anthony Swarzak came in relief of Holmberg though, Orioles catcher, Caleb Joseph, tied the game with an RBI double. That set the stage for Davidson to double and later score the go-ahead run on a hit that knocked Orioles starter, Chris Tillman, out of the game. Over five-and-one-third innings, the ace was tagged for five runs and eleven hits. He has now dropped five straight outings and has an ERA of 8.07.
Seattle Mariners (33-35) 2
Minnesota Twins (34-29) 6
MINNEAPOLIS– Chris Gimenez and Eduardo Escobar combined to plate all six runs for the Twins as they earned the four game series split against the Mariners. Minnesota got off to a scorching hot start in the first inning sparked by Escobar's two run home run followed by Gimenez's three run shot. That was all the run support that Jose Berrios needed. In a career best eight innings of work, the 23 year old right-hander fanned six batters, allowing two runs on five hits. The two runs came off RBI singles from Robinson Cano and Ben Gamel. With Gamel's hit, he extended his hit streak to seven games and has now reached base safely in 14 of his past 24 plate appearances. As for Berrios' counterpart, Ariel Miranda, he struggled as he surrendered six runs and ten hits over four innings for the Mariners.
Kansas City Royals (31-34) 7
Los Angeles Angels (35-35) 2
LOS ANGELES– Lorenzo Cain and Alex Gordon both hit solo shots as the Royals won their fifth game in a row. Aside from going deep, Gordon also hit an RBI double and scored on a hit by Whit Merrifield. Making his first career start after 41 relief appearances for Kansas City was Matt Strahm. He threw five innings, letting up one run (zero earned) on three hits and a walk. Ricky Nolasco ate up six innings for Los Angeles and surrendered five runs and ten hits. With the loss, Nolasco has dropped six straight outings. The Angels' two runs were driven in by Yunel Escobar and Albert Pujols.
Los Angeles Dodgers (41-26) 5
Cleveland Indians (32-31) 12
CLEVELAND– Lonnie Chisenhall hit a pinch hit three run home run and finished with five RBI as the Indians ended the Dodgers' six-game win streak. Since 1913, he is the third Cleveland player to come off the bench and drive in at least five runs in a single game. Chisenhall was the only one carrying the offense, though, as Edwin Encarnacion reached base in all five plate appearances and scored four runs. Although he did not have his best outing on the mound, Josh Tomlin did just enough to keep the Dodgers' offense from getting hot. Over five innings, he yielded four runs on seven hits while getting seven batters to whiff. For Los Angeles starter, Rich Hill, the inability to make it into the fifth inning or later continued. He gave up seven runs on eight hits and two walks in four innings. At the dish, Cody Bellinger continued on his torrid pace to his rookie season by hitting his eighteenth home run in just his 47th career game.
San Francisco Giants (26-42) 9
Colorado Rockies (43-26) 10
DENVER– After allowing the Giants to come back from an eight run deficit, Raimel Tapia put an end to their hopes of winning as he hit the game-ending single in the ninth to lift the Rockies over their division foe. Nolan Arenado was a force to be reckoned with in the Colorado lineup as well as he doubled three times and had four RBI. With the early run support, Jeff Hoffman threw five innings of one-run ball but was forced to leave due to a high pitch count (103 pitches). Matt Moore's start saw him get tagged for eight runs on eleven hits in just three innings. For San Francisco, Buster Posey and Brandon Crawford were the leading contributors as they combined for six hits and five runs batted in.
Milwaukee Brewers (36-32) 6
St. Louis Cardinals (30-35) 4
ST. LOUIS– Eric Thames hit a go-ahead two run home run in the ninth inning to give the Brewers their second consecutive series win over their division rivals. Also launching one deep into the stands was Thames' teammate, Keon Broxton, who saw his shot travel 489 feet which was the second longest in the majors this season. Getting the nod for Milwaukee, Zach Davies had his second consecutive so-so outing as he let up four runs on nine hits over five innings. Opposing him was Michael Wacha, who also had struggles of his own. He finished his night, lasting only four innings and giving up four runs on seven hits. Matt Carpenter went 2-for-4 with a pair of doubles and two runs scored for the Cardinals. He has now doubled in six straight games.