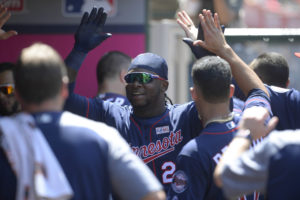 NEW YORK YANKEES (32-22) 2
TORONTO BLUE JAYS (28-29) 3
(Series ties 2-2)
TORONTO, ON– Josh Donaldson hit a solo home run in the eighth inning to put the Blue Jays in the lead and end the series as a tie.
CHICAGO WHITE SOX (24-31) 4
DETROIT TIGERS (28-28) 7
(DET wins series 3-0)
DETROIT, MI– Justin Upton sent the Tigers home with the series sweep with a three-run walk-off home run.
ATLANTA BRAVES (24-30) 13
CINCINNATI REDS (25-30) 8
(ATL wins series 2-1)
CINCINNATI, OH– Ender Inciarte went 5-for-5 with five RBI to lead the Braves to the game and series win.
PITTSBURGH PIRATES (26-31) 11
NEW YORK METS (24-31) 1
(PIT wins series 2-1)
NEW YORK, NY– Andrew McCutchen had three RBI and three runs scored on three hits to fuel the win the Pirates win, clinching the series.
ARIZONA DIAMONDBACKS (34-25) 5
MIAMI MARLINS (24-31) 6
(MIA wins series 3-1)
MIAMI, FL– Tyler Moore added a three-run home run to the Marlins series-clinching win.
BOSTON RED SOX (31-25) 7
BALTIMORE ORIOLES (29-26) 3
(Series ties 2-2)
BALTIMORE, MD– Andrew Benintendi drove in three runs on three hits, including two home runs, to help the Red Sox secure the series tie.
SAN FRANCISCO GIANTS (23-35) 7
PHILADELPHIA PHILLIES (19-35) 9
(PHI wins series 2-1)
PHILADELPHIA, PA– Odubel Herrera and Freddy Galvis combined for six RBI in the Phillies win.
LOS ANGELES DODGERS (35-23) 0
MILWAUKEE BREWERS (30-27) 3
(LAD wins series 2-1)
MILWAUKEE, WI– Zach Davies threw six scoreless innings with three hits and one walk allowed to help the Brewers salvage a game in the series.
CLEVELAND INDIANS (29-26) 8
KANSAS CITY ROYALS (24-31) 0
(KC wins series 2-1)
KANSAS CITY, MO– Daniel Robertson knocked home three on two hits in the Indians' only win of the series.
HOUSTON ASTROS (41-16) 7
TEXAS RANGERS (26-31) 2
(HOU wins series 3-0)
ARLINGTON, TX– George Springer went 3-for-5 with three RBI as Astros swept the Rangers and won a 10th straight game.
MINNESOTA TWINS (29-24) 3
LOS ANGELES ANGELS (29-31) 2
(MIN wins series 3-1)
ANAHEIM, CA– Miguel Sano gave the Twins the lead for good, and the series win, with a two-run home run in the sixth inning.
WASHINGTON NATIONALS (35-20) 11
OAKLAND ATHLETICS (24-32) 10
(WSH wins series 2-1)
OAKLAND, CA– Ryan Zimmerman gave the Nationals the lead, and eventual series win, with a three-run home run in the eighth inning.
TAMPA BAY RAYS (29-30) 1
SEATTLE MARINERS (28-30) 7
(SEA wins series 3-0)
SEATTLE, WA– Ariel Miranda tossed a complete game, allowing one run on four hits and one walk with nine strikeouts, helping clinch the sweep for the Mariners.
COLORADO ROCKIES (36-23) 3
SAN DIEGO PADRES (23-35) 1
(COL wins series 2-1)
DENVER, CO– Jeff Hoffman struck out nine and gave up one run on three hits in seven innings, earning the win as the Rockies clinched the series.
ST. LOUIS CARDINALS (26-28) 6
CHICAGO CUBS (28-27) 7
(CHI wins series 3-0)
CHICAGO, IL– Ian Happ finished with four RBI and two home runs for the Cubs, who completed a sweep of the rival Cardinals.