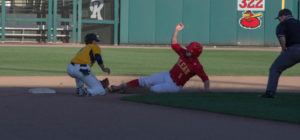 By PAUL GOTHAM
ROCHESTER, N.Y. — Max Carver just wanted to get in the dugout and settle his nerves.
After allowing the first three batters of the game to reach base, the Pittsford Sutherland hurler needed a chance to clear his head. Six innings later, the senior left-hander and his teammates were making plans for the New York State Final Four.
Carver tossed a 3-hitter and struck out 14 as Sutherland defeated the Olean Huskies (VI), 7-0 in Far West Regional action at Frontier Field Saturday night. The win clinched a spot in the Class A semi-final game next Friday.
"I wasn't expecting that," he said of his effort. "I know they're a great hitting team. I thought they were going to pound it into the ground and we were going to get a lot of outs as a team."
Carver, who tossed a complete game last Saturday in Sutherland's 2-1 win over Aquinas in the Section V Class A2 final, surrendered a leadoff single, followed by a double before hitting the third batter of the night that he faced.
He escaped the jam with a pickoff, routine fly ball and a ground out to end the threat.
"First inning I was literally shaking on the mound," the 6-foot starter said. "I just wanted to get out of that inning. I know my first is always my worst inning, so I just wanted to get in the dugout and be able to sit down."
Olean's Garret Boldt led the game with a bloop single to shallow left center but was erased on a rundown between first and second when Carver threw over to first. Dell Butler doubled into the left field corner. Justin Retchless reached on hit by pitch, and Dylan Vincent put runners on the corners with a fly ball to center.
VIEW MORE SUE KANE PHOTOS HERE.
But Carver induced a ground ball to get out of the inning.
"That's a team right there that hits the ball very well," first-year Sutherland catch Brandon DeRosa said of Olean. "They don't strike out a lot. I think they were a little shocked. They usually get up on teams early. We said to our guys 'we throw up a zero right now in the first, and they're going to play our game.' That was our goal. We shut them down."
Carver fanned the side in order in the second and registered six more strike outs in the third and fourth innings combined.
"Once I started getting some strike outs, I got in the groove," he said. "I was hitting my spots, threw whatever coach said."
With Carver holding the Olean bats in check, the Knights offense had a chance to find its rhythm.
Sutherland sent 12 to the plate and got all runs it needed in the sixth. After putting the leadoff man aboard in four of the first five innings without capitalizing, the Knights took advantage of four walks and two errors in the stanza.
"Our goal was to put pressure on them every inning, get guys over," first-year coach Brandon DeRosa said. "That pressure built up and finally broke through in the sixth. So proud of these guys. They didn't give up. They battled the entire game. It's been our M.O. all season."
Carver led the frame with a base hit up the middle and gave way to Davis Heyman as a pinch runner. Jack Bergin followed with a base on balls, and Sam Kistler put runners in scoring position with the Knights fifth sacrifice bunt of the game.
Connor Fitzsimmons delivered from the there. The eight-hole hitter sent a two-strike pitch on the outside part of the plate into right field for what appeared to be a sacrifice fly. When the ball was mishandled, two runs scored and Fitzsimmons stood on second.
"I just wanted to get a run across," the sophomore catcher said. "I stayed inside the ball and let it travel. Just drove it the other way."
The next three Knights reached base and broke open the game.
"Connor has had some huge hits for us this year," DeRosa noted. "It seems like he's up every time in a big situation and the kid comes through in the clutch. He smoked that ball. Either way we're scoring a run on that. He put the ball in play and made things happen."
Olean threatened in the fifth. Joe Jedrosko reached on a dropped third strike, and Carver issued two of his three walks on the evening to load the bases with one out. Carver left the bases loaded with a strike out and fly ball.
"He knew it wasn't going to be easy," DeRosa stated. "He had to battle for us. I wasn't expecting 15 strike outs, but he's been a horse."
The outing was the fifth straight complete game performance for Carver. None more important as it paved the way for his pre-season projection.
"In fall ball our goal was always to win a sectional championship," Carver recalled. "I would always joke and say 'no, we're getting the ring.' Two more games, and we're getting a ring."
Bergin had  a single, two walks and reached base on a dropped third strike.
Olean's Bryan Bizzaro matched Carver for five innings. The Huskies senior right-hander scattered four hits and struck out five. But in the fifth inning he landed awkwardly finishing a pitch and required medical attention. He completed the frame but did not return for the sixth.
Sutherland is one of four Section V teams to advance to the state semi-final. Avon (Class C) will look to reach the state final for a second straight year after defeating Maple Grove 14-5. Livonia (Class B) got revenge on last year's loss with a 5-3 win over Fredonia. McQuaid (Class AA) used extra innings to beat Clarence, 5-4.
North Collins (Class D) of Section VI beat Lima Christian, 9-5.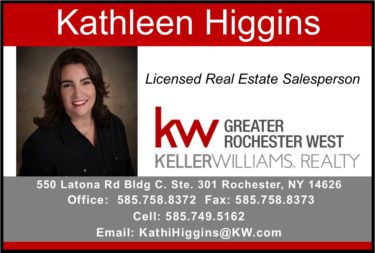 Sutherland (16-9) will face reigning Class A state champion Wantagh (VIII) in Friday's semi-final. A 6:30 p.m. first pitch is scheduled at Union-Endicott High School in Binghamton.
"It's been incredible," DeRosa said. "I couldn't have drawn this up any better. These guys are awesome. I love coming to work every day and coaching these guys. All we keep saying is 'we don't want this ride to end. Let's keep playing.' We don't want to stop. We don't want to be done. These guys are having a blast doing it. It's been fun."