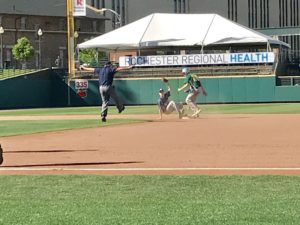 ROCHESTER, N.Y. — Dylon Mercado and Brandon Zielinski combined on a 1-hitter as the North Collins Eagles (VI) advanced to the New York State Class D semi-finals with a 9-5 victory over Lima Christian Saturday at Frontier Field.
Mercado started and retired the first nine he faced – seven on strike outs. The junior ran into trouble in the fourth before giving way to Zielinski.
Zielinski allowed three runs (two earned) on one hit over four innings for the win.
Harley Mehnert delivered a two-run single in the seventh as the Eagles broke open a tie game. Mehnert plated Zielinski and Nathan Turnbull with a one-out single to right center.
North Collins took a 3-0 lead in the top of the fourth and appeared to be in cruise control with Mercado mowing down the Lima Christian lineup. But the right-hander was relieved after he allowed the first four Saints to reach base in the fourth.
Paul Morgan brought home Lima Christian's first run when he was hit by a pitch. The senior first baseman knotted the game at five in the fifth with a two-out single to center.
Dylan Winter reached on a hit by pitch to start the North Collins seventh. Zielinski walked and after a double steal, Winter scored on a wild pitch. One out later, singled to score Zielinski.
Mercado singled and scored in the first inning and crossed the plate twice.
Winter doubled and scored twice.
Mehnert also scored two runs.
North Collins will play SS Seward (IX) in Friday's Class D semi-final. A 5:30 p.m. first pitch is scheduled on Conlon Field at MacArthur Park.