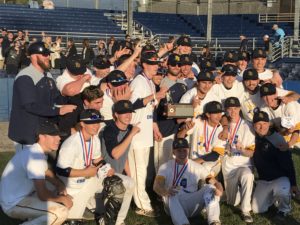 By PAUL GOTHAM
BATAVIA, N.Y. — Credit the Pittsford Sutherland Knights and in particular Sam Kistler with the ability to go to a second option. A pitch out of the strike zone foiled their original intention, but the senior still delivered the game winner.
Kistler plated pinch runner Max Album with the go-ahead run in the sixth inning and Sutherland claimed the Section V Class A2 title with a 2-1 victory over the Aquinas Li'l Irish.
The senior first baseman connected on a low curveball for a base hit through a drawn infield.
"I kept my hands back and poked it up the middle," Kistler said. "All those hours in the weight room worked I guess. Put the bat on it and golfed it a little bit."
But it wasn't what first-year coach Brandon DeRosa had in mind at the beginning of the at bat.
"It was plan B," DeRosa noted. "We were going to squeeze, a safety squeeze. He got a bad pitch. I said 'you know what I'm going to let him swing away right here.' He came through. I'm so happy for him. He's a senior, so he'll have that memory for the rest of his life."
It was all that Sutherland starter and tournament MVP, Max Carver, needed. The senior left-hander went the distance, and Sutherland claimed its 13 sectional title in program history.
"It feels great," Carver said. "A new coaching staff, and we wanted to get it in the first year. As a senior it's a great way to end my baseball career."
First pitch. Class A2 final. No. 8 seed @AQIrishBaseball and No. 3 seed @SHSBSBL pic.twitter.com/t7cTYJZp0W

— Paul Gotham (@PickinSplinters) May 27, 2017
Carver worked in and out of trouble throughout the contest allowing the leadoff man aboard in four separate innings and stranding at least one runner in every frame.
DeRosa pointed to mental toughness as the reason for Carver's success.
"That's what we talk about all the time is being mentally tough," DeRosa stated. "Especially in baseball, things aren't always going to go your way. Being able to bounce back, trusting your teammates and that's exactly what he did."
He stranded a runner on third in the first, left a pair on the corners in the second and short-circuited a one-out AQ rally in the third and a two-out surge in the fourth.
"I don't think he had his best stuff today, but he was mentally tougher than anybody on the field," DeRosa added. "He got the job done. He trusted our defense. Our defense was phenomenal today.
"His breaking ball was working. He was down with it. He was hitting his spots, hitting corners. Guys weren't really barreling a ton of balls up. They had a few singles in the beginning."
Max Carver strands the tying run at 3rd, @SHSBSBL claims the Class A2 title with a 2-1 victory. pic.twitter.com/P5o5k4GFtj

— Paul Gotham (@PickinSplinters) May 27, 2017
Sutherland got on the scoreboard first.
Nate Richardson led the third with a double and moved 90 feet on a Layton Cummings sacrifice bunt. Jack Zielinski walked to put runners on the corners, and Will Marsh delivered with a RBI sacrifice fly.
Aquinas knotted the score in the fifth. Trey Brown started with a double. Mikey Hernandez followed with a Texas Leaguer to shallow center field, and Tim Proud plated Brown with a two-out base hit.
Carver tripled to lead the bottom of the sixth before giving way to Album as a pinch runner.
"Just saw a fastball and swung as hard as I could," he said. "I was yelling as I was rounding first."
Aquinas threatened in the seventh when James Huber tripled off the base of the wall in right field. The senior first baseman was left stranded.
James Huber connects on a 2-out triple in the seventh for @AQIrishBaseball pic.twitter.com/CzwVlpnRjI

— Paul Gotham (@PickinSplinters) May 28, 2017
"It's been a grind all year, and I'm so proud of our guys," DeRosa said. "We knew it wasn't going to come easy. Aquinas has been playing great baseball. A few things went our way."
Hernandez took the loss allowing two runs on five hits and striking out four.
Sutherland (14-9) will play the A1 champion Canandaigua Braves in the regional qualifier. The teams split a pair of games earlier in the season. A 7 p.m. first pitch is scheduled Tuesday at Dwyer Stadium.