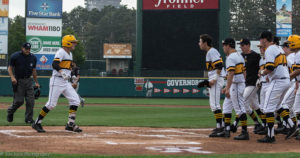 By PAUL GOTHAM
ROCHESTER, N.Y. — Somewhere Jackie Robinson is smiling. The McQuaid Jesuit Knights gave a nod to the MLB hall of famer who was known for stealing home.
With a string of unlikely occurrences that Abner Doubleday never could have imagined, McQuaid erased a two-run deficit in the bottom of the seventh and went on to win one inning later.
Nick Tomei scampered home with the winning run, and McQuaid edged the Rush-Henrietta Royal Comets 3-2 to win the Section Five Class AA title.
"We played that way all year," second-year coach Tony Fuller said. "It's not your stereotypical make the third out (standing) at third base. We play if they're going to give it to us, we're going to take it. And it works.
With two outs and teammate Ben Beauchamp at the plate, Tomei broke for third on a stolen base attempt. The throw from home bounced short of the bag, and Tomei came home as McQuaid defeated R-H in the finals for the second time in three years.
"As soon as I saw the ball go past I heard 'Go! Go! Go!' from Coach Fuller," Tomei explained. "So I knew I just had to get up and run hard. If he thinks I make it, then I think I make it."
Tomei's walk-off heroics seemed like vanilla in comparison to McQuaid's Rocky Road seventh.
With Rush-Henrietta starter Mitch Hoffower throwing a one-hitter, Beauchamp came to the plate.
"We're down two, and I haven't hit a home run all year," Beauchamp stated. "I was just thinking to get on first and do my job. It gets to full count. I'm looking to work a walk, and I just got the pitch I want."
The sophomore turned on a fastball and sent a drive to left field that caromed off the concrete embankment just beyond the fence.
"He was giving me some curveballs earlier in the count. I was sitting fastball. If he gave me a curveball, I was going to try and adjust to it. I just kept fighting and got the job done."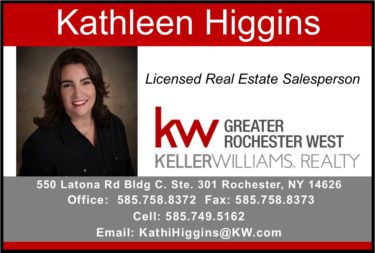 One out later, Billy Kehrig singled and stole second. The Jesuit Knights right fielder moved to third on a ground out.
With the Royal Comets one strike away from the title, Kehrig broke from third.
"They were playing the infield back, and the pitcher was going from the full windup," Kehrig noted. "I was walking back to the base and coach said 'hey, they're not paying attention to you, steal home.' I just went."
He was awarded home and the tying run when catcher's interference was ruled on the play.
SEE MORE SUE KANE PHOTOS HERE.
"I think he might have been safe even if Thomas (Manno) didn't swing," Fuller said. "Whatever, we'll take it."
Trailing 2-1 & DOWN TO THEIR LAST STRIKE @billykehrig11 STEALS HOME (catcher inter. called) as @McQuaidBaseball pulls of a WILD COMEBACK WIN pic.twitter.com/QxfiIGzgJK

— Dan Fetes (@danfetes) May 27, 2017
McQuaid starter Erik Johnson earned MVP honors. The junior left-hander struck out four and walked one. He allowed two runs (one earned) on five hits in a complete-game eight inning effort. Johnson threw 89 pitches, 65 for strikes and started off 26 of 33 batters with a strike.
"I was just trying to keep the zero on the board longer than he did," Johnson said of the battle with Hoffower. "Everything was working."
McQuaid rallied from six down to beat Victor in the semi-finals, Wednesday night. The Jesuit Knights put together a seven-run fourth inning in that win. Saturday, they looked out of it before erupting.
"We know from experience during the year the hardest three outs in baseball are the last ones," Fuller said. "True to us all year We just grind it out. Beauchamp obviously gave us a big jump with that solo home run. Little luck our way, the rest is history."
Nick Tomei and @McQuaidBaseball walk off with the Class AA title. pic.twitter.com/uk6Mrff34s

— Paul Gotham (@PickinSplinters) May 27, 2017
Rush-Henrietta used a two-out rally to grab the lead in the sixth. Zach Harter reached on a hit by pitch. Chris Reed followed with an RBI double just inside the left field line.
Justin Varney pushed the lead to two in the top of the seventh. Ray Specht started the stanza and reached on an error. Aaron Shoemaker moved the runner with a sacrifice bunt, and Varney delivered with a base hit to left center. Casimer Sobaszek singled to put runners on the corners with one out, but the Royal Comets did not take advantage.
After knocking off Penfield, ranked No. 16 NYS Class AA, in the quarter-finals and Fairport, ranked No. 9 NYS Class AA, in the semi-finals, R-H was looking to pull the trifecta with a win over No. 19 McQuaid. The Royal Comets finished 16-8.
McQuaid improved to 16-5.
"All the seniors felt crushed last year because most of us played a lot," Tomei said. "In the summer we all got together and told each other 'it's not over. We got one more shot at this, so let's make it count.'"
The Jesuit Knights move on to the Far West Regional where they will meet the Section VI champion. They will play the winner of Lancaster – Williamsville North.
Class AA final McQuaid beats RH 3-2 in 8 innings. Highlights tonight @SPECNewsROC @MJSNetwork15 @McQuaidBaseball @nick_tomei5 pic.twitter.com/3kCPQS1OZ7

— Tom Carroll (@TomC_Sports) May 27, 2017