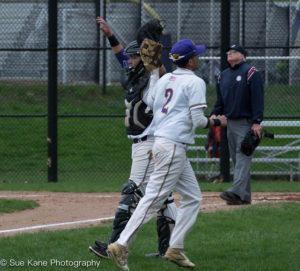 Jordi Agosto led the East High Eagles to a first-place finish in the Rochester City Athletic Conference (RCAC) as well as top seed in Class A1. The slick-fielding shortstop capped the 2017 season as RCAC Player of the Year.
Agosto hit .532 for the Eagles with 12 extra-base hits including nine doubles, two home runs and a triple. The junior led East to an 11-1 record in league play with 12 stolen bases, 27 RBI, 38 runs scored and an on-base percentage of .667.
Teammates Eric Maldonado and John Segarra joined Agosto on the All-RCAC First team. Maldonado hit .492 with three round trippers and 36 RBI. The senior catcher/pitcher collected six doubles, three triples and scored 44 runs. He finished with a eye-popping .727 on-base percentage. Segarra hit .386 and scored 41 runs. The senior centerfielder stole 19 bases and drove in 20 runs. He reached base at a clip of .636 (OBP).
Monroe teammates Christian Sanchez and Victor Torres joined the East trio on the first team. Torres hit .533 with 32 RBI and 38 runs scored for the Redjackets which earned a No. 4 seed in Class A2 and advanced to the semi-finals before falling to reigning champion Aquinas. Sanchez hit .373 with 20 RBI and 25 runs scored.
Sophomore Julian Cotto hit .457 for the RCAC champion Franklin Quakers. Cotto stole 23 bases, scored 38 runs and drove in 13 for a Quakers club which advanced to the Class AA quarter-finals before falling to second-seeded Fairport – ranked No. 9 NYS Class AA. Jacob Heredia hit .429 for Edison with 21 hits and 14 runs scored. Ross Janezic led School of the Arts (SOTA) to the top seed in A2. The freshman second baseman/ pitcher hit .444 with 21 RBI, 24 runs scored and a slugging percentage of .648. Wilson's Finbar Gallivan rounds out the first team. The senior captain went 5-0 on the season with a 2.60 ERA. At the plate, Gallivan hit .384 with an on-base percentage of .691.
VIEW MORE SUE KANE PHOTOS HERE.
SOTA's Alfredo Aponte, Reece Correa and Justice Salamone headed the second team. The Silverhawk trio were joined by East's Joel Alicea and Pablo Garcia.  Luis Colon (NE Douglass), Kerby Desir (Edison), Michael Lopez (Franklin) and Gregory Romero (Monroe) rounded out the second team.
East High's Kyle Crandall was named RCAC Coach of the Year. One year after leading East to the Class AA final, Crandall's Eagles took top seed in A1 and finished first place in the RCAC.
First Team All-Stars:
Jordi Agosto – East,Jr,SS
Julian Cotto – Franklin-Soph,SS
Ross Janezic – SOTA-Fr,P/INF
Victor Torres – Monroe-Sr,SS/P
Jacob Heredia – Edison-Jr,SS/C
Eric Maldonado – East-Sr,C/P
Finbar Gallivan – Wilson-Sr,P/INF
Christian Sanchez – Monroe-Sr,1B
John Segarra – East-Sr,P/OF
Second Team All-Stars:
Pablo Garcia – East,Sr,P/OF
Mike Lopez – Franklin,Sr,P
Joel Alicea – East,Jr,P/3B
Luis Colon – NE Douglass,Sr,P/1B
Reese Correa – SOTA,Soph,P/C/!B/OF
Justice Salamone – SOTA,Soph,P/SS/IF
Alfredo Aponte – SOTA,Jr,P/3B
Kerby Desir – Edison,Sr,CF
Gregory Romero – Monroe,Soph,C/P/INF
 Coach of the Year – Kyle Crandall – East
 Player of the Year – Jordi Agosto – East