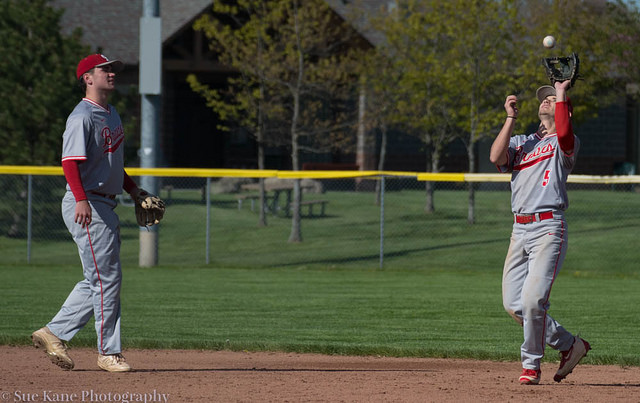 The D1 and D2 finals will be played on Friday. The tournament will resume Saturday featuring finals in Classes A1 and A2, C1 and C2. Saturday's action will also see the Class AA and B finals originally scheduled for the day.
Class A2 final: No. 3 seed Sutherland (13-9) vs. No. 8 seed Aquinas (10-12)
Saturday at Dwyer Stadium 10 a.m.
Sutherland cruises into the final on the back of solid showing against No. 6 seed HFL (5-0) and No. 2 seed Batavia (16-6). Sutherland will look to the likes of Max Carver, Jack Zielinski and Nate Richardson to continue the drive for its first title since 2014.
Aquinas has prided itself on scoring runs at will throughout the tournament, posting wins of 30-3 (vs. No. 9 seed Wayne), 21-8 (vs. No. 1 seed SOTA) and 10-0 (vs. No. 4 seed Monroe). The three main pieces of this high-powered offense have been Trey Brown (.400, 10 XBH 1 HR), Mikey Hernandez (.350, 1HR/ 2W) and James Huber (2 HR, 15 RBI), leading Aquinas throughout the season. Aquinas won the A2 title last season.
The two teams will be playing for the first time this season.
Class A1 final: No. 2 seed Canandaigua (17-3) vs. No. 5 seed Greece Arcadia (11-10)
Saturday at Dwyer Stadium 1 p.m.
Canandaigua, seeking its second straight A1 title and ranked 3rd in the state for Class A, has yet to allow a run in the tournament, shutting out No. 7 seed Spencerport 8-0 and No. 3 seed Brighton 2-0. Canandaigua boasts a large group of contributors to the success, including: Matthew Carbary (3W, 18IP, 11K, 1.90 ERA), Tanner Cooper (5W, 38 IP, 59K, 0.93 ERA/ 1 HR, 17 RBI, 2-2B, 2-3B), Cooper Crunick (.295, 4-2B, 7 RBI), Connor Fisher (375, 8 RBI, 11 R), Brian Hoffman (3W, 21IP, 19K, 0.64 ERA/.341, 8R, 4-2B), Michael Sculli (2W, 32IP, 41K, 2.62 ERA) and Seth Vigneri (.351, 15RBI, 5-2B, 1-3B).
Greece Arcadia, which has not won the title since 2008, has proven resilient over the course of the tournament, battling to wins over No. 4 seed Brockport (6-3) and No. 8 seed Pittsford Mendon (2-1). The trio of Justin Augustine, Kevin Blum and Thomas Finnerty will lead Arcadia into its final A1 game of the year.
Canandaigua and Arcadia have yet to meet this season, but faced off in last season's semifinals.
Class AA final: No. 5 seed McQuaid (15-5) vs. No. 6 seed Rush-Henrietta (16-7)
Saturday at Frontier Field 10:30 a.m.
McQuaid continued its run of no losses to any Section Five team through the tournment, beating No. 12 seed Gates-Chili 13-3, No. 4 seed Webster Thomas 3-2 and No. 8 seed Victor 12-8. McQuaid, 2015 AA champions, has found help in the continued success of Tyler Cyrus (.341, 12RBI), Erik Johnson (28.1 IP, 2.71 ERA, 18K, 7BB, 2-2), Billy Kehrig (.396, 19 RBI, 13R, 2-2B, 2-3B, .609 avg w/RISP) and Hunter Walsh (2.30 ERA, 27.1IP, 21K, 9BB, 3-0, 2SV). McQuaid is currently ranked No. 19 NYS  Class AA.
Rush-Henrietta, seeking its first title since 1990, defeated No. 2 seed Fairport in a 5-0 shutout after outlasting No. 11 seed Churchville-Chili (3-2) and No. 3 seed Penfield (4-3) in the first two rounds. Rush-Henrietta has received strong performances throughout the year from Lucas Haefner (3-1, 22IP, 14K/.365, 14RBI, 19R), Zach Harter (.429, 18R, 26RBI, 13XBH), Mitch Hoffower (4-2, 2.43 ERA, 31IP, 27K, 7BB) and Casimer Sobaszek (.357, 12R, 10RBI, 8XBH).
They last met on May 9 for a home and home doubleheader, with McQuaid winning both games 4-2 and 4-1, respectively. They also met in the 2015 title game.
VIEW MORE SUE KANE PHOTOS HERE.
Class C1 final: No. 8 seed Le Roy vs. No. 3 seed Geneseo Saturday 7 p.m. at Livonia.
Class C2 final: No. 1 seed Avon vs. No. 3 seed Campbell-Savona Saturday 4:00 p.m. at Livonia
Class B final: No. 1 seed Livonia (19-2) vs. No. 3 seed Hornell (15-3)
Saturday at Dwyer Stadium 7 p.m.
Livonia is currently r No. 4 NYS Class B and scored 11 runs in each of its first two tournament games against No. 8 seed Odyssey and No. 4 seed Wellsville. The duo of Reid VanScoter (8-0, 0.28 ERA, 43.2 innings, 90 K's, 11 BB, .413, 26 H, 24 RBI, 20 R) and John Smith (.493, .526 OBP, 31 R, 16 RBI, 33 H, 3-2Bs).
Hornell, also ranked in the NYS Class B rankings at 9th, has also score in double digits throughout the tournament, with 11 against No. 14 seed Waterloo and No. 11 seed Penn Yan, and 10 against No. 2 seed Newark. Hornell has benefited from the play of Ben Cowles (.529, 35 R, 1.50 ERA), Zach DeVito (1.71 ERA), and Ryan Velte (.380).
The teams played twice during the regular season, with Livonia winning the first game 5-0 and Hornell taking the second 6-3.
Class D1 final: No. 1 seed Fillmore vs. No. 2 seed Lyndonville Friday 7:00 p.m. Houghton College
Class D2 final: No. 1 seed Arkport vs. No. 2 Lima Christian Friday 4:30 p.m. Houghton College