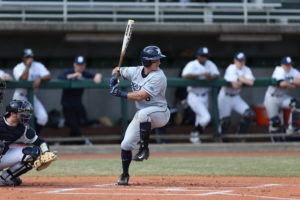 Courtesy of GoXavier.com
NEW YORK – Junior third baseman Rylan Bannon was named BIG EAST Player of the Year on Tuesday, headlining six Xavier honorees on the annual All-BIG EAST teams.
The awards included first team recognition for Bannon, Zac Lowther and Matt Kent. Chris Givin, Garrett Schilling and Blaine Griffiths were each picked for spots on the second team in a vote amongst the league's coaches.
Voting is based upon results and stats accumulated during BIG EAST games.
Bannon, a native of Joliet, Ill., is XU's second straight BIG EAST Player of the Year. Andre Jernigan claimed the award in 2016, leading XU to the BIG EAST regular season and tournament championships.
A slick fielder since arriving on campus, Bannon has impressed with the bat all season long and leads the Musketeers with a .332 batting average, 39 runs scored, 14 homers, 125 total bases and a .442 on-base percentage.
In 16 BIG EAST games, Bannon raised his game with a league-leading .426 batting average and .544 on-base percentage. Bannon also ranks among the league leaders in conference play with five homers, a .756 slugging percentage, 20 hits, 11 RBI and five stolen bases.
A unanimous pick for the All-BIG EAST First Team, he ranks among the top-10 in the BIG EAST in 12 different offensive stat categories.