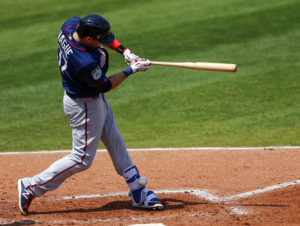 By CHUCKIE MAGGIO
ROCHESTER, N.Y. — Rochester Red Wings first baseman Matt Hague strolled up to the logo-clad backdrop near the door of his clubhouse, maneuvered his feet to the taped area he was supposed to stand on for the video crew and exchanged a laugh with the assembled media.
"What are you guys doing here?" Hague asked playfully.
"Uh, we're here to interview you!" was the good-humored response.
In the second inning, when the Lehigh Valley IronPigs jumped out to a 7-1 lead in Thursday's matinee at Frontier Field, no one anticipated any postgame interaction to be a laughing matter. Rhys Hoskins and Dylan Cozens, two of the three biggest home run hitters in the International League, had tagged Wings pitcher Jason Wheeler for homers; Hoskins served the major blow with a grand slam.
After losing a five-run lead on Tuesday and surrendering an 8-4 advantage on Wednesday, not to mention being shut out 1-0 on Monday, the fourth and final contest of the series was looking ominous. The MiLB.com Twitter account tweeted that the IronPigs were on the way to their 13th straight win. Many of the 3,667 fans in attendance grew silent, perhaps regretting their decisions to play hooky from work.
The Red Wings, however, weren't ready to fold. They combined for nine runs over the fourth and fifth innings, the notable frames in a 10-8 victory that not even a second Hoskins homer or wind-blown popup that eluded catcher Mitch Garver could prevent.
The wind was actually quite the factor, with 30 mile-per-hour wind gusts transforming Frontier into a hitter's haven.
In addition to Cozens's longball and Hoskins doubling up (Hoskins has 12 home runs thus far, Cozens 11), Hague and Daniel Palka rocketed homers over the fence for Rochester.
For Hague, a Bellevue, Wash. native, the solo shot was his fourth of the season and part of a 3-for-5 day at the plate. He and Tommy Field had three-hit days, while J.B. Shuck and Engelb Vielma had two each. Rochester had 13 hits in total, with six players batting in runs; Zack Granite and Garver led the way, with three and two, respectively.
"Yeah," Hague said of the windy conditions helping the lineup's confidence, "I think if a hitter told you otherwise they'd probably be lying to you. But with that comes also, you can swing at pitches out of the zone, too. So I think it's just trying to stay disciplined when you see the good hitting weather and trying to swing at a good pitch."
With the spectacular hitting weather, it wasn't a painless day to be a pitcher. Wheeler was composed after the crooked seventh, shutting the IronPigs out over his last three innings of work.
"It was a long second inning. There were some cheap hits in there, there were some really long homers in there," Wheeler acknowledged. "But you've gotta battle through, especially on a day everyone knows our bullpen's kind of depleted (after Wednesday night's game went 11 innings). The last thing I want to do is get pulled early, so I wanted to come back and settle in, which I did, and was able to get through five at least and take a few innings away from the bullpen."
Wheeler has made the fifth inning in six of his seven starts this season. Thursday marked his highest number of earned runs and hits allowed on the year, but he also earned his first win since April 21 after three consecutive no-decisions.
"I try not to take the wind into too much account of what I'm doing out there," he said. "I just try to pitch my game. Some things are just gonna happen differently. There's gonna be some home runs that would probably be fly-outs. You just have to kind of battle through it. I don't change the way I do things, I'm a guy that's gonna pitch to my strengths and you've just gotta deal.
"Their pitcher, he ran into a tough inning too and there were some homers that he gave up. It just kind of is what it is."
Before overcoming the six-run deficit on Thursday, the largest comeback win Rochester had made in 2017 was a two-run disadvantage. Veterans like the 31-year-old Hague and 30-year-old Field, who have each played more than 900 minor league games, were no strangers to the situation and had no problem leading the rally.
As manager Mike Quade and his 18-17 club hope to string together more victories, those vets will become even more valuable.
"I think within the definition of veteran is the fact that they've been through it," said Quade. "Most guys that have been playing don't have a ton of highs and lows… After a tough loss last night or even a tough series loss, they come ready to play everyday. And if you're a young player and you see how comfortable people are… And it's not that we don't mind losing, no, we don't like losing. But today's a new day and let's go. Whether it's the 'Haguers' of the world, or, we've got a ton of them on the team… they understand that a season isn't made in a four-game series in May or a three-game series in April.
"Games matter, absolutely, and we're trying to win them all. But you've gotta shake it off and move forward, and that's what a good veteran does."