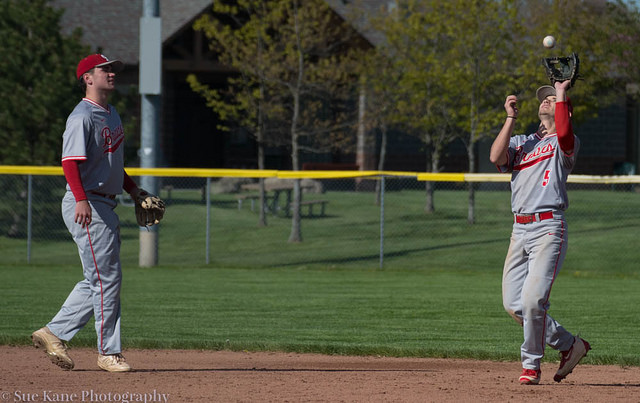 By JAKE VANDERBROEK
CANANDAIGUA — Tanner Cooper and five other seniors played their last regular-season game as a Canandaigua Brave. Cooper and teammates made sure to finish the regular-season on a good note. Cooper went 2-for-3 with a double and a home run in an 8-0 victory over the Cougars of Honeoye-Falls Lima.
"It feels good to come out with a win today," Cooper said. "It was a game that our seniors and I won't forget. This victory will give us a lot of motivation heading towards sectionals this Friday."
Even though this game was a non-conference matchup, coach Dale Werth thought this victory was key.
"This was a huge win today. All of our senior pitchers pitched very well, and we wanted to win this game for our seniors."
In the first inning, Cooper was on the bump and only gave up one hit and struck out two batters. Later in that inning, he connected on a triple. The ball was hit hard over the center fielder to score Seth Vigneri.
"I was just trying to put the ball in play", Cooper said. "I was just trying to protect the plate and once I noticed it was a fastball, I had to take advantage of it."
Next batter, Brian Hoffman connected on a base hit into right field scoring Cooper to give the Braves a 2-0 lead.
To the second inning, Cooper didn't allow any hits and recorded another strikeout. He was done after two innings with three strikeouts and one hit allowed. More offense came from the Braves as Cooper Crunick drew a base on balls. He was able to steal second and then move to third after a groundout to right side of the infield.
VIEW MORE SUE KANE PHOTOS HERE.
Next batter, Sam Maclean walked. With runners on the corners, Maclean got the steal sign from Coach Werth and took second, and Crunick was able to steal home for a 3-0 lead.
More offensive production came throughout the game from Canandaigua. In the third inning, Cooper homered off Josh Phelps to give Canandaigua a 5-0 lead.
"I saw the fastball right down the middle and had to swing on it. And so I did," Cooper said.
Vigneri went 2-for-2 with an RBI. Matthew Carbary went 2-for-3 with an RBI.
Carbary, Cooper and Hoffman combined on a 3-hitter. Carbary struck out three over three innings. Hoffman struck out over two innings.
Jack Tvrdik, Owen VanNewkirk and Carson Correll each recorded a single for the Cougars.
Derek Childs pitched the first two innings for Honeoye Falls-Lima. He gave up three runs and struck out a batter. Tanner Yarton pitched two innings for the Cougars, he gave up one run and struck out two.