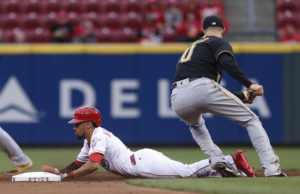 TORONTO BLUE JAYS (9-17) 7
NEW YORK YANKEES (15-9) 1
NEW YORK– Ryan Goins broke out of his slump hitting a two-run home run to go along with a two-run sacrifice fly as the Blue Jays won the series opener. Toronto's Marco Estrada pitched seven innings allowing just one run while striking out five and not allowing a single walk. Aaron Judge went 1-for-4 and had the lone RBI for the Yankees. Luis Severino struggled for New York, giving up five runs on eight hits in five and two thirds innings of work.
BALTIMORE ORIOLES (16-8) 5
BOSTON RED SOX (13-12) 2
BOSTON– Manny Machado hit a round tripper over the Green Monster at Fenway Park driving in two runs to give the Orioles the win. Dylan Bundy had a shutout going up until the eighth inning for Baltimore but it was broken up by Andrew Benintendi. Bundy would still earn the victory though as he held the Red Sox to just two runs on five hits. Opposing him on the mound was Rick Porcello who tossed six innings, allowing two runs while striking out seven.
TAMPA BAY RAYS (13-14) 4
MIAMI MARLINS (11-13) 2
MIAMI– Daniel Robertson had a go-ahead two out RBI single in the eighth inning to push the Rays past the Marlins. Making his first start since straining his left hamstring, Jake Odorizzi pitched five strong innings for Tampa Bay, holding Miami to just two runs (one earned) on two hits. Marcell Ozuna went 1-for-4 for the Marlins, with his only hit being his team leading seventh home run. Wei-Yin Chen went six innings while letting up two runs and striking out seven.
NEW YORK METS (11-14) 7
ATLANTA BRAVES (10-14) 5
ATLANTA– Michael Conforto homered and drove in three RBI as the Mets won the series opener against their division rival. Robert Gsellman struggled on the mound for New York, allowing five runs in as many innings while failing to record a strikeout. Ender Inciarte went 2-for-4 with a leadoff home run to lead Atlanta's offense. Julio Teheran had trouble finding his rhythm in six innings of work, giving up six runs on six hits while striking out five.
PHILADELPHIA PHILLIES (12-12) 10
CHICAGO CUBS (13-12) 2
CHICAGO– Tommy Joseph and Aaron Altherr combined for six RBI as the Phillies ended their three-game losing streak. Vince Velazquez had his best start of the season, allowing only one run on two hits while fanning five in five innings. Javier Baez had a home run for the Cubs and also scored their only runs of the game. Brett Anderson was given the start but lasted only one and one third innings as he was tagged for seven runs and seven hits.
MILWAUKEE BREWERS (14-13) 7
ST. LOUIS CARDINALS (12-13) 5
ST. LOUIS– Jonathan Villar and Travis Shaw each hit a home run traveling at least 450 feet as the Brewers topped the Cardinals in a NL Central matchup. Zach Davies pitched five innings, letting up two runs and seven hits while stranding six St. Louis baserunners. Jedd Gyorko led the Cardinals with four hits including two home runs, one in the eighth and one in the tenth. Michael Wacha got the start, allowing four runs on seven hits and a walk through six innings.
CINCINNATI REDS (12-13) 4
PITTSBURGH PIRATES (11-14) 3
CINCINNATI– Billy Hamilton hit a walk-off double in the bottom of the 10th inning to give the Reds their first pair of back-to-back wins since mid-April. Amir Garrett ate up seven innings for Cincinnati while walking three and allowing two hits which were both solo home runs. One of those came off the bat of Josh Harrison who would also hit the game-tying home run in the eighth. Pirates ace, Gerrit Cole, threw six innings of two run, five hit and one walk ball while striking out seven.
DETROIT TIGERS (13-12) 7
CLEVELAND INDIANS (14-11) 1
DETROIT– Nicholas Castellanos and Victor Martinez hit back-to-back RBI doubles in the first inning to give the Tigers early momentum which would eventually lead them to a victory. Daniel Norris fanned a season high eight batters in six innings for Detroit, allowing one run and five hits. The Indians' only run came in the third inning on a RBI single off the bat of Edwin Encarnacion. Trevor Bauer got shelled as he only pitched four innings, giving up seven runs on seven hits and five walks.
KANSAS CITY ROYALS (8-16) 6
CHICAGO WHITE SOX (13-11) 1
KANSAS CITY– Eric Hosmer, Salvador Perez and Emilio Bonifacio combined to drive in all six runs for the Royals as they snapped a nine-game losing streak. Kansas City's Jason Vargas took the mound and held Chicago to one run, five hits and three walks in six innings. Dylan Covey had the longest major league outing of his career thus far going six-and-two-thirds innings but was tagged for six runs on nine hits.
HOUSTON ASTROS (17-9) 6
TEXAS RANGERS (11-15) 2
HOUSTON– Carlos Correa hit a two RBI double during the Astros' five run seventh inning to propel them to a series opening win. Lance McCullers Jr. was credited with two runs on six hits and two walks while striking out a career high ten batters for Houston. Mike Napoli went 2-for-4 with a home run and two runs scored for the Rangers. Andrew Cashner countered McCullers Jr. on the mound with six innings pitched allowing three runs (two earned) on just three hits.
SAN FRANCISCO GIANTS (10-17) 4
LOS ANGELES DODGERS (14-13) 3
LOS ANGELES– Hunter Pence hit a two-run home run and increased his team-leading RBI total to 12 in the Giants' win. Johnny Cueto lasted seven innings for San Francisco, striking out six and allowing three runs on six hits. Clayton Kershaw contributed offensively going 1-for-2 with an RBI and also took the mound. He was charged with his second loss thanks to four runs (three earned) and eight hits in six innings.