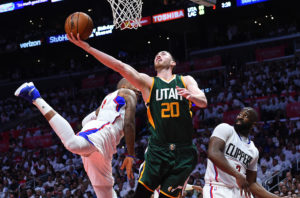 Utah Jazz 104  Los Angeles Clippers 91 (JAZZ win series 4-3)
LOS ANGELES – Gordon Hayward netted 26 points, grabbed eight rebounds and handed out three assists as the Jazz moved on to the second round where they will meet the Golden State Warriors. George Hill and Derrick Favors added 17 points a piece.
DeAndre Jordan recorded a double-double with 24 points and 17 rebounds for the Clippers. Jamal Crawford added 20 points off the bench. The loss ended the 19-year career of former 1998 No. 1 draft pick Paul Pierce who finished the game with six points, three rebounds and one assist.
Boston Celtics 123  Washington Wizards 111 (BOS lead series 1-0)
BOSTON – Isaiah Thomas dropped 33 points and dished out nine assists as the Celtics took game one. Jae Crowder (24), Al Horford (21) and Anthony Bradley (18) combined for 63 points. Bradley Beal (27) and John Wall (20) combined for 47 points for the Wizards.