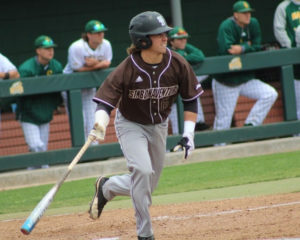 Courtesy of GoBonnies.com
PHILADELPHIA – A two-out, go-ahead triple from senior Jared Baldinelli in the ninth inning pushed the St. Bonaventure baseball team ahead for good and helped seal a 9-7 victory at La Salle on Saturday afternoon.
The win clinches at minimum a fourth straight Atlantic 10 series victory and moves the Bonnies to 21-15 overall and 11-6 in conference play.
Though the Bonnies jumped out to a 5-1 lead after batting in the fifth, Saturday's victory was anything but easy.
After a first inning run gave the Explorers a 1-0 edge, Bona seized control with a three-run fourth before Cole Peterson and David Hollins each homered in the fifth for a four-run advantage.
From there La Salle (8-31, 2-12) clawed its way back into the game, plating three runs in the fifth and then taking the lead back, 7-6, after scoring three more times with two away in the seventh.
St. Bonaventure immediately answered back, tying the score at 7-7 in the eighth. Aaron Phillips doubled to lead off, moving to third following a sacrifice bunt from Tommy LaCongo. Taishi Terashima then delivered, driving a single up the middle to bring home Phillips for the tie.
In the ninth, it looked as though the Bonnies might go quietly after a pair of fly outs began the frame. Then, Hollins worked a walk to get aboard.
That set the stage for Baldinelli as he roped a triple down the right field line to allow Hollins to race home from first for the 8-7 lead. Phillips followed with a single to right center to plate an insurance run.
La Salle threatened again in the last of the ninth, putting the tying run on base with runners at first and second. Freshman Murphy O'Brien got a strikeout to end the game, however, to earn his second career victory.
Bona smacked 16 hits on the day, led by four from Phillips. Peterson also posted three hits including his second career home run while Baldinelli, T.J. Baker and Ryan MacCarrick all had two hits apiece.
Casey Vincent got the start and worked six innings, getting a no-decision after allowing four runs on four hits with five strikeouts. O'Brien (2-2) tossed the final two scoreless innings, striking out three.
The series finale between the Bonnies and Explorers is set for Sunday at noon.
GAME NOTES
Phillips tied a career-best with his second four-hit day of the season and 11th multi-hit day overall.
Peterson also had his eighth three-hit afternoon of the year and 16th multi-hit game. His three hits

Saturday

lift his season batting average to .355.
Peterson stole two more bases

Saturday

, giving him 18 on the year and 56 for his career to pass Randy Moley (54 from 2005-08) for fifth all-time in program history.
Bona now has 15 or more hits three times this year.
Vincent has struck out five or more batters in six of his 10 starts.
Now at 11-6 in Atlantic 10 play, the Bonnies are off to their best start in conference play since the 2008 season when they finished 15-14.