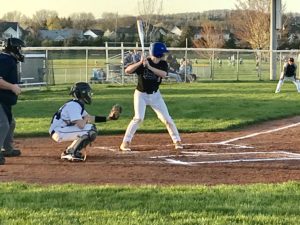 By PAUL GOTHAM
ROCHESTER, N.Y. — Ashton Scott delivered a two-out, two-run double in the third inning, and the Brockport Blue Devils held on to defeat the Brighton Barons, 6-4 in Monroe County Division 3 action at Buckland Park, Wednesday.
Scott turned on an inside fastball and plated Gordon Fisher and Mike Jamele to give Brockport a 5-0 lead going into the fourth inning.
"I knew I had two strikes on me and fouled one off the pitch before," Scott said. "He got me inside but somehow it just kept carrying and it landed fair. I'll take it."
Cole Penders got the Blue Devils started with a  one-out single to right center followed by a stolen base. Fisher walked, and Jamele loaded the bases with single up the middle. Penders came home on a wild pitch while Fisher and Jamele moved up 90 feet to set the stage for Scott.
"We have Coach (Greg) Schwind over there on the bench always talking about focusing on our approach," the junior catcher said. "Getting our foot down early. Our beach ball we like to call it. It helps our stance. It definitely helped me out today with my two-strike approach."
"He hasn't been hitting all that well," Brockport coach Matt Davis said. "He had a great timely hit. He hasn't had one, so I'm hoping that propels him and gets him jump started."
Dom Frosini came on in relief in the seventh with the tying run aboard. The senior right-hander closed it out with a strike out and routine pop up in the infield to end the game.
"Really just went about it like any other outing," Frosini said. "Wasn't worried about the runners on base,  just needed to throw strikes and get the outs."
After putting runners on second and third with a wild pitch, Frosini went upstairs to strike out Brighton's Isaac Nelson for the second out of the inning.
"Since we had the runner advance to third I didn't want to risk anything in the dirt," Frosini explained. "Had to get him on a high chase."
Sam Velletri led the game with a single, and Penders doubled to put runners on second and third. Fisher singled in a run, and Quinlan Ignaszak made it 2-0 with an RBI ground out.
Brockport starter Noah Schultz cruised through five shutout innings. The junior right-hander retired the side in order in the first and faced the minimum in the second and fourth innings.
"He had a really rough outing down South," Davis said about the squad's recent Spring Break trip. "To come back and basically shut them down for five innings was unbelievable. It was great."
Schultz walked the first two he faced in the fifth before Davis made a mound visit. Schultz responded with a pair of punch-outs and a caught stealing to end the threat.
"I just told him to take a deep breath and relax," Davis added. "At that point I knew he was getting a little tired, but I thought he could get us through."
Brockport took advantage of three walks and an error to make it a 6-0 game in the fifth.
Owen Davis highlighted a four-run sixth with a run-scoring double as Brighton put the tying run on base. Jack Tullio started the inning with a walk. After an error put a second runner aboard, Matt Falter loaded the bases with a walk. Nelson got Brighton on the scoreboard with a  sacrifice fly, and Davis followed from there.
Fisher eventually came on in relief for Brockport and ended the threat with a strike out and a pop up.
Brockport beat Brighton 3-2 on Monday. The Blue Devils improved to 4-6 with Wednesday's win.