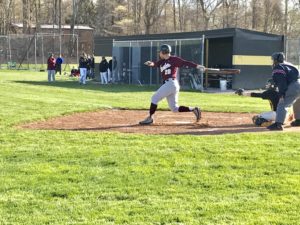 By PAUL GOTHAM
ROCHESTER, N.Y. — George Gines hurled five shutout innings, and the Pittsford-Mendon Vikings pounded out 13 hits on their way to an 11-0 victory over the Greece Athena Trojans in Monroe County Division 3 action Monday.
Gines struck out four, walked two and surrendered two hits for his first win of the season.
"I was just working on throwing first-pitch strikes," said Gines who started off throwing a strike to 13 of 18 batters faced. "They're good hitters. They fought off a bunch of pitches. I worked ahead, mixed in a couple of off-speed and got them to chase one or two."
He retired 14 of the first 15 batters with his only blemish being a one-out double in the second on a ball that got caught in the wind.
"He was all around the zone today," Pittsford-Mendon coach Jeff Amoroso said.  "He earned pitches off the plate a little bit with good precision out there. He pitched backwards a little bit. He was really strong on the mound today."
Taylor Genier and Colin Smith combined for three hits apiece to pace the Mendon offense. The senior duo had a hand in all three Mendon rallies.
Smith followed Jake Ring's leadoff walk in the second with a single through the left side. Genier moved the runners 90 feet with a  sacrifice bunt, and a wild pitch scored the Vikings first run.
Mendon added to their advantage in the fourth. Cameron Yonda started the stanza with a double. One-out later, Smith put runners on the corners with a single to left field. After Smith stole second, Genier plated the pair with a double to right field.
The Vikings, who managed one hit through the first three innings, sent 11 to the plate in the sixth and put the game out of reach.
"We had a lot of at 'em balls," Amoroso said of the early innings. "It's kind of a little bit of what we've been doing. We finally hit a little bit."
Ring led with an infield hit. Smith singled to left. Genier loaded the bases when his sacrifice bunt was mishandled, and Gines brought in a run with a base hit.
"Kids had good approaches at the plate, and the ball found space for us finally," Amoroso said.
Yonda highlighted the inning with a three-run home run to left field.
"When your pitchers are putting up zeroes and your teammates are getting hits this is what happens," Yonda said referring to Genier and Smith. "It's all a team effort. I saw a first-pitch fastball. Just put the bat on it, made a good swing."
The junior finished 2-for-4 on the day with two runs scored to go with the three RBI.
"Cam's been blistering some balls," Amoroso stated. "In Florida (team's recent trip over Spring Break), he hit one very similar to that with the wind blowing in. That was a pretty good shot. He's been swinging it pretty well."
Ring finished the game 2-for-3 with two runs scored. Gines was 2-for-4 with a run scored.
Nic Fereirra came out of the bullpen for Mendon and retired the side in order in the sixth. The right-hander struck out a pair. Jared Petrichick worked a scoreless seventh for the Vikings.
Since starting the season 0-3 with losses to reigning sectional champions Canandaigua (2 games) and Webster Schroeder, Mendon has won three of five and improved to 3-5 on the season.
Athena fell to 1-6. Tyler Curtis took the loss. After surrendering the two runs in the fourth, the right-hander set down the side in order in the fifth with a strike out and a pair of ground balls.
"In that fifth inning he grew up," Greece Athena coach Jason Bunting said. "It's his second start as a freshman on the varsity team. He's definitely a gamer; there's no doubt about it. I'm proud of him because he's learning how to pitch. The next three years he's going to get better and better."
The same two teams meet again Wednesday at Mendon. Athena hosts Brighton in a make-up game on Tuesday.